This in-depth BigCommerce review will help you see the big picture of what this website builder can do and how it can benefit your e-commerce business. We'll analyze all of the essential points as well as the core operations required for an Internet business. As a result, you can assess whether BigCommerce is a good fit for you. Continue reading to learn how to.
What is BigCommerce and how does it work?
How to build a BigCommerce store?
What is the best way to create a BigCommerce store?
Detailed analysis of BigCommerce SEO, eCommerce, and marketing features
What are the advantages and disadvantages?
How much does BigCommerce cost in 2023?
Let's take a look at a quick overview of BigCommerce before we get into our BigCommerce reviews.
BigCommerce Review – What Is BigCommerce?
BigCommerce is a leading hosted eCommerce builder, providing extreme scalability for online stores. A Bigcommerce platform helps you stay on top of your business. Some of these great native features include a robust product catalog, flexible shipping and real-time quotes, coupon and discount tools, and more.
This all-in-one solution provides high-quality features including product management, order fulfillment, online payment, analytics, and more. Furthermore, it offers professionally designed themes, with plenty of room for customization. Apart from this, BigCommerce also handles its security very well.
Why BigCommerce Is Great For Your Business?
Well-established eCommerce stores that have outgrown their current platforms. Bigcommerce has more built-in sales tools than any of its competitors and combines these features with advanced SEO and great multi-channel integration. Which is designed to help promote big and fast-growing businesses to the big leagues!
Stores that sell through other platforms (such as Amazon, Instagram, Etsy, and eBay) as well as through your own store. If you already have a strong presence on other platforms, then BigCommerce is a natural choice for you.
The shipping capabilities of the solution are quite powerful. BigCommerce integrates with Amazon and eBay and has social selling capabilities that let you sell on Facebook.
New, ambitious eCommerce stores. BigCommerce is super scalable – while plans start at just $29.95, the top plans are able to support the likes of Ben & Jerry's, Toyota, and Kodak.
BigCommerce is the only cloud solution that has deep integration with ShipperHQ, a sophisticated shipping rate calculator, and a rules engine. This integration makes it easy to provide real-time quotes and implement customized shipping rates.
What Are The Advantages And Disadvantages Of BigCommerce?
BigCommerce Pros:
No platform fees/commissions on any plan (unlike Shopify)
Excellent built-in, user-centric (free) features that keep the price from rapidly rising
Multi-channel integration that runs smoothly.
BigCommerce is a natural next step if you're already selling on marketplaces or through social media.
Organic growth requires strong SEO support.
BigCommerce Cons:
Not as simple to set up — some of our users had trouble finding and/or understanding certain aspects.
It's not a 'fast e-commerce fix,' but with some effort and patience, it can be done.
Revenue-driven charging may be a disadvantage for stores with low-profit margins.
BigCommerce's Industry-Leading Features Will Boost Your Online Business?
In summary, BigCommerce is well-suited to hosting stores with hundreds or thousands of items. As a result, it's best suited for someone who's growing quickly and wants to operate on a large scale. Consider BigCommerce if you're starting from scratch and want to build an eCommerce store.
WebDesk solution provides development services. Custom APIs are also available through the SaaS solution, allowing multichannel retailers to connect their business to E-markets like eBay, Etsy, and Amazon. BigCommerce features everything you'll ever need to start an online business. Sign up for a free account and have access to enterprise features, open architecture, market-leading performance, and exceptional customer service all in one place.
Savings alert! Choose your BigCommerce premium plan. Simply start your free BigCommerce trial today to claim this limited-time offer!
START YOUR BigCommerce Store FREE TRIAL NOW
To provide you with a fast introduction to this hosted eCommerce platform, here's a quick comparison of BigCommerce, Shopify, and Squarespace.
What Are The Costs Of A BigCommerce Store?
How Much Does BigCommerce Cost? The pricing of this hosted service will be thoroughly examined in this BigCommerce review section. BigCommerce pricing is based on the number of sales you make each year…
It has three monthly pricing plans to suit all business sizes. Its most basic plan starts at $29.95 per month and goes up to $299.95 per month. Your store will have a fully responsive site, one-page checkout, digital wallet, basic SEO tools, and comprehensive statistics, no matter which package you choose.
One of the main advantages of BigCommerce is that there are no transaction fees. If you choose to pay annually instead of monthly, you will get 10% off. See the below chart for easy understanding.
| | | | | |
| --- | --- | --- | --- | --- |
| | Price per month (billed monthly) | Price per month (billed annually) | Revenue bracket (previous 12 months) | BigCommerce fees |
| Standard | $29.95 | $29.95 | $0 – $50k | 0% |
| Plus | $79.95 | $71.95 | $50k – $180k | 0% |
| Pro | $299.95 | $269.96 | $180k – $400k | 0% |
| Enterprise | Custom | Custom | $400k+ | 0% |
However, if your income bracket allows it, you can upgrade to a higher plan to gain access to more features. We'll go over each approach in greater detail below, so you can understand when this is a good idea.
Difference Between Plans Of BigCommerce Pricing
See the difference between BigCommerce pricing plans Breakdown in detail
Unlimited number of products to sell
Unlimited employee accounts
Multiple sales channels, including eBay, Amazon, Facebook, and Google Shopping
Coupons, discounts, and gift cards
Real-Time Shipping Quotes
Product Ratings and Reviews
If you are looking for feature-rich plans with reasonable prices to open a new business then this will be a good start. The Standard plan is best for smaller-sized stores with annual sales of less than $50k. It comes with a generous number of packaged features like unlimited products, bandwidth, file storage, and staff accounts, as well as zero transaction fees. On top of that, you can sell on multiple channels including Amazon, eBay, Walmart, Facebook, Instagram, and Google Shopping.
Abandoned Cart Recovery
Customer groups will reward repeat shoppers
Store credit cards
This plan is suitable for growing businesses with revenue up to $180k/year. Merchants will have a full set of features from the Standard plan and some additional tools to increase sales and increase conversion rates, including:
Abandoned Cart Saver: This is an essential tool for any online store. It allows you to send automated email invitations to customers who have added an item to their cart but left before completing checkout. As a result, this built-in feature can help you win back customers and boost your sales.
Stored Credit Cards: Simplify the check-out process for your buyers by allowing them to store their credit card information.
Google Customer Reviews
Product Search Filtering
Custom SSL (Secure Sockets Layer)
The Pro plan is designed for large businesses with a large budget with a revenue limit of $450k. With this plan, you'll have all the features included in the Standard and Plus plans in addition to some great features to take your store to the next level:
Custom SSL: This allows you to install SSL purchased from a third party on your BigCommerce store.
Product Filtering: Give customers more convenience when it comes to finding products on your site by allowing them to search by size, color, or brand.
Priority Support
API Support
Custom Aspects (Product Filtering)
Price List
Worth it for the biggest businesses, but don't be too quick to upgrade otherwise. You Can Pay to Upgrade Your Revenue Limit to the Pro Plan Instead.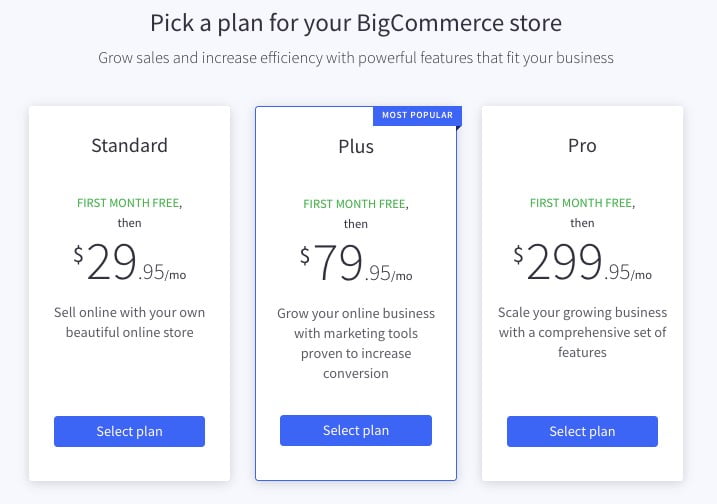 Savings alert! Choose your BigCommerce premium plan. Simply start your free online store trial today to claim this limited-time offer!
START YOUR BigCommerce FREE TRIAL NOW
Pricing Of BigCommerce Vs Shopify (Pricing Of Competitors)
This pricing is somewhat comparable to Shopify's, which offers $29/month, $79/month, and $299/month subscriptions. However, BigCommerce's lack of transaction fees gives it a significant cost advantage:
Annual Cost of Using Shopify:
| | | | | | |
| --- | --- | --- | --- | --- | --- |
| Annual Revenue | Shopify Fees* (%) | Shopify Fees ($) | Plan Cost (monthly) | Plan cost (for one year) | Total Shopify Cost (annual) |
| $40,000 | 2% | $800 | $29 | $348 | $1,148 |
| $100,000 | 1% | $1,000 | $79 | $948 | $1,948 |
| $200,000 | 0.5% | $1,000 | $299 | $3,588 | $4,588 |
It's worth noting that you can avoid these extra Shopify fees by using Shopify Payments, but this isn't normally the first choice for most companies (due to the lack of customer awareness).
Annual Cost of Using BigCommerce:
| | | | | | |
| --- | --- | --- | --- | --- | --- |
| Annual Revenue | BigCommerce Fees (%) | BigCommerce Fees ($) | Plan Cost (monthly) | Plan Cost (for one year) | Total BigCommerce Cost (annual) |
| $40,000 | 0% | $0 | $29.95 | $359.40 | $359.40 |
| $100,000 | 0% | $0 | $71.95 | $863.40 | $863.40 |
| $200,000 | 0% | $0 | $269.96 | $3,239.52 | $3,239.52 |
This is a rough estimate (there are some other factors to consider, which we'll go over later), but it illustrates the significant impact transaction fees can have, which is easy to overlook.
Payment Options:
BigCommerce doesn't impose any transaction fees, but you'll have to pay your payment gateway's standard credit card costs (this is true of all e-commerce platforms). You've got over 65 integrated payment gateways to choose from. BigCommerce makes it easy to get paid with a one-click setup, mobile payments, and many currency support. Among the payment service companies are:
PayPal
Stripe
Square
Apple Pay
Amazon Pay
Adyen
BigCommerce offers a wide range of payment gateways, with over 100 countries covered. It also doesn't charge any transaction fees.
Using A Payment Method Provided By A Third Party:
The following is a list of BigCommerce's best-supported features for managing your payment process:
Capture — You can authorize transactions without taking money out of the customer's account until you approve them. One of the most important advantages of this feature is that if funds have not been collected, the cardholder cannot dispute the transaction or request a chargeback.
Refunds – BigCommerce gives you the option of selecting the refund type (individual product or order level refund). You have two options: refund the entire order or a portion of it. These features make categorizing and managing refund status much easier for you.
Stored Credit Cards – This feature allows you to store credit card information safely and securely so that customers can complete the checkout process swiftly and effortlessly. Please note that in order to use this feature, you must be on the Plus plan or higher.
Savings alert! choose your premium plan. Simply start your free online store trial today to claim this limited-time offer!
START YOUR BigCommerce Store FREE TRIAL NOW
BigCommerce POS – Square
BigCommerce POS or Square is a free app that lets you turn your brick-and-mortar store into an online store. Here's a rundown of some of its most appealing features:
Step 1: Import a product into BigCommerce — Adding a new product to your BigCommerce online store is simple. You may also import the whole Square product catalog into BigCommerce's storefront with a single click.
Step 2: Export items to Square POS – You can also export your products from BigCommerce to Square POS. If you primarily operate from a physical location, this could be a fantastic feature.
Step 3: Synchronize inventory – Every 5 minutes, the Square POS software will sync your inventory between your online store and POS. As a result, you can easily manage both of them at the same time.
BigCommerce Payment Processing Fees:
The longer you stay with BigCommerce and upgrade through its price plans, the cheaper your rates will go – in fact, they can drop from 2.9% all the way down to 2.2%, or sometimes even lower:
BigCommerce Standard plan: 2.9% + 30c
Plus plan: 2.5% + 30c
Pro plan: 2.2% + 30c
BigCommerce Enterprise: >2.2% + 30c (negotiable)
The payment processing rates for Shopify and BigCommerce are nearly identical, ranging from 2.9 percent + 30c to 2.4 percent + 30c. BigCommerce has a slight edge for high-volume merchants.
Optional Extra Costs
Theme: Free – $295 (one-off payment)
Apps: Free – ~$350/month (most paid ones in the $3 – $20/month bracket)
BigCommerce Has a Lot to Offer Make sure you're giving your store the tools to succeed – head to bigcommerce's pricing page to compare its plans. and Pick Your Price Plan.
Further Information – Want to know more about BigCommerce Vs Shopify? Read our Review to find out which e-commerce platform is best for you based on your business needs.
Savings alert! choose your premium plan. Simply start your free e-commerce store trial today to claim this limited-time offer!
START YOUR Bigcommerce FREE TRIAL NOW
BigCommerce Review Of Themes And Design:
To keep ahead of the competition, your online store requires all of the most up-to-date sales tools. When it comes to sticking out from the crowd, though, your website's design is the first thing your visitors will notice.
Beginners with a low budget can start with its 12 free themes. available. If your pocketbook is a little fatter, there are over 100 paid themes to select from, with prices ranging from $145 to $235. They're all mobile-friendly, sleek, and simple to use.
Fortunately, BigCommerce makes finding the perfect theme a breeze. You can look for a template by industry or by the layout you desire for it. and you can choose between grid layouts or designs with huge graphics, for example.
You may also filter the results to see only free or premium themes or use the search bar to find more specific results.
Themes differ greatly depending on the industry in which they are classified. Themes in the 'Fashion & Jewelry' category, for example, have a product zoom option, although themes in other categories do not. As a result, it's worthwhile to conduct a thorough search to locate a theme that best suits your store's requirements.
You may see a preview of a theme before choosing it, which is a very handy feature. Don't worry if you choose a theme and then change your mind. You can change your template at any moment.
All of BigCommerce's themes are mobile-friendly. Because the theme automatically reformats to accommodate mobile screens, you can't edit the mobile view. As a result, you won't have to be concerned about missing out on mobile customers. With mobile devices accounting for more than half of all traffic, this is a must-have feature!
Savings alert! choose your BigCommerce premium plan. Simply start your free trial today to claim this limited-time offer!
BigCommerce Review- Ease of Use
The main reason people struggled with BigCommerce was its design interface. When you're creating your eCommerce store, it's split between two areas. One is where you add products and manage the "behind the scenes" parts of your store – for example, discounts and shipping – while the other is where you edit your storefront.
To avoid this, we propose that you start with the inventory part of your business. Upload all of your products, add stuff like discounts, and then customize your storefront via the storefront editor.
Remember, BigCommerce is an e-commerce builder designed to carry stores into big business. Think of it as a jumbo jet: it's got all the powerful tools necessary to take your online store on a long-haul flight, without you having to change plans halfway through. However, you won't be able to fly it straight after passing your pilot's exam!
Setting Up A Basic Store On BigCommerce Is Simple?
BigCommerce has all the features needed to get you started. It's not too difficult to use but it's definitely not for the non-techie. The first time landing on BigCommerce's dashboard, there will be tutorials to get you through the process.
Those steps will help you set up a basic store. For example, you can add products, configure shipping settings, and manage your tax rates. After that, the customization gets more complex.
The latest release of the Store Design tool, on the other hand, is a huge step forward. It demonstrates that BigCommerce is responding to customer feedback by making its builder more user-friendly.
The good news is that BigCommerce has recently released a new page builder that makes customizing easier for non-techies. The utility gives you access to the template files in your theme so you can do extensive template customization. Text blocks, movies, banners, buttons, custom HTML blocks, and other content may be effortlessly dragged and dropped into pages.
However, there is a lingering issue with the word. You must be familiar with the technical phrases in advance, or you will waste a lot of time trying to figure out what they imply. In a nutshell, enormous power is accompanied by immense complications. As a result, BigCommerce isn't recommended for anyone who isn't tech-savvy.
Savings alert! choose your premium plan. Simply start your free trial today to claim this limited-time offer!
BigCommerce Review Of eCommerce Features
Without a question, BigCommerce provides a wide range of essential eCommerce functionalities for an online store. Here are some of the most notable characteristics that set BigCommerce apart from the competition.
Multi-Currency:
BigCommerce's multi-currency capability helps it to stand out as one of the most popular platforms for international enterprises. also has partnered with five renowned payment gateways that accept several currencies. This function allows merchants to increase cross-border sales by automatically converting the currency into the customer's native currency. The best part is that multi-currency support is included in all pricing options at no additional cost.
Product Management:
In just a few simple steps, BigCommerce lets you add products, set up inventory management, change stock levels, and track order patterns over time. With its seamless native management features, tracking inventory between online and offline channels is easier than ever. Aside from that, you have complete control over every detail of your products. Even better, BigCommerce is the only platform that allows you to sell products, downloads, event tickets, and services without the need for third-party apps.
Multi-Channel:
A rising eCommerce store will also require multi-channel marketing. Because communicating with customers has never been easy, having this option incorporated into your store is critical. You may sell on many platforms with BigCommerce, including Facebook, Instagram, Pinterest, eBay, Amazon, and more.
You can also use BigCommerce's data reporting capabilities to keep track of all sales from those websites. These tools assist in identifying patterns, tracking performance, conversion rates, and more – all from the convenience of your dashboard!
Order Processing:
After the visitor clicks the buy button, Bigcommerce takes the transaction to the next level. Orders can be processed, invoices printed, and packing slips printed using the platform. In a nutshell, it manages the order from start to finish. This is a critical feature, especially for stores with a large number of products.
Tax & Shipping:
The good news is that BigCommerce provides a variety of shipping alternatives, including real-time shipping quotations for BigCommerce pricing plans with higher prices. It also comes with a one-stop shop for shipping tools. ShipStation is a free app that allows you to gain special savings from companies like DHL, USPS, FedEx, and others. You may also keep your consumers pleased by offering services such as in-store pickup, next-day delivery, shipping tracking, and free shipping.
Customizable Checkout:
BigCommerce's checkout module has recently been updated. It now allows you to use its Checkout SDK, which is a library of JavaScript elements for your checkout. You can modify every aspect of your checkout page with this new functionality, from the background imagery to the number of steps required for a consumer to complete the process. The Checkout SDK is only compatible with the Optimized One-Page Checkout control panel configuration.
Savings alert! choose your premium plan. Simply start your free trial today to claim this limited-time offer!
BigCommerce Review Of SEO Features
BigCommerce is a wonderful alternative if SEO is one of your main concerns. is arguably the class leader in the SEO sector among hosted options such as Volusion, BigCommerce, Wix, and Squarespace.
The reason for this is that BigCommerce makes a significant effort to improve website loading speed while still giving a wealth of out-of-the-box functionalities. This improves the user experience of your website, and search engines' notice. Furthermore, the built-in blogging feature enables you to effortlessly upload blog entries without the need to purchase BigCommerce content management software. You may alter your blog and information pages to make them SEO-friendly using the administration interface, which allows you complete access to metadata, header tags, titles, and URLs.
Other platforms, on the other hand, are more likely to rely on Add-ons or Third-Party integrations, which may slow down your website's speed. BigCommerce's average response time, according to Quanta, is 0.50 seconds. As a result, BigCommerce is a rather quick platform. This response time exactly fits Google's speed recommendation.
BigCommerce SEO Features Key:
The following are some of the top BigCommerce SEO features that will help your website rank higher in the SERPs:
Security: Each BigCommerce plan comes with a free SSL certificate.
SEO-friendly URL structure: URL structures for items, web pages, and categories can all be changed. Depending on your priorities, it can be lengthy, short, or custom URLs.
Mobile-friendliness: All BigCommerce templates are responsive for PCs, mobile devices, and tablets. Furthermore, the Stencil template includes AMP support for both products and pages out of the box, allowing your page to load faster.
Microdata: Microdata is also referred to as "Rich Snippets." Microdata is used in most Bigcommerce themes. You can use this function to add information like ratings, pricing, brand, and stock levels to your search result listings.
On Page-SEO: BigCommerce makes it very easy to adjust page titles, metadata, and headings — one of the key elements that search engines consider when categorizing your site for search results
Savings alert! choose your premium plan. Simply start your free trial today to claim this limited-time offer!
START YOUR Bigcommerce Store FREE TRIAL NOW
BigCommecre Review Of Marketing Features
BigCommerce offers quite a nice range of marketing tools to promote your online store. Some of the methods come at an additional cost while others are free.
Some of the main marketing features included in BigCommerce are:
Discounts and Coupon Codes – This is especially useful if you're running an exclusive promotion and want to send out codes via email. It is quite beneficial in terms of inspiring purchasers.
Banners — You can use them for a variety of purposes, both promotional and non-commercial. This will assist you to attract the attention of your viewers and showcasing your important material.
Google AdWords integrations – This allows you to promote your products on Google in a semi-automated manner.
Email Marketing – The platform comes with powerful options like MailChimp, HubSpot, iContact, and Constant Contact. This feature allows you to create smart customer lists and send targeted communications and newsletters to avoid lost purchases.
Social Media tools – BigCommerce makes it simple to promote your business on social media. To convert social browning into online buying, simply add "Buy Now" buttons to Pinterest, Facebook, and Twitter.
Abandoned Cart Recovery – If a consumer inputs their email address and subsequently abandons their shopping cart, an automatic email can be sent to remind them of their purchase. The average cart abandonment rate is 69.57 percent, according to Baymard Institute's 2019 research. It's a critical feature that will prevent you from losing money. According to a study, personalized emails are six times more effective than standard emails.
BigCommerce Review of Security and Support
Any issues with your website can be costly when you're making money from your website. Fortunately, BigCommerce offers a variety of support alternatives to help you get things sorted out quickly and efficiently.
The help and support channels available to you are determined by your price plan. BigCommerce offers phone and live chat assistance 24 hours a day, seven days a week. There's no need to be stressed out at 4 a.m., counting down the minutes till 9 a.m.; simply call or start a live chat to have your issue resolved before morning.
Email help is also available. When you sign up for a free trial, you'll receive an email inviting you to a 10-minute conversation to talk about your business, its goals, and how BigCommerce can help you achieve them.
You may also use video tutorials – and, even better, the BigCommerce Help Center – in addition to phone, live chat, and email.
The BigCommerce Help Center is an excellent source of information. Find answers in the Knowledge Base, post questions in the Community area, stay up to date on news and upgrades, and even make improvements to the builder yourself.
You get priority support if you're on the most expensive Enterprise plan. This includes an onboarding consultant as well as phone conversations that are prioritized. This delivers the highest degree of quality support for your store by providing fast connections to the most senior and highly-trained support professionals.
Savings alert! choose your premium plan. Simply start your free trial today to claim this limited-time offer!
START YOUR BigCommerce Store FREE TRIAL NOW
BigCommerce Mobile Commerce
"This app is really fantastic and helpful for inventors; it can connect your BigCommerce store with ZapERP and also connect with other inventory channels; this tool is beneficial to inventors." – Anih Manasseh.
Let's look at BigCommerce's mobile commerce feature in the next section of our evaluation. The BigCommerce Mobile App is available for download from the Apple App Store and the Google Play Store. It allows you to manage your store while on the move. On all of your BigCommerce stores, you can verify and edit orders, analyze critical performance indicators, monitor products, and search for customers.
Some of the top features that assist you in properly monitoring your E-store on your phone are:
Store Performance Details: Get a snapshot of your store's revenue, orders, customers, and conversion rate over the course of a day, week, month, or year.
Customer Management: Provides access to a list of all your customers, as well as the ability to see and search for extensive information on individual purchasers (personal info and order history). You can also contact customers through in-app phone and email options.
Order management: you can look up individual orders and see how they're progressing.
Catalog management: Keep track of all of your products, add new ones, change inventory, organize them into categories, upload photos, and control their appearance on your storefront.
BigCommerce, in fact, has a plethora of tools that can help you streamline your business. There are currently over 900 apps in various areas such as Accounting & Tax, Marketing, Shipping & Fulfillment, and so on.
BigCommerce Apps Store
Some of these apps are completely free to download and use. The others, on the other hand, could cost you anything from $20 to $29 to buy. More importantly, BigCommerce allows you to try numerous apps for free for 15 days before making a purchase. As a result, you may freely determine whether or not that app is the cream of the crop for you.
START YOUR BigCommerce FREE TRIAL NOW
Shopify Vs BigCommerce: Which is Better for E-commerce Store?
This is a challenging issue to answer without first understanding your company's needs and challenges. BigCommerce's primary competitor is Shopify. Both products are equally priced and offer a similar set of basic functions. BigCommerce, on the other hand, has a slightly larger number of free features.
Also, check out this article, where we compared BigCommerce vs Shopify face-to-face. Basically in this tutorial, we focused on everything an eCommerce site owner needs to know so that you can examine their features, design options, cost, and ease of use to find the right option for your eCommerce store.
Who are BigCommerce's Main Competitors?
Despite the fact that BigCommerce is a superior hosted cart, it must compete with a slew of competitors. Shopify, Magento, WooCommerce, OpenCart, PrestaShop, and others are some of BigCommerce's main competitors. For additional information, have a look at our full comparison of leading eCommerce systems.
Are There Any BigCommerce Apps?
BigCommerce does not provide any mobile apps to assist you to run your online business. Although there were formerly available apps, they have subsequently been removed. You will still receive sales notifications from your store, but they will only be sent to you via email.
BigCommerce Review – FAQ
Is BigCommerce used by anyone?
BigCommerce describes itself as an all-in-one solution for enterprises of all sizes. BigCommerce, on the other hand, is better suited to enterprise-level businesses or those looking to grow their store, as it focuses on a variety of out-of-the-box capabilities.
Is BigCommerce a good platform?
BigCommerce is, in the broadest sense, a made-to-measure platform for major merchants, with a plethora of sophisticated built-in features. Also, because BigCommerce excels at multi-channel selling, it would be an excellent choice for companies with a worldwide strategy. And, perhaps most crucially, this hosted cart allows you to easily personalize and grow up your business.
Is BigCommerce a Free Platform?
Just because BigCommerce has no transaction costs doesn't mean it's free. You can receive a 15-day free trial, but you'll have to pay at least $29.95 for the basic plan after that. You may need to upgrade your account even further if you want more advanced features.
What types of items can I sell using BigCommerce?
BigCommerce allows you to create an online store in whatever way you choose. You'll be able to sell digital things, physical products, and even items offline, regardless of the industry you're in. BigCommerce interfaces with POS systems, dropshipping services, and other services.
Is there a built-in blogging capability in BigCommerce?
BigCommerce has you covered if blogging is an important component of your company's success. The platform includes built-in blogging capabilities, which are critical for most inbound marketing strategies. In terms of functionality, it doesn't quite match WordPress, but it should still help you attract people to your site.
BigCommerce Reviews: Conclusion
It is perfect for large and fast-growing businesses. If you're not looking for development or are a total beginner, this builder isn't for you.
BigCommerce caters to businesses of all shapes and sizes, so don't be put off if your store isn't the biggest in the playground. If you are planning to grow your business then you can make the most of this e-commerce builder.
Overall, BigCommerce is a SaaS eCommerce solution that makes it easy for you to quickly build and operate your online store. It is famous for being the perfect match for medium and large-scale businesses. The E-commerce platform still works well with smaller companies, but it is not the best option as it can cost a lot if you exceed its sales threshold. If you are about to start an online business, you have many more suitable options.
Savings alert! choose your BigCommerce premium plan. Simply start your free trial today to claim this limited-time offer!
START YOUR BigCommerce FREE TRIAL NOW
If you think BigCommerce could be the perfect place to expand your business, why wait? Try it free now, no card details required, and decide for yourself!
Are you ready to start building your online store? Sign up for a free trial of BigCommerce to get started with this builder today!
You may also be interested in reading:
Have You Found Our BigCommerce Review Useful?
Did this tutorial help you decide whether or not to use BigCommerce as well as get you started setting up your online store? Comment below if you agree (or disagree).
Do you know anyone who would benefit from reading this? Then share this page with them. By promoting our website, you will be helping us as well as them!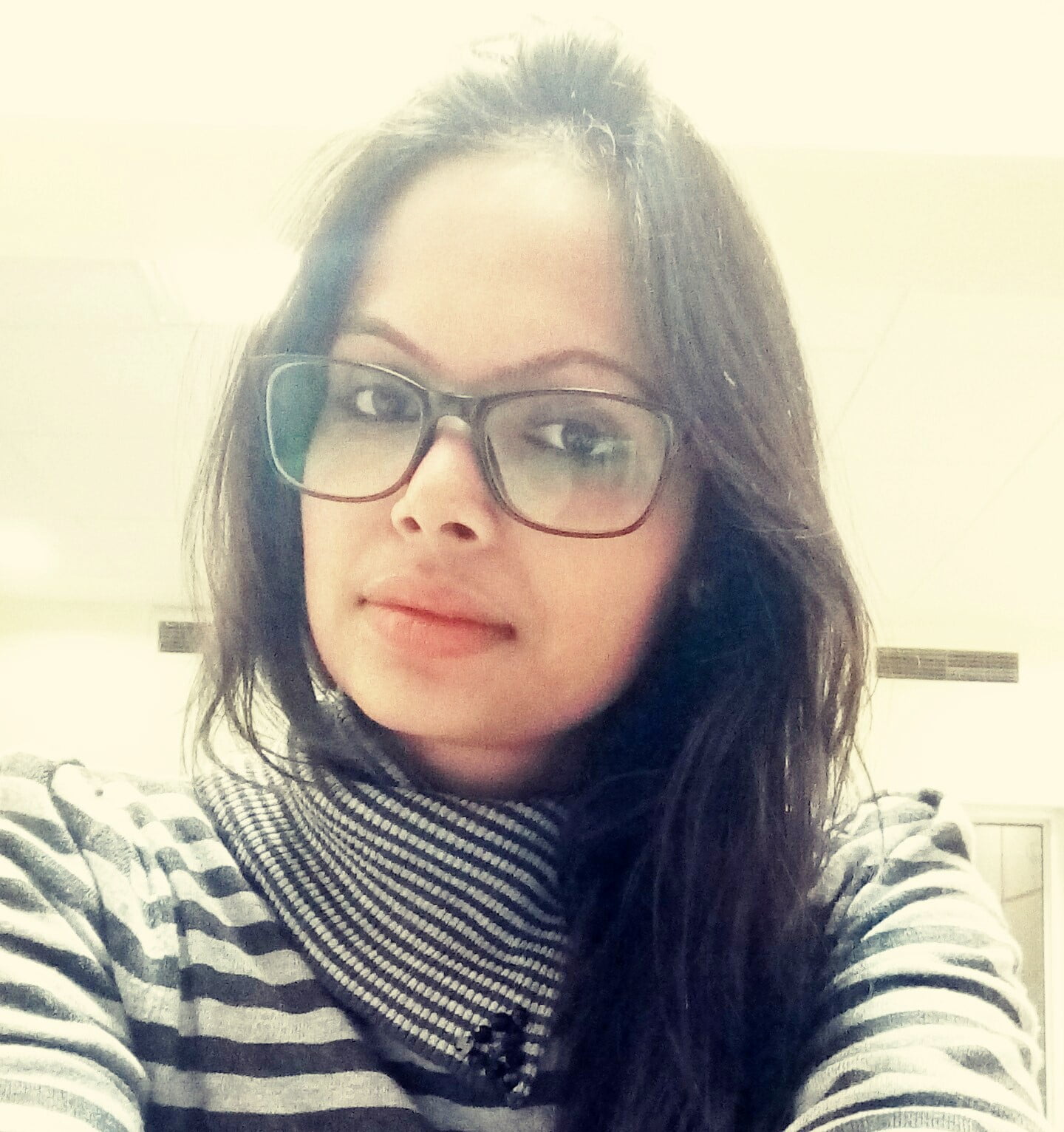 Hey, I am a fashion designer by profession and a blogger by passion, I regularly do extensive research on all things online and I am passionate about spreading my knowledge and supporting people in their online business journey. During my spare time, I like to travel to hilly places and further improve my skills by learning various things.