When you look at eCommerce platforms, it can be really hard to tell how big a difference in features and performance can make a big difference to your bottom line, but they can. In this article, you will learn which eCommerce platforms are best for your business needs, perform best, and give you the value to dominate your niche.
But before proceeding with the list of top eCommerce platforms, you must know what is an eCommerce platform. And why an eCommerce platform is important for your brand.
What Is An eCommerce Platform?
An eCommerce platform is a software application that helps online businesses manage their website, marketing, sales, and operations. It allows you to easily sell your goods and services online. The platform takes care of the order tracking and replacement processes. Payments, refunds, and it also provides you with monthly, weekly, or annual profit or loss reports.
So if you want to sell anything online, you need eCommerce platforms. Whereas a regular website provides everything you need to promote your business. But people can't pay for the products.
For this first, you will need the best e-commerce web hosting, which will grow your business without any hiccups. Next, you'll need shopping cart software to run with your e-commerce site, which will likely include a payment gateway for credit card processing.
Why Is an eCommerce Platform Important For Brands?
E-commerce platforms are vital to the business success of any online retail venture, an eCommerce platform not only supports but also enables the growth of an online store.
In the 20th century, most people flocked to brick-and-mortar places to facilitate exchange. But now is the era of technology and the internet revolution. So based on the development of the e-commerce market, e-commerce platforms have been created to facilitate the exchange of value from a decentralized network of individuals.
Accordingly, the platform has grown rapidly, and the ability to enable value exchange has reached unprecedented levels. Whether hosted on-premises or in the cloud, eCommerce platforms guarantee the scalability and security protection of your data.
In addition, the e-commerce platform offers a wide range of operational benefits and business tools, including:
A Product Management Suite and Sales
Search capability
Pricing and Promotions
Personalize sales and services to your liking
By using the eCommerce platform, you can customize your product information to meet the needs of your online business. This is beneficial for both the store owners and the customers.
Best eCommerce Platforms Features For 2023: To Create An online store
Volusion
Shift4Shop (formerly 3dcart)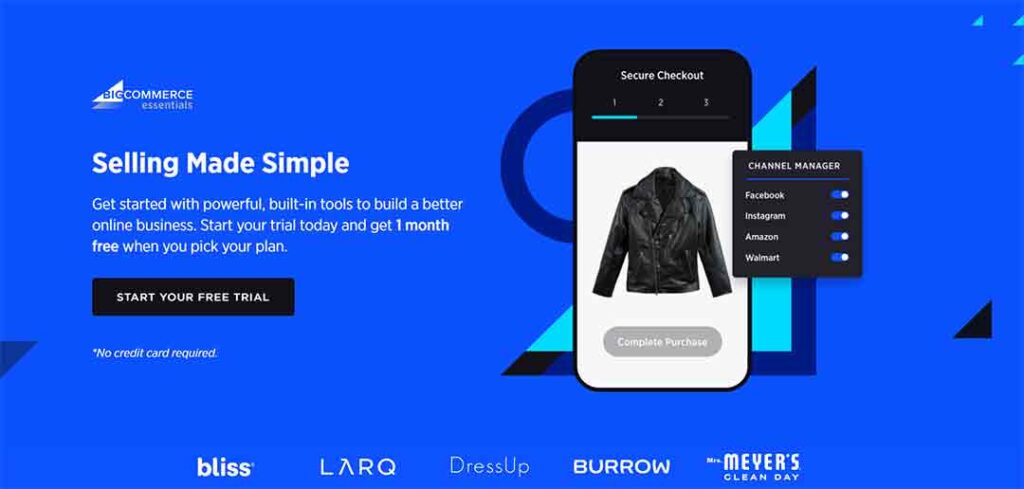 Key Features of Bigcommerce:
BigCommerce is the best online store platform that provides fully customizable themes with HTML, JavaScript, and CSS. Its robust product search engine makes it ideal for large retail brands. They are also known for their low total cost of ownership and highly flexible APIs.
So this is a great option for those looking to start an eCommerce store, or who have a brick-and-mortar store and want to expand their operations to include online ordering. Because the tools available in it make it possible for any industry to succeed. It is one of the best free online stores that allow you to build your site on WordPress with a full back-end platform and multi-channel selling capabilities.
Here users can take advantage of a variety of integrated marketing tools and analytics, along with comprehensive and flexible product management, and SEO rankings. And also allows you to develop a mobile responsive eCommerce store. Customers covering B2B and B2C business modules can use this platform. Because it makes it easy to create separate price lists or catalogs for different customer groups.
BigCommerce provides great features to improve customer experiences, such as real-time shipping quotes, multiple languages ​​, and supported currencies.
Security And Support of Bigcommerce:
Bigcommerce offers 24/7 support via phone, live chat, and email, it also provides an extensive knowledge base of articles and videos to help you with eCommerce, and access to a team of eCommerce experts who provide advice and guidance, as they have experts who have qualified in both (Google Analytics and Adwords) regarding online selling.
Pros of Bigcommerce :
Strong SEO performance with a variety of great theme designs.
You can sell on Facebook, Instagram, eBay, and Amazon
Accept international payments + Connects with over 65 payment gateways.
You can offer digital and physical items and set up coupons, discount codes, and gift cards
Shipping details can be customized according to your business needs.
Bigcommerce Cons:
The learning curve for non-technical users.
Limited Free Themes.
Gets expensive for stores with high sales.
There are four plans available with no contract required. You can save 10% on Plus and Pro plans with yearly payouts. Unlike other platforms, BigCommerce does not charge transaction fees, so you will only pay the fee to your payment processor. On top of the stated price, you will also pay the appropriate sales tax for your location.
Once you reach the maximum sales volume for that plan in 12 months, BigCommerce automatically upgrades your program to the next level. Plans include:
Standard Plan – $29.95 per month ($359.40 total cost) Although you don't get a custom SSL, it's still good for smaller stores that aren't making more than 50k sales per year.
Plus plan adds abandoned cart and customer segmentation features for up to $79.95 per month ($180,000 in sales)
The Pro plan includes a search button and Google Reviews for up to $299.95 per month ($400,000 in sales).
Enterprise plan Negotiate a special rate for higher sales volume and get custom support options
You can sign-up Bigcommerce with a 15-day free trial without any credit card
[Try BigCommerce now for Free]
Overall BigCommerce offers you a comprehensive set of eCommerce tools with a wide variety of features and options. This enables your store to integrate out-of-the-box with most of the essential solutions in the eCommerce ecosystem.
(Shopify: eCommerce Platforms)
Key Features of Shopify:
Shopify is the most popular of all eCommerce platforms. which is slightly better in several areas over BigCommerce such as post-purchase 1-click upsells etc. It is highly scalable and is excellent for non-technical users. Retailers with technical expertise may find it limited.
Shopify is a web application that provides users with unlimited hosting for their store, an in-depth analysis of how visitors use the store, and functionality for marketing such as SEO optimization, discount and coupon engines, gift cards, and email marketing tools provides.
There is also an option to create customizable storefronts for users on Facebook and Instagram with Shopify. One of the new features is built-in support for store speed reports, 3D models, and videos as well.
Shopify provides a complete CMS, which gives you the power to manage the functionality and layout of your online store. Also supports a wide range of credit cards, so you don't have to worry about payment conflict issues in your store.
With the help of the templates available here, you can quickly and easily create an online store. And you can customize those templates to best suit your online retailer's needs.
Another excellent advantage over Shopify is the ability to manage your store on the Shopify mobile app. And the platform itself is fully responsive so that users can easily manage and modify their stores anywhere, regardless of access from mobile or desktop.
Shopify Pros:
Lite allows fast load times, multiple channels, and social selling.
Lots of certified partners to help you on Shopify and super easy to set up. 1-click selling apps are also available.
Extensive order fulfillment and shipping capabilities. and integration with Instagram, Pinterest, Facebook, Amazon, and Marketplace.
Unlimited file storage on all plans. and manual order creation
Drag-and-drop interface, great themes with different designs, and fast website load times
Shopify Cons:
Weak in SEO and Content Marketing.
The checkout process is not customizable.
Add-up apps are expensive.
Support And Security Of Shopify:
Shopify offers an in-depth knowledge base and 24/7 support via instant messaging, phone, email, and Twitter. The live chat function allows you to have real-time conversations with your customers.
Your customer's data and store are secure on Shopify as Shopify has 256-bit SSL encryption for Level 1 PCI compliance and security.
Shopify Pricing:
The basic cost is $29. per month to sell (up to 30,000 items per month) You can also choose a premium theme for a one-time fee ranging from $100 to $180.
If you are planning to dropship? You can set up a dropshipping business on Shopify, and sell up to 500 products per month for free by installing the free plugin Oberlo. (Shopify ties up with Oberlo for integrated dropshipping tools.
Shopify offers a 14-day free trial, with (no credit card required)
Key Features of WooCommerce:
WooCommerce is a single platform where users can run e-commerce and affiliate sites under one roof. If you have websites on the WordPress platform, then WooCommerce is a breeze for you. All you have to do is install it, add your products, and fix your settings.
However, you will need to install several third-party plugins to get the most out of WooCommerce. It is meant to add features like payment processing, inventory management, and stock control. and Bluehost simplifies the process by providing read-only access.
The WooCommerce plugin can turn your WordPress website into a fully functional eCommerce website. The basic WooCommerce plugin is easy to install through WordPress, and what's even better is that the plugin is free to download and use.
Security And Support of WooCommerce:
Through its secure payment processor, WooCommerce ensures PCI compliance and secures communication between your customers and your servers.
However, WooCommerce can be slow because it can't handle the very heavy loads of themes, plugins, or products you add to your store.
So be mindful of everything you install that may affect your store's performance and choose the right hosting environment that determines how much traffic your store can handle.
WooCommerce Pros:
WordPress is the best platform for Strong SEO performance
1 Click Selling App Available
Lots of WordPress Experts Available
Highly customizable
Multiple marketing options and tons of other integrations
Cons of WooCommerce:
Good hosting can be expensive
Troubleshooting will have to tackle the blame game.
Virtually zero support
You need extensions for simple things
WooCommerce Pricing:
WooCommerce has no setup fees or monthly fees. US businesses pay 2.9% + $0.30 for every transaction made with a credit card or debit card issued by a US bank. US For cards issued outside the U.S., there is an additional 1% fee.
WooCommerce describes itself as an open-source commerce solution built on WordPress. So you need to have hosting and a WordPress site to use it. And it is the ideal solution for small businesses with WordPress development resources as it will be easy to customize.
Overall, Woocommerce is one of the best eCommerce platforms for those who want to make it easy to start their online retail business, whether for physical products or also for digital ones.
(Try Wocommerce with Bluehost now for a 30-day money-back guarantee)
And the web hosting platform deal provided by Bluehost makes it incredibly simple to get started on WooCommerce.
(Wix: eCommerce platforms)
Key Features of Wix Platform:
Wix is ​​known for providing an all-purpose website builder, not just templates and logos, but a fully functional eCommerce platform that offers everything to start selling online in minutes.
Wix is ​​a great option for small businesses. Through Wix, setting up an e-commerce platform is really simple and easy, it doesn't require any coding skills. As a small business, you can take advantage of its unique features like reservation, and booking capability.
On Wix, you can design the best website using the drag-and-drop editor or Wix Artificial Design Intelligence (ADI) tools. With ADI, website design requires you to answer a few questions, then within minutes, Wix will automatically create your website. You can then customize the color and theme of the website to your liking. We have over 500 templates available to help you get the look and feel you need for your e-commerce site,
With inventory management on Wix, you can use Wix Payments to choose from a global network of payment providers, which includes all the major credit card companies, as well as other services like PayPal and Stripe.
Wix Platform Pros:
Tons of free amazing themes. + On-page support for multiple needs
Easy to use and set up + Includes marketing automation
Drag-and-drop website builder + multi-channel sales capabilities
Wix Platform Cons:
Poor SEO performance. + Many sites were not secure
Lacks upselling features and advanced automation
Difficult to fully customize templates + weak upselling capabilities
A basic plan is not enough for most businesses
Support And Security of Wix Platform :
On Wix, you'll find support options 24/7. Where you will have a strong knowledge base through callback service for tickets, and phone support.
Wix Platform Pricing:
Business Basic price is $23 per month (20GB storage and five hours of video)
Business Unlimited price is $27 per month (35GB storage, 10 hours of video) for multiple currency capabilities and the ability to print shipping labels
Professional VIP pricing is $49 per month for custom reports, loyalty programs, and priority customer service (50GB storage, unlimited video).
For large eCommerce businesses, this is not ideal for SEO,
Since storage space is 20GB and features are limited, you may need to switch as your business grows.
It is beginner-friendly. Wix eCommerce platforms are ​​most popular for on-page customer support when building a store. Here you can drag and drop elements to add great videos, and functionality, and create the website you want.
Wix's eCommerce platform features have evolved significantly over the years, they now offer multi-channel integration, abandoned cart recovery, dropship, and print-on-demand capabilities.
Overall, if you want a simpler alternative to full-on web store creation, Wix offers the best for you.
(Weebly: eCommerce platforms)
Key Features of Weebly:
Weebly is a great option for those looking for a simple store with built-in marketing automation. They provide the basic tools needed for a functional store without flashy extras to confuse you. And here users can upload products in bulk, and the dashboard is simple.
Weebly is an easy-to-use drag-and-drop website builder. This blogging tool provides more than 50 customized templates that help you create a customized blog for your business.
Their mobile app helps you build and manage your online presence without taking time away from your personal business. And their free and affordable paid plans make it the best option for brick-and-mortar companies.
But you can't sell digital goods on it. For physical goods, you are limited to 25 products with a 3% transaction fee.
however, they offer a drag-and-drop editing tool and the option to use HTML and CSS to customize your templates there are many free themes along with premium themes, not all mobiles are responsive, so choose carefully.
You'll also find plenty of tutorials in Weebly's help center, online, or via email. The Professional and Display plans add phone support.
Weebly Pros:
Excellent value for a basic store
Lowest Prices for eCommerce Marketing Automation
Amazingly low cost and free template design
Mobile app and powerful email tools
Dashboard easy to use
Free plan and drag-and-drop builder
Cons of Weebly:
Charges an additional transaction fee
Sucks with SEO
Amazon is not on their radar
No Amazon integration
Inventory management is still very basic
Weebly Pricing:
Adds $5 per month individually billed or $9 month-to-month for all infrastructure plus digital goods sales.
Professionals are billed annually for $12 per month or $16 month-to-month for unlimited storage and the removal of Square ads
Small businesses and online stores are $25 per month and business plus (power sellers) are $ 38 per month.
Weebly offers a free plan for a limited time, which allows you to try it out on a smaller scale before paying.
(Volusion: eCommerce Platforms)
Key Features of Volusion:
The Volusion eCommerce platform is a great option for those selling physical products. And the dashboard is well structured with all the main action areas in the top navigation menu. You can also manage inventory and work marketing.
They offer an easy-to-use website builder with drag-and-drop and in-page editing. Here you can build your own online store with expertly designed themes, a variety of navigation styles, custom domains, a rich content editor, free themes, and a good number of premium themes.
Volusion provides powerful SEO tools, so you can easily track and manage all your metadata to keep your pages, products, and categories SEO friendly. And marketing options include selling on Google, eBay, Amazon, social selling, rewards, and coupons also.
Social integration is good for your website performance and garnering more leads. Plus, reporting features keep you up to date with everything that happened in your store, from abandoned carts, and live carts to product and category views.
But, at Volusion, you have to buy an SSL certificate. And it doesn't even come with blogging capabilities, which is a big downside in today's times where SEO is king with blogs. To achieve this, you will need to use a third party such as WordPress, and a plugin or other means to connect the blog to your store.
Volusion Pros:
Fantastic onboarding and support center
Great flexibility with sitemaps
Built-in subscription/recurring payments
SMB Friendly
Well Designed Dashboard
Clear Inventory and Marketing System
Cons of Volusion:
Lack of features/cross-selling
Many sites had poor URL structure
One of the slowest SaaS platforms
Many of the sites I studied looked out of date
No built-in blogging functionality
Volusion Pricing:
Their prices are limited by the number of products you can sell. The first plans, costing $29 per month, and the second plan costing $79 per month have restrictions on (100 and 5000 products,) respectively.
Giving Beginner support is a big deal; From the dashboard, you'll see tons of learning materials available on how to build your store step-by-step with Volusion to start and grow your online business right away. All the functions will help you to build a website with a great shopping experience for the customers.
Overall, it is a solid platform for a subscription eCommerce business. Dropshipping is also good but not good for print-on-demand.
Magento: (eCommerce platforms)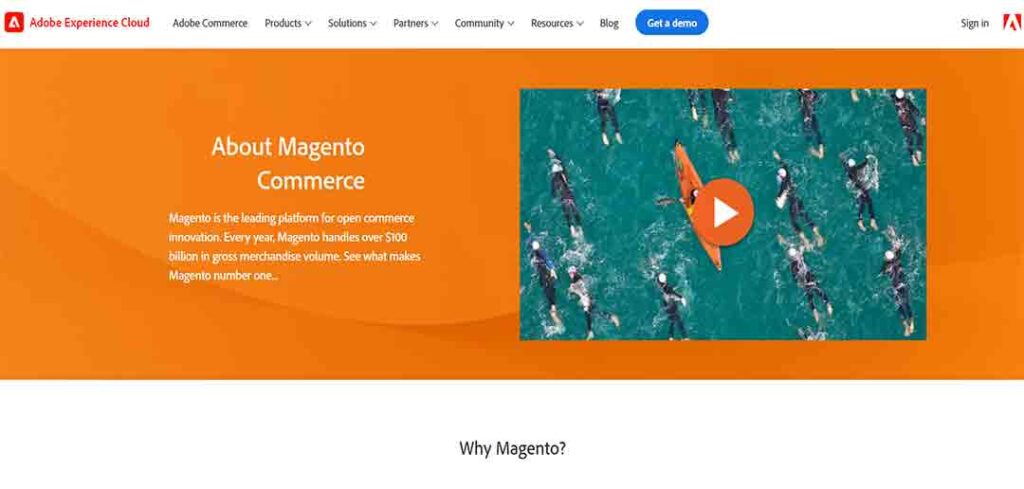 Key Features of Magento:
Magento is also the most used eCommerce platform, as an Adobe product, Magento offers the most customizable solutions for large companies with plans to expand even further.
Adobe offers two eCommerce platform solutions, the first is Magento open source and the second is Magento Commerce.
The launch of Magento 2 has taken the platform to a higher level, prompting many providers to create more effective solutions for B2B eCommerce firms.
But it's also known to be incredibly complex, so you need a developer to get started, your non-technical team will appreciate the intuitive interface that keeps up with and updates your high-volume business. Makes it easy to do. Makes monitoring easy.
Strong search engine optimization gives your online store more opportunities to rank higher on search engines like Google, Bing, and others. and allows one site to handle 500,000 products and 80,000 orders per hour.
Furthermore, Magento enables your online store to be more efficiently integrated with third modules or apps such as MailChimp, Google Shopping, and more.
Magento is open-source and has many custom extensions that can be shared among multiple Magento users. Through a single instance of Magento, you can manage multiple eCommerce stores with different languages ​​and different currencies.
However, with Magento open source, you have to pay for hosting from a third-party hosting provider. Magento does not charge transaction fees other than those charged by the open-source payment gateway, which may vary.
Magento Pros:
Open-source software is free + 1-click selling apps available
Virtually Unlimited Capabilities + Best for Search Engine Optimization
Robust and feature-rich + scalable and highly customizable
Cons of Magento:
Precious theme and slows down easily
Requires development skills
Virtually no support.
Requires sufficient space and memory to perform well + Developer and IT support is required to get your website up and running
Magento Security And Support,
Magento supports you to customize multiple levels of security permissions, control internal access, and ensure the security of your site.
Pricing of Magento:
The basic version of Magento is free, but the enterprise version can cost around $20,000 annually.
Magento's open-source and hosted software is the best option for large companies. And some well-known big brands are already dependent on Magento. Like, such as Nike, Cisco, and Procter & Gamble.
If your brand is new to the eCommerce landscape and not all that tech-savvy, then choosing Magento is a bit risky.
But if you have a developer or budget – and want something really customizable and powerful – then Magento is a solid choice.
With the basic version of Magento's free, open-source software, you can create any function you want, such as site search tools, one-click instant purchase options, total control over catalog management, and more.
Although the free open-source version doesn't come with support, the paid version gives you a customer success manager and engineering support.
(Squarespace: eCommerce platforms)
Key Features of Squarespace:
They provide a range of features and tools to build an eCommerce website and provide hosting in all the available packages. You can use intuitive templates and intuitive drag-and-drop tools to design your websites according to your personal style.
But the downsides are payment processors and third-party applications. They only support Stripe and Paypal. As for apps, they only integrate with a few third-party tools.
You'll enjoy access to marketing, inventory, social selling, SEO, and analytics features. Squarespace integrates with ShipStation and allows you to install Painful and ShipBob from the Apps section. It also provides real-time calculation of shipping rates from major providers (UPS, FedEx, USPS).
Squarespace Pros:
Easy to set up
Great for casual stores
Stunning Design
Solid SEO Tools
Drag-and-drop website builder
Integrates with ShipStation and ShipBob
Cons of Squarespace:
No Dropshipping and marketing automation integration
No Amazon integration
It May be fast for the price
No App Store for more features and functionalities
Squarespace Pricing:
Squarespace offers monthly or yearly contracts, and you can save up to 30% with annual plans. You get up to $100 in Google Ads credits with your package. You'll pay an additional 3% transaction fee on the Business plan, on top of the fees charged by your credit card processor. plans are included.
Business plan $18 per month
Basic Ecommerce Plan $26 per month
Enhanced Commerce: $40 per month for abandoned cart recovery, subscription sales, and real-time shipping information
The Top plan allows you to get abandoned cart auto-recovery, sell membership and gift cards, and offer flexible discounts.
14-day free trial, no credit card required
Overall if you don't need a lot of features, give them a try. It's also great for print-on-demand eCommerce businesses.
[Shift4Shop: [formerly 3dcart])
Key Features of Shift4Shop:
Shift4Shop supports all types of online stores and comes with integrated SEO tools and CRM to keep all the necessary data and tools in one place.
Established in 1997, 3dcart (now Shift4Shop) was established with a vision to incorporate as many requested e-commerce features as possible in a single platform. It has served more than 22,000 online businesses with customers since its release in 2001.
It has six core values ​​by which it operates: ongoing innovation, good service, simple solutions, fostering trust, keeping employees and customers happy, and encouraging prosperity between employees and customers.
Product images on Shift4Shop are placed with the auto-zoom feature and products can be sold through Facebook with its store integration. Like some other platforms, users can blog directly from Shift4Shop, and tools are provided for setting up coupons, sending newsletters, and affiliate marketing.
Users can also make use of the "Make an offer" feature, which basically lets you and your customers negotiate a price. There is also a B2B quote system, which provides customers with a provisional quoted price after discussing their order via phone.
Their templates are more industrial, but they feel vintage. And with no drag-and-drop functionality, customizing the store takes a lot of time to understand and get used to, although there is a community of developers who are more than willing to assist with theme development and other modifications.
Shift4Shop Security And Support:
Shift4Shop offers SSL authentication. Hosting is guaranteed at 99.9% uptime and 24/7 support is provided via phone, email, or online chat.
also, users can request help with SEO, PPC, Shopping Feed Management, Social Media, Facebook Ads, and Conversion Consulting. Support can also be provided to ensure that the user's store is set up at the highest level. Services such as site cloning, setting up custom tracking, data migration, and training are provided.
Shift4Shop Pros:
It has a better blogging feature than SaaS e-commerce and supports all the integrations you need
Great business user management tools like (Email, QuickBooks, Lists, etc.)
Cons of Shift4Shop:
Templates are in line with trends, but never too cutting edge
Negative feedback on customer support
Potential upgrade issues and not for beginners
Shift4Shop Pricing:
The lowest one, which costs $29 per month, allows up to 50k visitors.
So you can test the service with a free 15-day trial.
Key Features of Prestashop:
Prestashop is another open-source and cloud-hosted e-commerce platform that offers the best overall value for building an online store and growing your business. It offers a mobile-optimized platform, which allows you to choose between various eCommerce store themes.
But you will have to pay the costs to complete the hosting, SSL certificate, and another module store.
In addition, there is a wide range of add-ons and modules that contribute to enhancing the overall performance of your online store. You can manage your products, orders, and customer relationships and get reports on real-time statistics.
It is also easy to create content on your websites such as blogs and share your content on social networks to attract more visitors. The platform breaks any limitations of your website by allowing you to present your store in multiple languages ​​and currencies.
If you don't have heavy technical skills in HTML, CSS, and/or PHP, you'll need to pay a developer. Still, it allows for extensive integration with open-code couriers, payment gateways, accounting, warehouses, ERP, and more.
Ten themes are available for free in Admin. You may need less knowledge of HTML and CSS as the theme customizer does not have drag-and-drop functionality.
The dashboard is straightforward and simple. There is an onboarding video, and you can meet most of the requirements with a one-click enabled module. They allow for better SEO work, advertising, cross-selling and social analytics.
You can expand your product sales to any type of customer and country. Specifically, you can easily integrate dropshipping with your Prestashop store with a few steps to grow your business without wasting time on inventory management.
Prestashop Pros:
Lots of apps/integrations available
Strong SEO
Very flexible open source
Huge and ready to help the community
Prestashop Cons:
Slower than other builders
Can add add-ons
Limited third-party marketing integration
Developer Skills Required to Tweak
No multichannel functionality on the hosted version
You have access to a 16-day trial or pay directly. It comes with an SSL certificate.
Best Ecommerce Platforms For Startups And Beginners in 2023
1. BigCommerce
2. WooCommerce
3. Shopify
Startups Businesses need a platform that allows them to easily scale and break through the ones they already have. Since the e-commerce market is booming, your platform needs to be able to handle whatever you bring in initially while still providing growth.
A startup business needs good SEO, good UX design, marketing input, and the ability to sell on multiple platforms such as mobile apps and social networks.
BigCommerce and Shopify are on par in terms of ease of use. Because you don't need to master technical skills like coding before using them and there's a ton of support.
WooCommerce is also a good choice for beginners/startups, especially for cost optimization and growing SEO.
Best Ecommerce Platforms For Big Businesses In 2023
1. BigCommerce
2. 3dcart (Shift4Shop)
3. Magento
To run a large e-commerce business you want complete control. In that case, you want to buy a dedicated server or VPS from a web hosting company and set up your platform there.
Also, if you have hundreds or thousands of orders weekly, you'll need a platform that gives you enough flexibility to connect software, help minimize errors, and manage your warehouse and others. Inventory System. Integrate seamlessly. ​
So a SAAS like Shopify will not satisfy you. However, if you set it up and don't bother yourself with web hosting technicalities, a platform like BigCommerce might.
FAQ:
How to start an e-commerce business in 2023?
How do I start an eCommerce platform?
Research the e-commerce space and find your niche.
Select your business name and choose a legal structure.
Apply for an EIN.
Obtain business permits and licenses.
Choose an e-commerce platform and create your website.
What is the best eCommerce platform and why in 2023?
BigCommerce is the best overall eCommerce platform. Its robust product search engine makes it ideal for large retail brands. It's also a great option for those looking to start an eCommerce store, or who have a brick-and-mortar store and want to expand their operations to include online ordering.
Is WordPress good for eCommerce business?
WordPress is particularly useful when building an eCommerce website because there are plenty of premade themes suited to an online storefront. It also features plugins that add complete eCommerce functionality to a site, from product display to shopping cart and checkout.
Who are Amazon's competitors in 2023?
Amazon's retail store rivals include Target, Walmart, Best Buy, and Costco. For subscription services, Amazon competes with Netflix, Apple, and Google. In the web services category, Amazon has several rivals such as Oracle, Microsoft, and IBM.
What are the popular 3 types of e-commerce?
There are three main types of e-commerce: business-to-business (websites such as Shopify), business-to-consumer (websites such as Amazon), and consumer-to-consumer (websites such as eBay)
Which eCommerce marketplaces are best for selling?
Amazon: is the Best eCommerce Marketplaces for Online Sellers
Amazon has evolved to become the largest eCommerce marketplace in the States.
Walmart: Walmart is the largest retailer in the world, and in 2000, it entered the world of eCommerce when it launched Walmart.com. there are some eCommerce also popular for selling like eBay, Etsy, Jet, Newegg, Rakuten, Cratejoy, etc.
[FAQ About Ecommerce Platforms]
Conclusion:
All eCommerce platforms offer different features and prices. So whatever route you rely on while building your website. You should always think carefully about the following factors before choosing an e-commerce platform for your business growth.
The platform you choose should ensure that your website is continuously updated and managed
Intuitive and intuitive payment processor and shopping cart
Good for customer service and user experience
Ensure the security of your site and customer data
Did this guide help you decide which eCommerce platform is best for your Online business? If so or if not! leave a comment below.

And if you know anyone who might benefit from this article? Click the share button to send them this page.

Hope you are helping them, and helping us by promoting our website!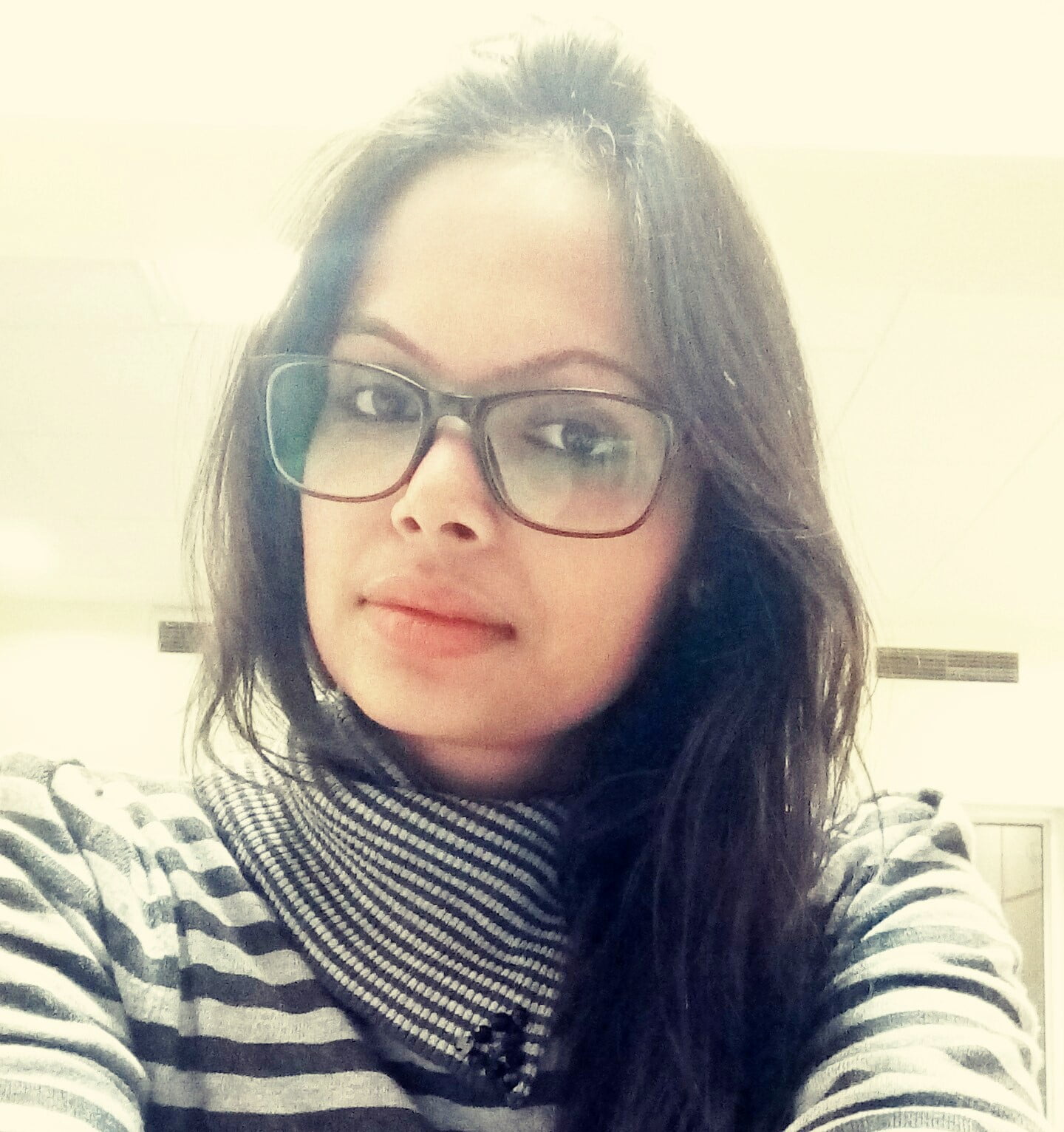 Hey, I am a fashion designer by profession and a blogger by passion, I regularly do extensive research on all things online and I am passionate about spreading my knowledge and supporting people in their online business journey. During my spare time, I like to travel to hilly places and further improve my skills by learning various things.