If you are considering setting up a dropshipping or wholesale model for your e-commerce business in 2023. So the quick answer is yes Salehoo is a great and profitable platform for those who want to start dropshipping in 2023. In this article, I will go into detail about the Salehoo review. How does it work, Pricing, and what is the product? How can you set up your dropshipping business with Salehoo? What are its Pros & Cons? But before we would dive with Salehoo. First, we get to know about Dropshipping in brief.
What is Dropshipping?
Dropshipping is a business model in which the online sales store does not actually hold any products in stock. When a customer buys an item from the merchant, the seller arranges for the item to be shipped directly from the supplier to the customer. Which is the most popular among eCommerce entrepreneurs.
Benefits of Dropshipping Store:
Dropshipping is one of the fastest ways to make an easy and risk-free income. Here I will tell you how you can make money from it. And how you can find drop shippers.
Just need a laptop and Internet connections for operation.
low barrier for entry, with a higher capacity for revenue,
No need to appoint more staff. and not an initial investment
No money is spent on inventory, materials, and equipment
Grow your business quickly. All the hard work is done by your supplier, so more sales will not necessarily translate into more work
When you are dropshipping, it is not a problem to keep inventory capital safe. As a trader, you do not have to spend money to buy inventory. The advantage of dropshipping is that it provides an opportunity for both parties (drop shipper and supplier) to be partners for their strengths and prosperity.
As you can see there are a lot of benefits to setting up your store to work with the dropshipping model. So, when it comes to dropshipping suppliers let's take a look at one of the largest areas in the area in Salehoo.
Salehoo Overview Review:
SaleHoo Group Limited is an e-commerce company, founded in 2005 in New Zealand in Christchurch by Simon Slade and Mark Ling. It is one of the largest shipping and wholesale directories available on the Internet. And is one of the first companies to offer international wholesale connectivity to its retailers.
Since its inception, Salehoo developed into a directory of more than 8,000 reliable wholesale and dropshipping suppliers, which offer over 1.6 million recognizable branded products that you can sell to your customers. There are currently 137,000 paid members who taking advantage of these opportunities.
SaleHoo Essentially, it provides a database for those who search for the items they want to market to their customers. Salehoo helps you increase your income and revenue by giving you access to all the tools and contacts you need to succeed in the wholesale and dropshipping areas.
You can communicate with suppliers and use the best-selling goods available in each category in different industries. For this, you will not have to go through a difficult process like going through wholesale suppliers and conducting tests. this is what Salehoo did for you.
You just have to get in touch with the suppliers who have the products you sell and start building relationships. DoubleDot Media Limited was named New Zealand's 23rd fastest-growing company on the Delight Unlimited Fast Food Index. Which is Salehoo's parent company.
In addition, Salehoo currently serves more than 100,000 retailers and eBay sellers in the US, United Kingdom, Canada, and Australia.
How Does SaleHoo Work:
When you find a product that you are interested in selling and a manufacturer who can provide you with the best possible profit, contact them and establish a supply chain. All suppliers provide important parts of their business along with their contact details – the minimum serial number at which time it has to ship on the Salehoo platform.
SaleHoo speeds up the process of going through suppliers. You can easily search for the latest items and prices that they sell on the e-commerce platform. You can also compare goods with manufacturers that store them to ensure that you get the best price. When you are confident with them, you should contact them.
Salehoo Pricing Review:
Salehoo offers one-year use at a flat price of $ 67. Also, you can purchase lifetime access for just $ 127.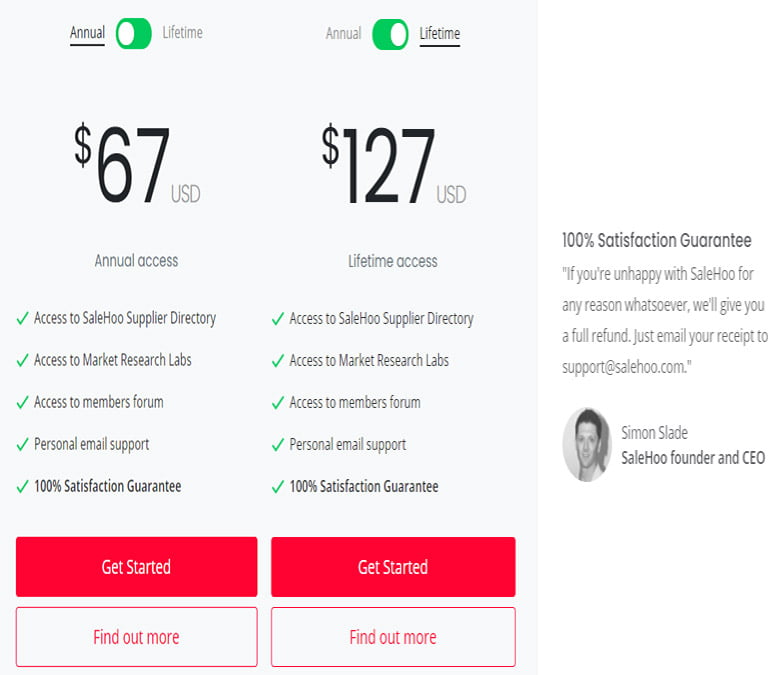 Salehoo's pricing and features are seen as very competitive in its market. One of Salehoo's biggest rivals worldwide offers a huge inventory of over 16 million wholesale goods. However, the membership of Worldwide Brands is $ 299.
Money-Back Promise:
The good thing is that Salehoo offers a 60-day money-back guarantee without question. just all you need to do is send an email with your receipt number to [email protected] for 60 days (60th included), and they will give you your money back.
Salehoo Products Review:
So here you will get access for one year, which costs you $ 67 with Salehoo. They have 5 main products. But before we learn about Salehoo products, we get to know the difference between dropshipping and wholesaling.
What Is The Difference Between Wholesale And Dropshipping?
Wholesale -: This is a process in which a manufacturer buys a large-scale inventory at a discounted rate and then sells it to its customers at market price. Its bulk is called.
Dropshipping -: Dropshipping allows you to sell products without stocking inventory.
So at this point, you may ask, do I have storage for the products? the answer will determine whether you choose a bulk or dropshipping model.
Salehoo Products For Dropshipping:
See the below 5 main Salehoo product services in detail.
1) Dropshipping Suppliers:
Salehoo offers over 1,000 trusted dropshipping suppliers. you can choose anyone All of these companies have been audited and tested by Salehoo so you can be confident that they can be trusted.
There are cases of people who do not use Salehoo and go directly to the supplier to find that they were not genuine, who may lose money.
When you check the drop shipper, you can find the following details.
Contact Information
Product Range
Quality of goods
Customer service review
How far do they ship
How do they ship their goods
Whatever you want to sell, there is likely to be a supplier who can supply those products. Salehoo has suppliers of general product categories such as clothing, jewelry, footwear, and antiques. If you are selling or aiming for a foreign market, SeleHoo can help you.
If you do not have many suppliers in your country. So you can take advantage of international dropshipping to grow your business globally.
Salehoo is great for beginners as it allows you to sort suppliers through minimum orders. There are some suppliers who place very few or even a zero minimum order, which is important to keep an eye on if you are just starting out. Additionally, you want to stay away from suppliers who offer an application fee to get started. Currently, about 70% of suppliers do not pay that much attention.
2) Wholesale Suppliers:
Salehoo provides you with more than 8,000 reliable wholesale suppliers, where you can view all the necessary information that you can with dropshipping suppliers.
As you can see from this image, Salehoo offers a wide variety of wholesale suppliers. All products from the companies below come at genuine wholesale prices which allows you to make a profit while selling. Sellers using SaleHoo sell their branded products on their website as well as on eCommerce marketplaces such as eBay, Amazon, and Etsy.
When it comes to wholesalers, you need to be more specific than drop shipping because they will be sending you the products. Within a few clicks, you can search for suppliers in your country as well as companies that ship to your location. Additionally, you can also see their minimum order values ​​and products. This process is much faster than going through a rigorous search exercise by Google.
3) Market Research:
On the price graph in the image above, you can see and think about what a market research lab is. Salehoo helps you track 1.6 million products in your directory so that you can find a location that is likely to be popular and most profitable. Well, it will depend on which location and the currency you are selling. However, their figures are quite accurate.
However, it can be frustrating if you find a trending product and then find that a lot of other stores have already started selling it. In such a situation, In order to counteract this Salehoo use 'sell rate' and competition data to discover products that have low competition.
Also, you can ensure that you stand out and become special in an otherwise competitive market. With this, you can also access month-to-month revenue reports to capture seasonal patterns ahead of your competitors. It will also help you lose money from wasted inventory.
Lastly, you can also save products that you find interesting and can run reports based on them.
Competition
Sell rate
How often is this product listed
Price Trending
4) Training And Support:
The best thing about Salehoo is that they help all eCommerce entrepreneurs in the early stages of their journey, and it is important that they get their training and have the right support.
Looking at online interactions with vendors, it is clear that Salehoo has excellent customer service. Their support is available via live chat and they are also available via phone and email, Monday to Friday between 5:30 pm. To 1:30 AM (this is Eastern Standard Time).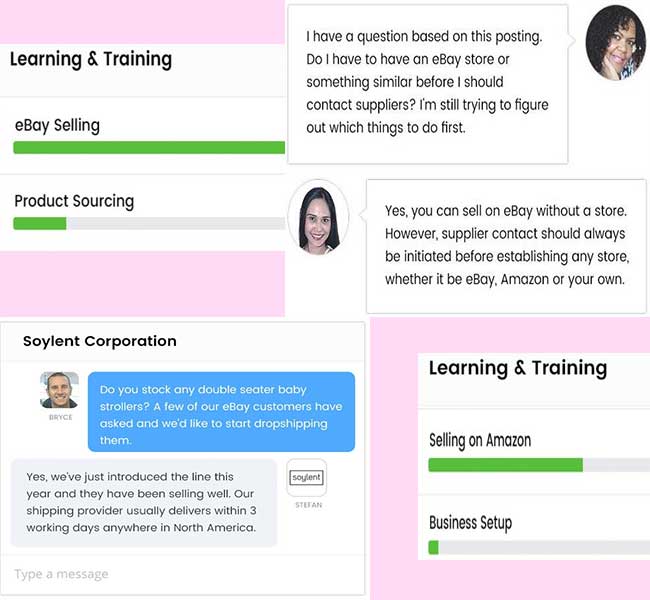 Also, they provide assistance very quickly through their social networks such as Facebook and Twitter pages. An important improvement that should be included in support of Salehoo is that if some products are not listed, they can help their users find the product. The service is currently offered by Worldwide Brands.
Salehoo's support area and 50 step-by-step guides are also fantastic. As Salehoo knows that most of his customers want to sell on eBay and Amazon, he provided some buying guides on those markets as well.
Ultimately, upon help, SeleHoo has a large online forum of vendors who are always on hand to offer advice. The Salehoo Website has over 60,000 articles about sales strategies, trends, and feedback for suppliers.
5) Dashboard:
Salehoo's dashboard is user-friendly. There are three elements that are important for each seller and that is vendor, product, and training. These are all included and are easily available through the dashboard.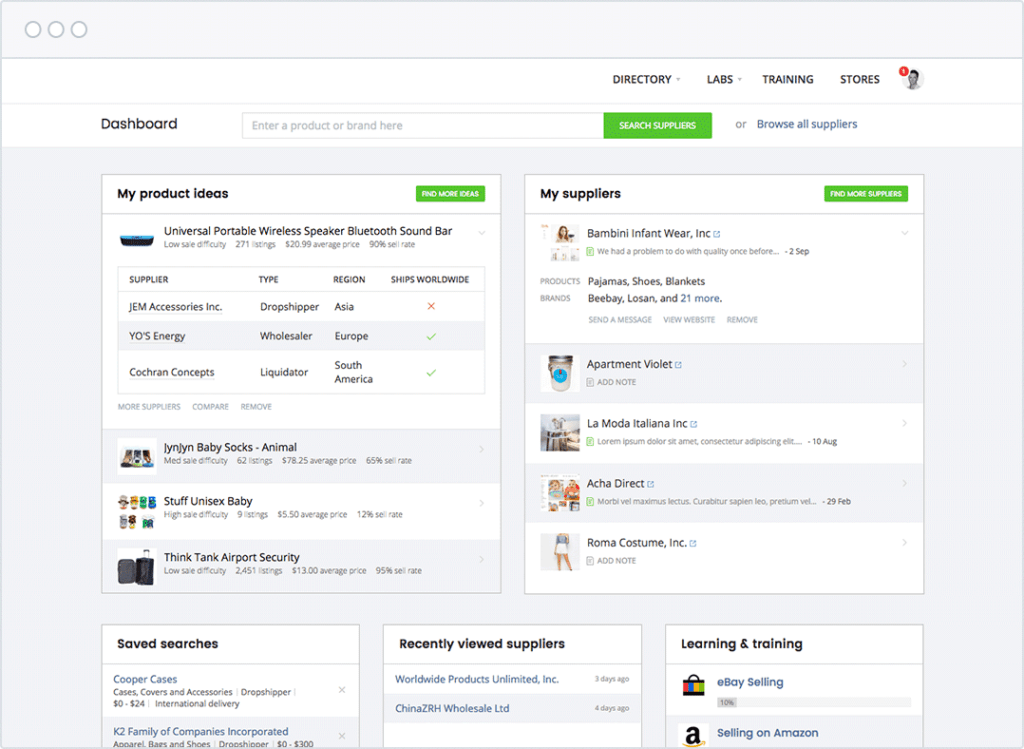 Also, you can save all your suppliers for future use. As you want to establish a relationship with these companies, it is good and important that you do not always have to dig up your details.
This is also where you will have all of the conversations with your suppliers. You will be notified whenever you get a message or order. You can also search through your message history and send messages directly from your dashboard.
As I mentioned earlier, Salehoo also provides guides and training on how to sell on market platforms like eBay and Amazon. You can monitor your progress inside your dashboard and jump in and out of modules with the click of a button.
You will also be able to track your interactions with your fellow vendors through the dashboard. Salehoo is very active and taking it along with giving advice will benefit them in the long run.
Salehoo Resources Review:
Free Guidance-: The "Free Guide" section will show you educational materials on the use of the Salehoo platform. The guide segment covers topics such as eBay and Amazon sales, choosing the best product to sell, starting an online shop, and more. It is recommended that you search this place if you are getting used to it.
Community-: SaleHoo provides a grouping platform where you can sign in and connect with other, more experienced users. The forum offers many articles and guides, and you can also ask people questions that will help make your experience on the platform easier.
Customer Support Services:
If you need more guidance or have a problem, you have several options
Contact Form and Email-: The best way is to get in touch with SaleHoo. Go to the "Contact Us" tab, and you will be able to talk to them directly via email. However, it may take some time for you to get your answer.
Live chat-: Once you reach your SaleHoo page, you can use the live chat feature. To access the tool, click the "Chat with Salehoo Expert" button. However, remember that this option is not always available. As the company's Contact Us page shows, they are available 12 hours a week. You will only have access to 24-hour live chat on weekends.
Social Networks-: The Salehoo platform provides support very quickly through its social networks such as Facebook and Twitter pages. You can also contact Salehoo using their social networks.
Salehoo Pros:
Customer Service -: All you have to do is a quick search for 'Salehoo Customer Support' and it will be difficult for you to find a negative word about them. There are plenty of options to contact them And for start-up vendors, good opening hours are required for startups.
Brands -: As mentioned above, some great brands are available through Salehoo like Disney, Lego, Adidas, and Sony.
Suppliers -: All suppliers have been investigated and you can be absolutely confident that you will not be cheated. If you decide to find your own suppliers then this can put you into complications.
Training -: I did not expect this when researching Salehoo, his training area is very good. He has taken the time to understand his clients, those people who have been stranded through issues on community platforms have put together comprehensive guides and videos to help him.
No hidden fees -: You pay a one-time fee of $ 67 per year. There is no hidden charge. You can pay the application fee to a supplier, but you will know it in advance.
Money-Back Guarantee -: The best thing is that you have 60 days to try Salehoo and you can get a full refund without any question if you want.
Low Minimum Order -: A great feature on Salehoo, especially for wholesalers. You may have purchased storage space and initially do not have enough space, or you do not want to commit too much financially. In that case, Salehoo alleviates this by offering low minimum orders.
Market Research-: Salehoo's market research is also good. Here you can identify market trends, take advantage of seasonal products and assess the level of competition to ensure that you make the right call.
Cons of Salehoo:
Marketplace Fees-: Salehoo believes that many of its buyers are going to use eBay and Amazon to sell their goods…..However, once you bought a product from a wholesaler or drop shipper and then sold it to one of these customers, the profit margin may not be good. Because third-party platforms charge a sales fee, and that will eat into your earnings.
Branding-: Not necessarily an issue with Salehoo itself, but with all wholesaler companies. As you are selling other people's products, it is difficult to develop your company's brand and reputation. This is why many sellers using Selehoo do not sell on their website and instead sell in the third-party market.
The number of products listed-: while 1.6 million products – sounds too much, it does not scratch the surface of the 16 million products supplied by Worldwide Brands.
FAQ About Salehoo Dropshipping:
Where Are SaleHoo Suppliers Come From?
It is based in New Zealand and has been in operation since 2005. Salehoo acts as a middleman, connecting a large number of online merchants or retailers with over 8,000 suppliers from over 100 countries (including the United States, the United Kingdom, Canada, Australia, New Zealand, and China), who deals in a wide range of trending and profitable products.
How Many Products Are Available On SaleHoo?
In their directory, Salehoo records over 1.6 million products to assist you to locate a market that is popular and potentially lucrative. While this will vary depending on where you're selling and the currency you're using, their statistics are very accurate.
How Do I Start Profitable Drop Shipping In 2023?
There are 7 steps to taking the step toward starting a profitable dropshipping business.
1. Decide on a dropshipping company concept.
2. Do competitive research.
3. Select the best dropshipping suppliers.
4. Create your online store
5. Decide on a business structure.
6. Organize your finances.
7. Promote your dropshipping business.
How Can I Cancel SaleHoo? Or How Do I Cancel SaleHoo?
Simply write to Salehoo support and explain that you want to terminate your account permanently, and they will assist you. I'm not sure why you want to cancel, however, did you know that if you're having trouble finding a supplier, the support team will conduct special searches on your behalf?
Where Is The Location Of SaleHoo?
SaleHoo Group Limited is located in a New Zealand-based e-commerce firm that operates SaleHoo.com, a website that specializes in global wholesaler-retailer transactions. It is one of the Internet's largest wholesale directories and one of the first to provide worldwide wholesale contacts.
Does SaleHoo Have An App?
SaleHoo Research Lab is not precisely an app; rather, it's a bonus service for SaleHoo wholesale supplier listing users.
What Is The Difference Between Wholesale And Dropshipping?
When a manufacturer buys goods on a large scale at a discounted rate and then sells it to his customers at market price, the whole process is called wholesale. Whereas dropshipping allows you to sell products without stocking the inventory
How Do I Use SaleHoo To Dropship?
How Salehoo dropshipping does work?
Take advantage of SaleHoo. To use the dropshipping functionality, sign up with SaleHoo.
Connect your Shopify store to your account. With just one click, you can link your Shopify store to SaleHoo.
Choose the items you want to sell. On SaleHoo, you can choose from a wide choice of high-profit products.
Important Questions About Salehoo Dropshipping:
Is it possible to make money with SaleHoo in 2023?
Yes, you can make money with Salehoo. If you are looking to set up a dropshipping business in 2023 to earn extra money, Salehoo is an ideal option, especially for small minimum orders. Moreover, the training offered by Salehoo is also an added bonus that is very accessible for beginners.
Can I use SaleHoo with Shopify?
Yes, SaleHoo Dropship allows you to quickly import products and information to your Shopify store.
1. Sign up with SaleHoo to Take advantage of dropshipping functionality.
2. link your Shopify store to your SaleHoo account With just one click.
3. Choose the items you want to sell.
4. Find the high-profitable trending product suppliers from Salehoo Research Lab.
Is SaleHoo suitable for bulk purchases?

Yes, SaleHoo is suitable for wholesale! They provide the most comprehensive list of traditional and dropshipping wholesalers available.
How do I find a good and reliable supplier for 2023?
To identify the top manufacturers and suppliers for your company, follow these five steps.
1. Research and Communicate your designs.
2. Reach out and collect information from suppliers.
3. Request samples for quality checking.
4. Negotiate a price.
5. Place your order.
Conclusion:
Salehoo is an excellent platform for entrepreneurs who want to get started with dropshipping. If you do not have your own storage space and want to take it to the next level. So Salehoo can accommodate you in this matter. A range can be reached with most of these companies due to the number of products offered by Salehoo.
Hope the Salehoo Review article has given you valuable information about the Selahoo Forum. If you have any questions about Salehoo, please comment below for further discussion.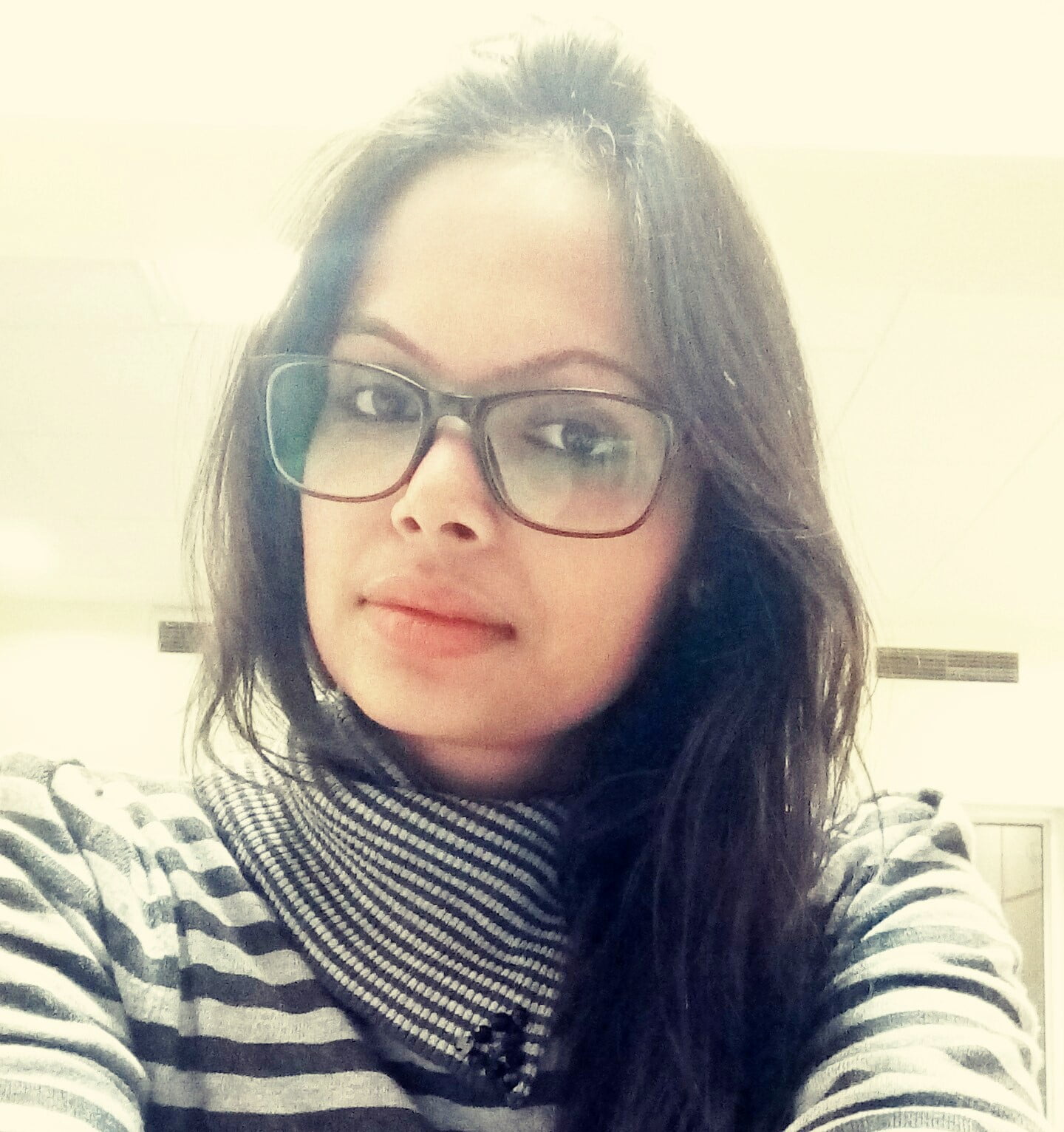 Hey, I am a fashion designer by profession and a blogger by passion, I regularly do extensive research on all things online and I am passionate about spreading my knowledge and supporting people in their online business journey. During my spare time, I like to travel to hilly places and further improve my skills by learning various things.