If you're looking to start your own eCommerce business in 2023—but don't want the added stress of taking care of stock—you might consider dropshipping. In this article, we have put together the details of the best dropshipping suppliers in the USA to help you choose the one that best meets the needs of your dropshipping business.
Dropshipping is a way to fulfill orders without the need for a stockroom full of products. Instead, you partner with a supplier to sell your products from your online store.
But only then can dropshipping be a profitable and successful business model. If you will implement it properly. The important part of implementation is finding the best and right dropshipping supplier in your dropshipping business.
Although overseas dropshipping suppliers are often low-cost, they also come with various risks, including longer delivery times and lower-quality products.
List of Best USA Dropshipping Suppliers In 2023:
Now it's time to start with the main list of this article, which will cover the 8 Best USA Dropshipping Suppliers that offer all kinds of products!
For each USA dropshipping supplier, I'll walk you through all of the supplier's unique features, pricing, pros, and cons. So that you know exactly what to expect when you are going to work with them. And it will help you make an educated decision about which supplier is the right one to choose. Also, I will include a link to all their websites. You can click on the title or on the screenshot of their homepage to see their website.
Keep in mind that these are suppliers of all kinds of products. If you are looking for the best specialized USA dropshipping suppliers, scroll down to the next list in this article to find them. let's get started!
1. Spocket:(Best for US / EU Dropshipping Suppliers)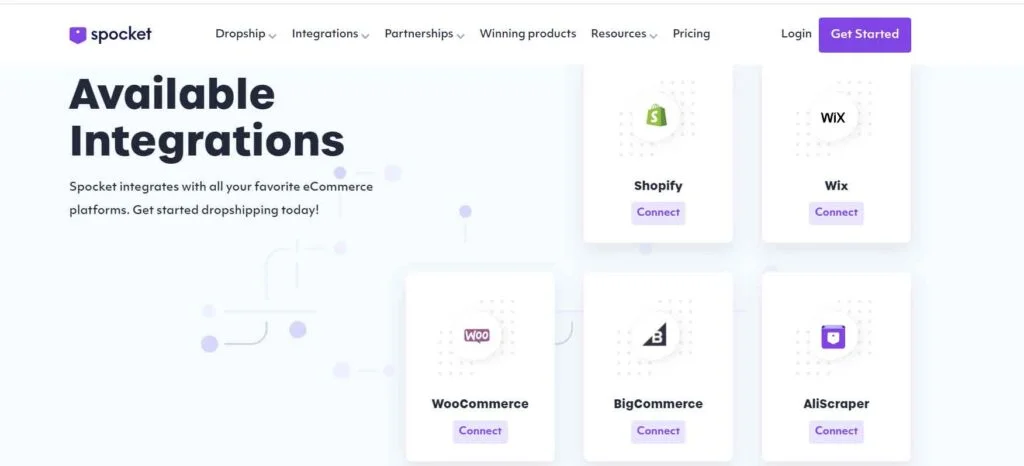 Spocket is best for online sellers who specifically want to sell US / EU products. Here you can easily start a dropshipping business by purchasing products from suppliers present in the USA and EU. It also provides access to suppliers from Australia and New Zealand.
And make it easy to find high-converting US and EU products with quick shipping within your country instead of China. Which usually reaches the customers within 3 to 5 days instead of the longer period of 30 days.
Spocket also launched a print-on-demand collection. So that you can use both Printful and Oberlo. If you want to expand your product range then it can come in handy.
Key Features of Spocket Dropshipping:
Spocket provides seamless integration with both WooCommerce and Shopify. Where you can add Spocket's products to your e-commerce store in minutes. It also provides a huge market with thousands of listed products.
They also provide product samples. So that you can easily test the delivery speed and quality of products before going live on your eCommerce platform.
The best thing with Sprocket is that it offers huge discounts on products that come with a 30-60% discount on their standard retail price – meaning you can earn a higher margin on the products.
Spocket allows branded invoicing. This means that you can create customized invoices for easy branding of your business and also provide a wider customer.
Spocket Pros:
With Spocket, you can order samples with a few simple clicks to test products and suppliers!
Spocket can be integrated with eCommerce platforms like Shopify, Wix, BigCommerce, and WooCommerce.
When scaling your business, you may consider upgrading to the Pro plan to unlock branded invoicing.
Cons of Spocket:
If you want to private label your business and ship your products using customized packaging, Spocket isn't for you.
Spocket Pricing: [Visit Spocket now.]
Paid plan starts at $ 24 per month
The Pro plan is $49 per month.
Empire Plan $ 99 per month
Free Starter Plan
2. Salehoo: (Best Dropshipping Directory)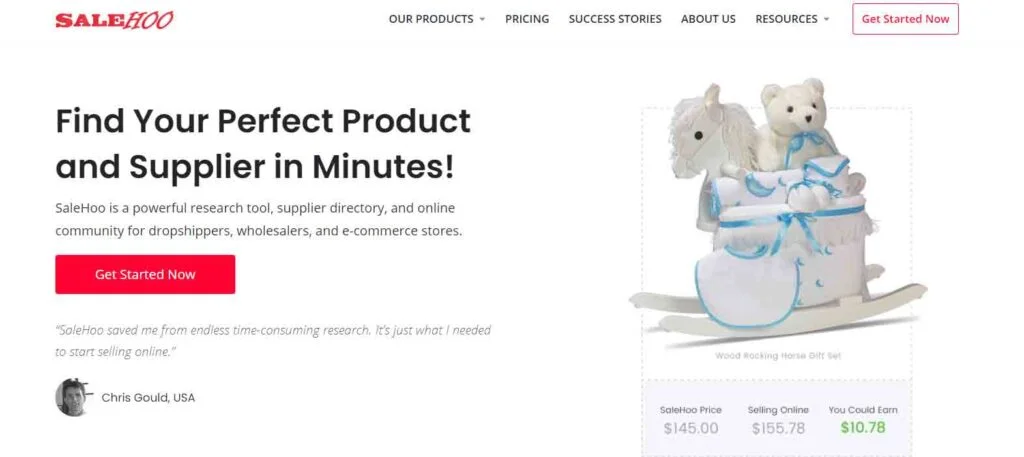 Salehoo is our favorite choice, it is the best database when you are just starting out. On Salehoo, you can get access to a large online community of wholesalers and drop shippers.
The Salehoo Directory is the ideal product for all customers who sell on eBay, Amazon, online stores, and small businesses as well as those looking for reliable drop ship and US wholesale suppliers. The directory includes 8,000 suppliers and 300,000+ products.
Salehoo allows you to get products from suppliers who ship internationally. This means that the facility allows you to grow your business even if there are few suppliers in your country.
Key Features of Salehoo:
If you are unhappy with Salehoo for any reason, Salehoo offers a 60-day money-back guarantee without question.
You can benefit from Salehoo's Market Research Lab, where you can easily get information about what people are buying right now and what is becoming popular in the market.
The best part is that Salehoo not only helps you find and connect with dropshipping suppliers. But also provides highly valuable free training. Where you can learn and chat with other people.
Salehoo Pros:
SaleHoo checks each supplier before putting it in its supplier directory. So while dealing with a supplier you meet through Cellhu, you will know that you will not be deceived.
SaleHoo offers 8,000+ pre-verified suppliers and 2.5 million+ unique products to sell online, making them one of the most comprehensive USA dropshipping suppliers.
If Salehoo's service doesn't meet your expectations, you can send them an email and get your money back.
Cons of Salehoo:
Since Salehoo is only a directory of suppliers, it may be possible that you have found your supplier on your own without paying a membership fee.
Salehoo Pricing: [Visit Salehoo now!]
Salehoo offers one-year use at a flat price of $ 67.
Also, you can purchase lifetime access for just $ 127.
( Also, If you are not sure, then check out our article to know in detail about the Salehoo review in 2023. Hope it definitely helps you in your decision)
3. Inventory Sources: (Best to automatically sync inventory to your eCommerce site)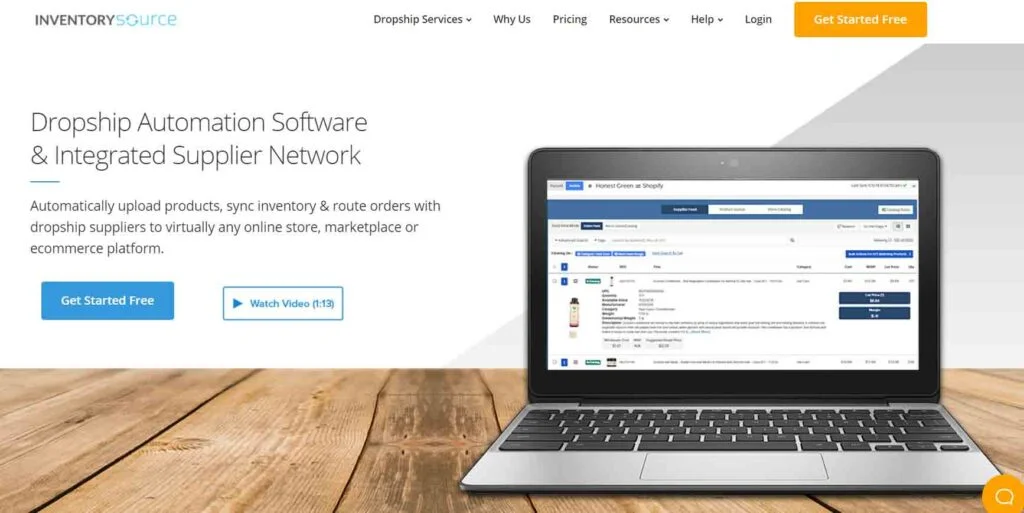 Inventory Source is an automation tool that allows you to either sync supplier products with your page inventory automation or syncs the entire customer purchase flow so that your orders are automatically routed to your supplier with full automation…
You can sync inventory with all major e-commerce solutions including Amazon, eBay, Shopify, BigCommerce, 3dcart, Magento, WooCommerce, and even Walmart. Inventory Source also provides a connection with over 230 suppliers and the facility to add your own suppliers on the platform.
Easily create and customize automation rules for filters, pricing, and categories.
All products are listed and distributed at the supplier's price. This allows you to automatically send orders to suppliers and sync shipment tracking.
Easy one-click integration with platforms such as Shopify and BigCommerce. Also, you can avail of 24/7 customer support.
It provides a smart system for ordering multiple suppliers and warehouse management tools to help you reduce delivery times.
Inventory automation starts at $ 99 per month
Full Automation $199/ Per month
Get started with a free plan
4.Printful: (Best for Print on Demand Dropshipping Company)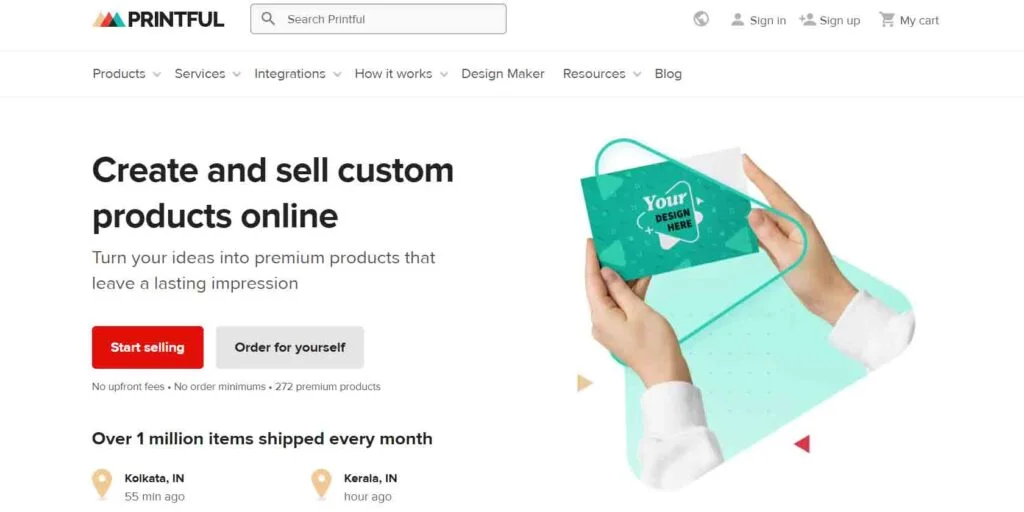 Printful drop shipping supplier is the best option for businesses that want to sell custom branded apparel, T-shirts, and merchandise.
When a customer makes a purchase, the order is automatically shipped to Printful. Then the Printful team prints, packs, and ships the order directly to your customer. You can also opt for branded packaging. You will get a notification and tracking number when the order ships.
There is no minimum order on Printful, and there are over 272 Premium products for you to choose from. Including hoodie and sweatshirt, laptop case, T-shirt embroidered cap, etc.
Printful should be your first port of call for anyone looking to build and sell custom products using the print-on-demand drop-shipping model. If you want to make and sell custom and print-on-demand products. They then provide easy-to-use design tools to create customized apparel and accessories in minutes.
Key Features Of Printful Dropshipping:
1) At Printful you can easily store all your orders in Printful's warehouse and send them directly to your customers.
2) It provides comprehensive integration with many eCommerce platforms including Shopify, Wix, WooCommerce, BigCommerce, and Squarespace.
3) Also, you can integrate it with online marketplaces including Amazon, eBay, and Wish. No monthly fee will also have to be paid. Just pay for shipping and fulfillment after receiving the order.
4) Printful ensures rapid global delivery through its supply centers located in North America and Europe. And offers both iOS and Android mobile applications to help you manage your orders easily.
Printful Pricing: [Visit Printful now!]
It is available for free.
Pay only after receiving an order covering fulfillment and shipping.
5. WorldWide Brands : (Best Budget-Friendly Database Drop Shipping Companies)
Worldwide Brands is a comprehensive directory of drop shippers and wholesale distributors. Every drop shipper in the directory is certified, here you can access over 16 million certified products through over 8,000 suppliers. So you can expect a response from everyone.
It is a great budget-friendly solution for those competing to sell products on Amazon, eBay, and Etsy. Because they are constantly updating their inventories with new suppliers in all regions. Also, it is best for online sellers who are looking for a one-time plan.
At Worldwide Brands you can access this directory for a lifetime fee of $249 database of wholesalers and drop shippers. With its one-time pricing plan, you can access its vast list of products and vendors.
Key Features of Worldwide Brands:
There is no fixed minimum order, this means that you can order as little as you want according to your convenience. Also, they offer basic iOS and Android mobile apps to help you find the best products on the go.
It is BBB A + rated and WBI certified to provide powerful security to its customers.
Worldwide brands provide quick response support teams via email and phone calls. Phone lines are open from 9 am to 5 pm (Monday to Friday)
Worldwide Brands Pricing : [Visit Worldwide Brands Now!]
The one-time fee is $ 299.
(You can also pay in three installments of $99, $100, and $110)
Moneyback within 60 days of purchase.
6.Sunrise Wholesale: (Best Who Want To Sell Branded Products Globally)
Sunrise Wholesale is a general wholesaler and drop shipper offering 15,000 products in over 20 categories such as home decor, sports and fitness, jewelry, garden decor, and more. You can find these products through the Sunrise Wholesale site.
this platform is capable of connecting with eBay, Amazon, BigCommerce, Shopify, and others. So you can get profit from the site by selling through these places. Sunrise Wholesale also provides access to website-building applications if you want to sell products through your website for a better online presence.
Here you can take advantage of its intuitive Sales Analyst tool to track different metrics of your sales in one place. In addition, you can browse its continuously updated list to assess the relevance of your products in the market.
It automatically updates product listings, prices, and quantities to save tons of time for more essential tasks. If you are a BBB member, you get additional benefits such as live chat and email support.
Sunrise Wholesale Pricing :
The monthly membership costs $ 49.00,
And the annual membership comes to $ 199.00 per year.
7. DropCommerce:
If you love high-quality products, then you are going to love DropCommerce. Every product featured on DropCommerce is due to its high quality and fast shipping times. also focuses on more specific items that you may not find everywhere,
Finding USA dropshipping suppliers on DropCommerce shouldn't be hard as they offer a directory of 400+ suppliers, all North American! And the platform offers free shipping tracking for almost every order. Also, dropCommerce integrates with major eCommerce platforms like Shopify and BigCommerce.
Dropcommerce Pros:
USA or Canadian dropshipping suppliers only. Other platforms also offer Chinese dropshipping suppliers, but Dropcommerce offers just 400+ North American dropshipping suppliers.
In DropCommerce, all you have to do is pay a subscription fee. No transaction fees will appear above product prices.
Since all products will be shipped from the US or Canada, the shipping time of DropCommerce is only 3-5 days!
Branded invoicing. Give your store a professional look by using the branded invoicing feature of DropCommerce.
Cons of Dropcommerce:
Features unavailable for cheaper plans. For some great features like automatic fulfillment, you'll have to pay for the most expensive plan, which costs $89 per month.
Expensive products. Products can be a bit pricey on Dropcommerce, making it more challenging to make a profit when selling them at your store.
Dropcommerce Pricing:
A 'Basic' plan is only $19 per month, but – if you think you'll need more access – you can opt for the 'Development' plan for $49 per month or the 'Professional' plan for an $89 monthly fee Huh.
8. MegaGoods: (Best for Electronics And Consumer Goods)
MegaGoods is a distributor and drop shipper of accessories such as watches, cameras, kitchen appliances, TVs, and Bluetooth products. It provides a list of over 2000 electronic items and is a low-cost solution for running a dropshipping business.
However, it has a minimal range of products, so it is a good option if you want to specialize in a niche. Its supplier list also includes some trusted brands including Boss, Disney, and Revlon. It also offers international shipping but only after taking advance payment for the goods. MegaGoods offers several payment methods, including credit cards, debit cards, and PayPal.
It provides custom data export support to easily list its products on various platforms including Amazon and eBay. And provides a comprehensive FAQ section to help users get all relevant answers.
MegaGoods Pricing:
Offers a 30-day free trial,
Costs around $ 15 per month.
Why Should You Choose USA Dropshipping Supplier?
See below are some main benefits of choosing a USA dropshipping supplier.
Made in the USA -: You will be able to brand your products as "Made in the USA" and quickly gain the trust of your potential customers. People believe that American products are superior in quality. At the same time, they also feel that by "buying American," they boost the American economy and employ people.
2. Fast Shipping-: It may take four weeks or more for products to arrive from AliExpress or other overseas suppliers. By partnering with USA dropshipping suppliers, you can get your products delivered as quickly as possible, within 1-8 days.
3. High Margin-: According to this survey, nearly two-thirds of US shoppers are willing to pay more for products made in the US. Better quality, patriotic spirit, faster shipping times – all this gives you the ability to sell at higher margins and make more money yourself.
4. Easy Returns-: Returns are also easier to handle if your customers are not happy with your products because everything is happening locally.
5. Short Supply Chain-: By keeping it local, your products have to travel fewer miles. As a result, your products are more likely to be delivered safely, and you can be more confident about dropshipping foods like dog snacks or delicates.
6. Convenient Customer Service-: If you have any questions, being in the same or close time zone makes it much easier for you to contact your suppliers. You can solve your problems quickly and avoid losing your customers.
7. Prepare for the Unexpected-: Finally, if something unexpected happens (like a major pandemic), your chances of running out of stock are slim. Shipping will be done to you from warehouses in various locations in the US.
What You Should Look For When You Choosing a USA Dropshipping Supplier?
How do I find USA suppliers for dropshipping? – choosing your supplier will be one of the more important decisions you make when starting your dropshipping business. Although most suppliers based in the US are reputable, you cannot rely solely on their location to make your decision. Below, we've listed some of the key things — in addition to location — that should be taken into account when choosing your best US dropshipping supplier.
Product Quality:
If you sell low-quality products to customers, chances are you won't be in business for very long. This is why selling high-quality products is so important.
Take a look at Trustpilot reviews for your chosen supplier, and – if you're still not 100% sure of the quality of the product – ask them to send you some references. A professional supplier should never have a problem doing this. One of the other benefits of choosing a US-based supplier is the potential opportunity to meet them face-to-face and see their products in person before committing.
Pricing Plans:
Pricing plans can vary greatly between US-based suppliers, and this can often be the end of what makes a certain supplier the right choice for you.
Monthly membership fees can soon add up, and new businesses may find they don't have the cash reserves to cover initial costs. Always compare pricing plans between at least two dropshipping suppliers to make sure you're going with the best deal for your financial circumstances
Shipping Cost:
One of the benefits of using a US-based supplier is the ability to offer quick delivery. Make sure your dropshipping supplier of choice offers all the usual delivery options – for example, next-day delivery – so that you can pass these benefits on to your customers. Also, be sure to confirm shipping prices in advance to make sure your delivery charges are set at the correct rate.
Guarantee:
Take a detailed look at the supplier's warranty and return policy. If something goes wrong with your products or customer orders, you need to know that your supplier will pick up the pieces.
Customer Service:
The best USA dropshipping supplier will provide 24/7 customer service, enabling you to resolve problems and questions quickly and efficiently.
If issues arise with individual products or shipping, you need to know that you will be able to get help from your supplier at any time of the day. With that in mind, we recommend checking out whether a supplier offers a live chat function, or – at least – phone or email-based support. The more information they provide about individual products, the less likely they are to be wrong.
FAQ
How do I Find the Best Dropshipping Suppliers for the USA?
If you want to find US suppliers, check wholesale directories, such as Sunrise Wholesale or Wholesale Central. You can also google phrases like "best US supplier for women's clothing" and check the first page of organic results. Keep in mind, however, that wholesalers aren't necessarily the best marketers, so even if they don't appear on the first page of Google, it doesn't mean they're bad at what they do.
Is Dropshipping Successful in the USA?
Most of the money in this business model is spent on advertisements as drop shippers rely on paid marketing efforts to sell their products. Successful drop shippers estimate that the dropshipping business with the highest success rate is around 10 percent during the first year of operation.
Which are the best dropshipping products?
The best dropshipping products are the ones you might not easily sell at a normal department store, have no advertising restrictions, trigger spontaneous purchases, and have a wow factor.
Did this guide help you find the best USA dropshipping supplier for your dropshipping business? If so or not! Leave a comment below.

And if you know anyone who might benefit from this article? Click the share button to send them this page.

Hope you are helping them, and helping us by promoting our website!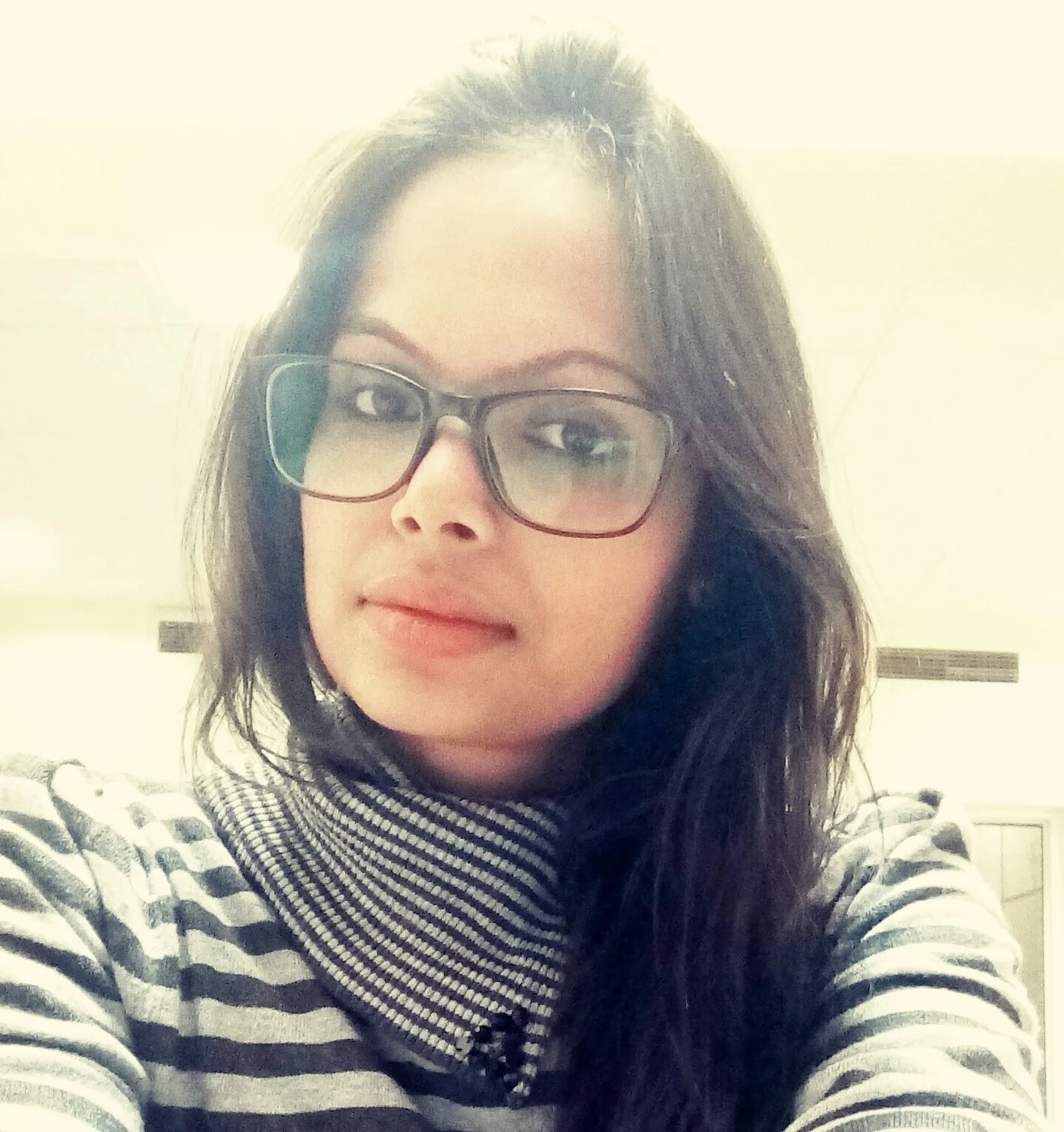 Hey, I am a fashion designer by profession and a blogger by passion, I regularly do extensive research on all things online and I am passionate about spreading my knowledge and supporting people in their online business journey. During my spare time, I like to travel to hilly places and further improve my skills by learning various things.