Do you want to start your own e-commerce website to sell your products online? So our list of best eCommerce web hosting providers will help you sign up with one of the best web hosting services in the market. So that your eCommerce website can work well to grow your business without worrying about IT issues.
E-commerce hosting refers to a web hosting platform. This means that eCommerce hosting provides everything you need to run an eCommerce business effectively and efficiently, including payment processing services, shopping cart software, security initiatives, SSL, etc.
There are hundreds of web hosts out there, but only a few of them are capable of powering your online store. So when you are looking for the right e-commerce hosting provider, it is best to choose based on the factors that you value the most. Like, your sales volume, traffic, site size, budget, and web development experience.
Especially if you want to run your store on Magento (WooCommerce), WordPress Presta Shop, or any other self-hosted system. You need to choose the best quality of eCommerce hosting available.
However, if you are going to build your store with an all-hosted solution like Shopify, Wix, Squarespace, etc., these platforms will provide you hosting as part of the main package.
This guide will tell you how to choose a host for your website project, what details to look for, and which hosting provider will best suit your specific needs. When you rely on your website to generate your income, you need to start by choosing the right host.
Before getting into the specifications, first, we need to know about the types of eCommerce web hosting in detail and also why it is important to choose the right eCommerce host for your eCommerce website.
Why Choosing The Right E-commerce Hosting Is Important?
Hosting is required to store your website content files. Website owners pay rent to host companies, but the capabilities of hosting companies vary greatly. If you do not select the best host, you may experience the following issues.
1.) Customers Will Leave A Slow Site:
Most consumers expect page load speeds of two seconds or less. In addition to customer experience, Google also uses site speed as a ranking factor. To find pages, Google exits your homepage or sitemap and "crawls" the links. If your site load speed is slow then your pages may not be included in Google's index.
The best eCommerce hosting company will ensure that it can manage the amount you expect. These include traffic spikes and other factors that hinder performance, such as content delivery networks and caching.
Caching makes web pages faster by storing page data as a normal HTML page, removing calls to the database, and enabling future requests to be rendered faster.
A content delivery network (CDN) is a comprehensive set of servers that keep your website's available resources, such as images and media files, and work together to reduce your site's load times. A CDN ensures fast load times by automatically routing visitors to the server closest to their geographic location…
2.) Customers Will Not Be Able To Access Sensitive Sites:
Starting an eCommerce site is easy, but an e-commerce business needs to implement proper security measures before customers can make a purchase.
If your site is not encrypted with HTTPS, your site will be identified as "Not Secure" if your client is using Chrome. So seeing it in the URL bar does not increase consumer confidence in your brand.
This is because if you don't have an SSL certificate, Chrome will warn visitors before they have a chance to see that page, an SSL certificate can also speed up your website.
Every browser is different. Which provide more security features than others. Chrome browser is the most popular of all browsers whose main mission is to keep users safe while surfing the web.
(SSL) Secure Sockets Layer certificates are small files stored on a server that encrypt data transferred between your computer and the website's server, Also provide a digital signature to verify the website being used.
SSL certificate protects online data transfer and credit card transactions on your website. It is also being used to secure the browsing of various social media websites. It builds trust among your customers. Even Google recommends every website have an SSL certificate.
Your eCommerce solution should be able to upgrade your software, add patches, and secure your own server software. The company's support team should also be able to handle the situation if your site gets hacked.
3.) You Can't Afford Downtime:
If your customers just can't access your site, they can't buy. The loss of revenue during an hour of downtime depends on the time of day, your sales volume, traffic, and the number of people affected. If this happens too many times, you will be in bad shape. In fact, downtime can sink your business, too.
Sometimes, web hosting services schedule unscheduled maintenance, which may cause your site to shut down. Unplanned downtime is more of a threat as it can take longer to recover.
E-commerce web host services often guarantee a certain amount of uptime. However, don't take their word for it. Check out customer reviews, and find out if anyone monitors your website so you can spot a problem quickly.
E-commerce web host services often guarantee a certain amount of uptime. However, don't take their word for it. Look for customer reviews, and find out if anyone monitors your website so you can be quick to spot a problem.
Best E-commerce Hosting Provider Review:
WP Engine: (Ecommerce Hosting)
WPEngine is built for WordPress and has partnered with WooCommerce to offer a wide range of documentation options and features. Which is made to make your eCommerce site run smoothly from the backend.
However, you will need to install the WooCommerce plugin. They also offer a WooCommerce Toolkit in some of their plans, and you will need to reach out to the support team to get it. They also use the WordPress-specific Evercache system, which is known to render pages in 150 milliseconds.
WPEngine is popular for serving websites faster, which is essential for increasing eCommerce store traffic, and has a more modern interface than Bluehost and SiteGround, It makes it easy to navigate around its dashboard so that you can easily find all the information about DNS, bandwidth, and storage.
Support And Security Of WPEngine :
Support is offered via email 24/7 at WPEngine Hosting, although their helpful support team is one of the best and most friendly in the industry. You can also connect through social media but they don't have a live chat option.
Transferring your site to WPEngine is done by the dashboard, and they have an SSL page to secure your transactions. It focuses more on its security on the WordPress platform. and provides a more personalized approach to potential problems.
Whenever a minor patch or new WordPress version comes out, WPEngine handles the upgrade for you. It keeps your site healthy at all times and away from bad guys.
WPEngine Pricing:
WPEngine pricing starts at $22/month. Far more transparent than the pricing of all the other hosts on this list,
Because the monthly cost of the Startup plan doesn't increase unless you need more sites or visits per month. And a CDN and SSL are included with all of its packages. as well as free migrations and lots of visits per month.
Overall, WPEngine is a managed WordPress host which is an extremely easy host to grow your business with.
DreamHost: (Ecommerce Hosting)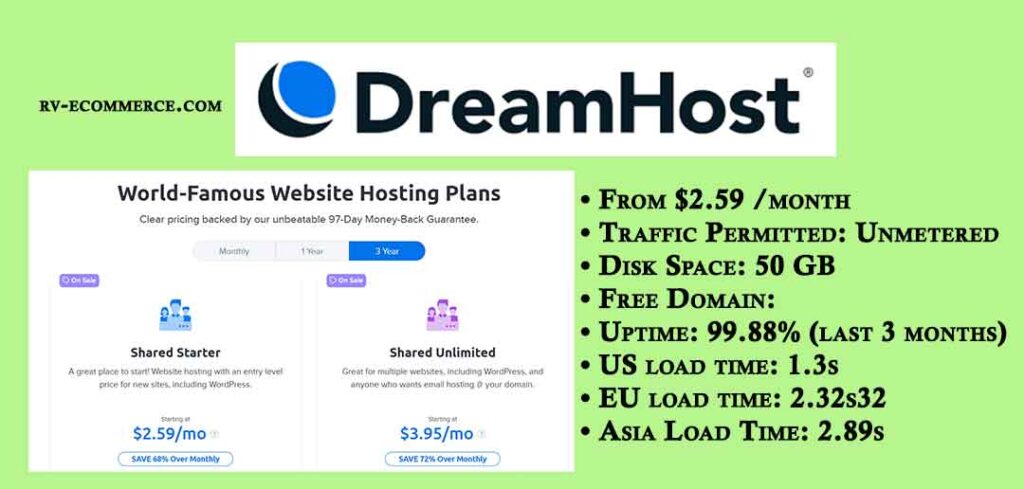 Key Features of DreamHost:
DreamHost offers "Unlimited Traffic" on all of its plans. Meaning that DreamHost does not track bandwidth or traffic and you will not be charged for a certain amount of bandwidth.
It's not so different from the "unmetered bandwidth" that you'll see from many other providers, and it means your site won't be penalized for growing!
DreamHost also offers free daily backups on all of its plans, which can be a lifesaver if you're just starting out as you won't have to worry about losing all your progress with one mistake.
Domain names are free for the first year when you register a .com, .org, .club, .net, or .info domain and every plan except the Shared Starter plan includes unlimited email — but you don't get it. You can get it for $1.67. / can be added. Month.
DreamHost's shared and VPS plans do much more than power a new e-commerce store – the sheer amount of features included in its shared plans is what makes DreamHost great for beginners.
But it's worth noting that DreamHost's dedicated plans are unattainable. This shouldn't affect your decision too much, however, as very few online stores will require the huge capacity of a dedicated plan.
Support And Security Of DreamHost:
But at DreamHost customer support, you cannot directly contact support over the phone. Which has one major drawback.
The support team may call you back in response to a question, but you may not be contacted at first, which can prove annoying. Instead, DreamHost's live chat function is available from 5:30 am to 9:30 pm, seven days a week. PST, though you may have to wait a little longer during peak hours.
However, DreamHost's security measures are more impressive than its customer support. Because DreamHost comes with a free SSL certificate along with the industry standard in all its plans.
You also get access to DreamHost's internally built and very self-explanatory malware remover, which finds and fixes malware on your site.
DreamHost Pricing:
DreamHost has two different shared hosting plans to choose from, and they are both great value for money.
DreamHost shared plans range from $2.59 to-3.95/per month. We recommend that you start out with the Shared Unlimited plan for $3.95/month as it has everything you'll need: unlimited traffic, WordPress pre-installed, fast SSD storage, and unlimited email @ your domain.
The cheaper Shared Starter plan has most of these features, but you'll need to pay an additional $1.67/month for email hosting – and Shared Starter Plus' cost of $1.67/month means you'll pay only $8.28 less per year. Full-price unlimited plan.
Best of all, DreamHost offers you a 97-day money-back guarantee. But this only applies to credit and debit card payments made for shared hosting plans.
If you're just getting started with DreamHost, you can join in!
Siteground: (Ecommerce Hosting)
Key Features Of SiteGround:
Ecommerce Features- SiteGround offers a plethora of useful eCommerce features that can help you take your online store to the next level.
As such, SiteGround provides auto-install of e-commerce apps, PCI-compliant servers, Cloudflare CDN (Content Discovery Network), and SuperCacher technology for faster loading.
Auto-installation is a lifesaver tool that makes the setup process a lot easier for you. and a CDN like Cloudflare improves site speed and keeps your visitors happy.
Also, Siteground's plans include a free shopping cart with installation for eCommerce, free eShop transfers, and an eCommerce-optimized server. SiteGround Hosting offers multiple server locations across three continents, meaning site speeds are better for all visitors around the world and ensuring unmetered data transfer scalability as your site grows.
However, SiteGround has an uptime guarantee of around 99.98% – but not quite as great as HostGator, which guarantees 99.99% uptime but is pretty impressive nonetheless.
Support And Security Of SiteGround:
SiteGround's 24/7 phone and live chat support puts it on par with A2 Hosting in terms of customer service. Also provides advanced spam protection at no additional cost, while providing filters for incoming and outgoing email messages.
SiteGround supplies the usual Let's Encrypt SSL certificate, and also has an in-house built monitoring system that checks the status of your server every half a second, detects a number of ongoing issues, and automatically and Potentially helps prevent future problems.
SiteGround Pricing:
SiteGround has a range of reliable hosting plans, with three price plans to choose from. Including specially designed online stores built with WooCommerce. If you want to build your store using WordPress' WooCommerce plugin, then SiteGround is a great option to consider the Startup WooCommerce plan as prices start at $4.99 per month.
But the Startup plan is only suitable for very small stores that aren't actually operating or selling yet. So $7.99 per month with the GrowBig plan or $14.99 per month with the GoGeek plan. For now, it is not so necessary to recommend this Plan directly.
Whereas, both these plans offer more scalable features, such as PCI-compliant servers and SuperCacher for better site speed, etc. In short, SiteGround's massive supply of features extends to its security offerings. And you're entitled to a 30-day money-back guarantee when you sign up for any of Siteground's plans.
Bluehost: (Ecommerce Hosting)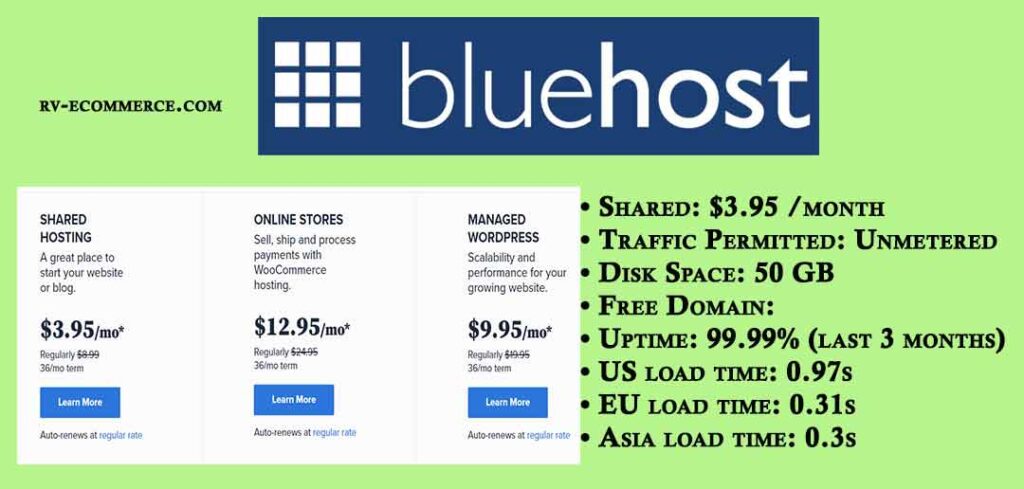 Ecommerce Features – Dedicated WooCommerce hosting plan, domain privacy includes regular automatic backups.
Bluehost's 99.98% uptime comes out to about an hour and 45 minutes of downtime per year, which is fair. Good uptime is vital for online stores in particular because time is money the longer your site is down, you won't be able to make any sales.
If you have small or medium-sized eCommerce websites. So you can work on the Shared Hosting of Bluehost. This gets you unmetered bandwidth for all plans and a global CDN with the Plus and Business Plus plans.
Bluehost's Starter WooCommerce plan fully customizes your online store ($12.95/month), and includes a pre-installed storefront theme, 100GB of SSD storage, and a free two-hour setup call with a WooCommerce expert. That's why you'll have all the support you need to keep your store looking professional.
Support and Security Of Bluehost:
Bluehost's customer service options include 24/7 phone, email tickets, and live chat support.
With Bluehost, you don't have to worry much if you lose information during an accident, as the company makes daily, weekly, and monthly backups for your information.
Bluehost offers a free SSL certificate, spam killer protection, hotlink protection, and Secure Shell Access (SSH). If you're signing up for a Bluehost plan, you'll make sure your site has all the standard security measures in place.
E-commerce websites will require SSL certificates. When visitors will share personal information, it is important for you to think about taking security measures.
Bluehost Pricing:
Bluehost is definitely a budget hosting provider. However, these prices often change depending on the number of ads you click or your plan to sign up.
If you are starting an online store with Bluehost, we recommend using the WordPress eCommerce plans, as they offer seamless integration with the WooCommerce plugin.
WooCommerce pricing is listed at $12.95 per month and WordPress hosting at $3.95 per month. If you're looking for faster speeds, and your visitor count is going to increase drastically, consider VPS hosting, which most other managed WordPress hosts start at $9.95/month, and Grow plan at $14.95 per month and handles tons of traffic. For use with up to 4 CPU cores.
Although Bluehost servers are super secure for shared hosting, you'll notice that you'll usually need to upgrade to a higher plan to get the Site Backup Pro service.
Overall you can say, Bluehost is one of the most popular and best budget hosts. Also offers an industry-standard 30-day money-back guarantee. So regardless you can test it stress-free.
Liquid Web: (E-commerce Hosting)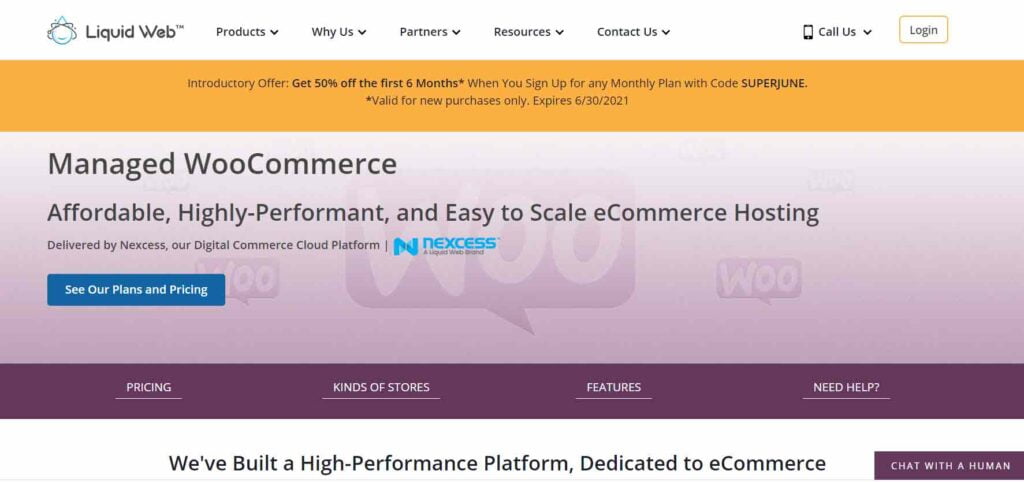 Key Feature Of Liquid Web:
Liquid Web is all about enterprise hosting. So don't try to find shared eCommerce hosting here. The lowest you can go for is managed WordPress hosting. However, apart from this, you also get the option of VPS hosting, cloud hosting, and dedicated hosting.
Liquid Web is fully managed to host mid-market and enterprise-level businesses. It is compatible with WordPress, WooCommerce, and Magento.
If you have WordPress-based online stores, I would recommend you consider managed WooCommerce hosting. This will keep Liquid Web not only maintaining its server hardware but also keeping all WordPress updates along with the security of your site.
On the other hand, you can manage your WordPress sites through a custom control panel. It's not the only interface though. Liquid Web takes advantage of the two-panel options on every other hosting package for additional functionalities. So you can proceed with any of these (cPanel/WHM or Plesk).
Another great thing about Liquid Web is its free site migration. While DreamHost will charge you $99 to transfer the site, Liquid Web has a dedicated team of developers that will handle the whole thing for free. This offer alone can help LiquidWeb win many conversions on a regular basis.
Liquid Web offers Mod_PageSpeed ​​and Memcached technology to all managed WordPress hosting users. So, imagine the performance level you could possibly get, especially when you throw in Liquid Web's HTTP/2, NGINX, and PHP 7 as well as automatic image compression.
In fact, Liquid Web is another eCommerce hosting service after DreamHost that guarantees a full 100% uptime.
Security And Support Of Liquid Web :
LiquidWeb is confident enough to guarantee you a response time of 59 seconds across phone, live chat, and email support channels. Hence, in case of any urgent issue, you are sure to get a response in less than a minute.
If you're worried about hackers, Liquid Web's CSF firewall might give you some relief. This protects against hackers and malware, while SSL site encryption protects your data during transit.
Liquid Web offers free daily site backups to prepare for the worst. As a result, if you lose your site data you will be able to restore it.
LiquidWeb has implemented strict physical security measures 24/7 to protect its data centers. Therefore, if unauthorized personnel attempt to break into Liquid Web's server rooms, they are bound to find surveillance cameras, security guards, etc.
The services of Liquid Web's support agents are not limited. Rather company policies allow them to do everything possible to provide assistance. So in short, expect your problem to be resolved quickly when you contact them.
Liquid Web Pricing:
Liquid Web deals with only Managed WordPress Hosting, Managed WooCommerce Hosting, VPS Hosting, and Dedicated Hosting. Its starter cheapest e-commerce hosting plan is $19 per month. It does not offer standard shared hosting options.
Liquid Web offers enough features to support an online store that handles up to 3,000 transactions a month. Some notable ones include free white-glove migration, Varnish, and Redis caching, page builder by Beaver, abandoned cart by jilt, 4GB of RAM, reporting, free SSL certificates, as well as unlimited products and orders. You will then be able to accommodate 30 PHP employees with 50 concurrent buyers.
Liquid Web managed WooCommerce hosting plan comes with the migration tool, Beaver page builder, abandoned cart recovery, and SSL certificate, Although orders and products are unlimited here, this plan is ideal for online stores that process around 150 transactions a month.
On the other hand, the Creator plan is perfect for e-commerce sites with around 1000 transactions per hour. It starts at $790 per year or $79 per month.
If you are running a dropshipping business, you will get the benefit of the standard plan. It starts at $299 per month, which is slightly less than the development plan, which costs at least $549 per month.
Liquid Web offers enough features to support an online store that handles up to 3,000 transactions a month. Some notable ones include free white-glove migration, Varnish, and Redis caching, page builder by Beaver, abandoned cart by jilt, 4GB of RAM, reporting, free SSL certificates, as well as unlimited products and orders. You will then be able to accommodate 30 PHP employees with 50 concurrent buyers.
InMotion: (E-commerce Hosting)
Key Features Of InMotion Ecommerce Hosting:
InMotion's e-commerce features include multiple payment methods, one-click installation for eCommerce apps, PCI-compliant VPS, and dedicated plans.
InMotion doesn't miss out on useful tools, even on its most basic shared plans. They come with unlimited disk space and free domains, so this is a great option for both shared and VPS hosting.
InMotion's shared plans are a great place to start a small or new store, later you can easily expand to a VPS plan.
Its PowerShare plan comes "completely ready for e-commerce," with one-click shopping cart installation and several eCommerce apps to choose from, including PrestaShop, WooCommerce, Magento, and OpenCart.
All InMotion plans come with free SSDs (Solid-State Drives), which provide faster content delivery to your site than hard disk drives and enough speed to keep even the most impatient customers satisfied.
Support And Security Of InMotion:
InMotion employees go through 160 hours of customer support training before starting work, you can take advantage of its 24/7 live chat and phone support
InMotion security measures include a free SSL certificate, scheduled automatic backups to secure your data, and regular malware protection. Although InMotion's security features aren't as robust as those of its competitors, you'll be prepared to protect your store.
InMotion Pricing:
InMotion's VPS hosting is optimized for eCommerce, with an array of high-quality features and helpful tools to help your business succeed.
InMotion's shared plan prices start from $ 2.49 /month perfect for a Small Business Website with 24/7 Human Support, while its VPS plan prices start from $17.99 /month.
While InMotion's prices are more expensive than most of its competitors, this is slightly offset by the 90-day money-back guarantee offered on each plan.
We recommend getting started with InMotion's Pro Share plan for $14.99/month. Which comes "e-commerce ready", with a one-click shopping cart installed.
InMotion gives you all the tools you need to succeed on shared and VPS plans, so you can start small and set big goals.
GreenGeeks:(E-commerce Hosting)
From $2.49/month
Traffic allowed: Unmetered
Disk Space: Unmetered
Free Domain:
Uptime: 99.98%
US load time: 2.24s
EU load time: 1.39s39
Asia Load Time: 3.13s
Key Features Of GreenGeeks:
GreenGeeks is one of the first web hosting companies in the market to position itself as an eco-friendly web hosting. They provide useful information and support to those who are planning to start a small business. Like how to start an online store from scratch, how to start a blog etc.
Frequently updated with industry-related content, the GreenGeeks blog also adds to the wealth of information you can get from this web host on how to run a successful website.
There are also plans for standard shared hosting, WordPress hosting, specially customized WooCommerce hosting, VPS hosting, and resellers.
GreenGeeks offers cPanel as its primary web hosting control panel. cPanel includes Fantastico and Softaculous Script Installer. With these tools, you can install popular third-party blogging platforms and CMS (content management systems) such as WordPress, Joomla, and Drupal.
GreenGeeks claims that their servers will always be available 99.9% of the time. Since their experts handle the relocation professionally, you don't have to worry about any major downtime.
GreenGeeks makes it easy to switch to its platform besides being green. In addition, GreenGeeks datacenters remain in restricted access and work with UPS systems to minimize power failures.
Support And Security Of GreenGeeks:
A secure website hosting can be achieved with GreenGeeks, thanks to the security measures that they have put in place to protect all the data hosted at their facilities.
Every GreenGeeks server is under a 24/7 monitoring service that deploys a firewall system to thwart hacking attempts as well as provide brute force and DDoS protection against known vulnerabilities.
They offer a number of ways to assist their customers or anyone interested in using their services. The support team can be contacted via email, phone, or live chat.
GreenGeeks has an online help center that includes a searchable knowledge base and frequently asked questions to help users troubleshoot common web hosting problems.
There is also an education center on the GreenGeeks website, where you can find lots of tutorials, videos, and useful articles.
GreenGeeks Pricing:
GreenGeeks offers scalable Linux-based hosting solutions at a variety of price points, allowing you to upgrade server resources.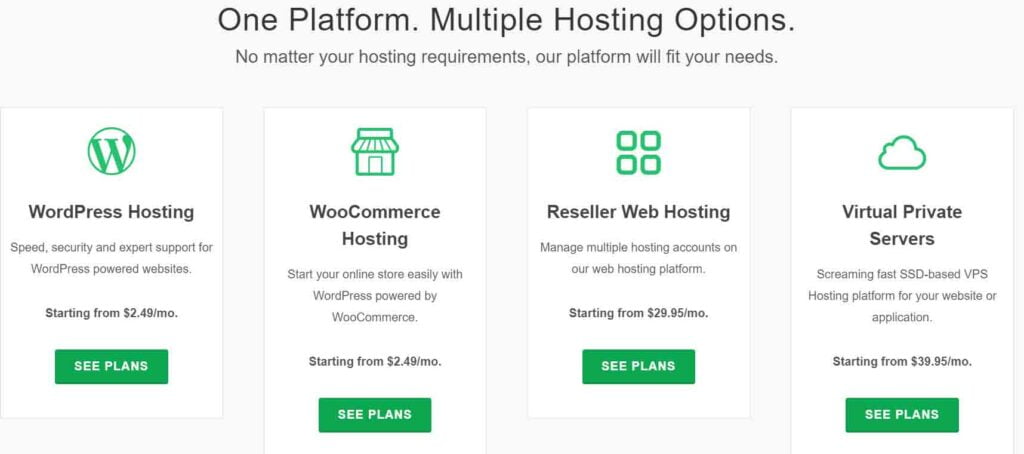 Shared Hosting:
GreenGeeks' most affordable hosting option is their Lite shared hosting plan, which offers 50 GB storage, free SSL, free CDN, 50 email accounts, unmetered bandwidth, and one year of free domain registration.
Upgrading to the Pro or Premium plan will give you unlimited storage, unlimited email accounts, and faster performance.
(Try GreenGeeks. 30-day money-back guarantee.)
VPS Hosting:
If you want root access to servers or better control over computing resources, VPS hosting is an ideal choice. With VPS hosting, you are fully aware of how much disk space, RAM, and bandwidth you have.
Flywheel: (Ecommerce Hosting)
Key Features Of Flywheel Hosting:
If you are running a company that builds a lot of e-commerce websites, Flywheel is one of the best options. Because the Flywheel dashboard is designed to allow developers and agencies to manage dozens of sites from one place.
In terms of integration with WooCommerce, the platform works perfectly, but you still need to let the company know that you have the plugin in order for it to work.
Why is it like this? Because the company wants to take some WooCommerce pages out of the cache to make sure you get the best performance possible.
Security And Support Of Flywheel Hosting:
For support on Flywheel, you can view help articles, use live chat, send an email or call the support team. This is one of the most attractive teams, so you shouldn't have a problem with them.
Plus, you get access to a wide range of resources like eBooks, videos, and a fun creative toolbox.
Some plugins are not allowed through the Flywheel platform for security reasons. Because when there are too many plugins it can open security holes for hackers.
A hacked site is fixed for free, and since the company does all the security at the server level, you don't need to install any security plugins.
And password enforcement is strong too, with automatic backups, Sucuri scanning, and intelligent IP blocking, you can't go wrong with Flywheel Security.
Flywheel Hosting Pricing:
With the Flywheel plan for just $13 per month, you can have a super-fast VPS on your site, and the customer support team is there to complete your stay.
Plus, their prices never go up like Bluehost or SiteGround, you can easily upgrade as your site grows, so no need to worry about scaling issues.
Kinsta: (Ecommerce Hosting)
Key Features of Kinsta Hosting:
Kinsta is a managed WordPress hosting provider like WP Engine. It only supports WordPress which is a good thing as you will be empowering your WordPress-based with a specialized specialist provider.
On Kinsta you get access to everything you need to shop for your online business with credit cards and domain names, and shopping carts. This is the same for a lot of eCommerce platform web hosting solutions, including those provided by OpenCart, Prestashop, A2 Hosting, InMotion, Shopify, and many more.
Kinsta Hosting does not come with the standard cPanel. Instead, it has developed its own custom panel, which I found clean and user-friendly.
Support And Security Of Kinsta Hosting:
Kinsta Hosting support agents are available 24/7 through their live chat and email ticketing. Kinsta also provides an extensive knowledge base to help you. Which is an understandable glossary with all the technical terms.
Kinsta has a team of developers who work continuously to protect your site from potential WordPress vulnerabilities.
Hosting your online store on Kinsta means you'll get a protective layer of firewalls, malware scanners, and strict software restrictions. Actually.
If you lose your site data, you can rely on Kinsta's backup system to bail you out. While it is possible to back up manually, the default platform is set to automatically back up your site every 24 hours.
Price-wise, Kinsta isn't the cheapest as Kinsta isn't a regularly managed WordPress solution for general startups and personal sites.
It's tailored to the demanding needs of growing businesses and large enterprises, so hosting on Kinsta will cost you $30 per month. All these pricing plans offer a 30-day money-back guarantee.
However, if you choose the annual subscription option, your costs will be lower, meaning Kinsta will only bill you for 10 months but give you 12 months of access.
There are 4 different business plans to choose from for medium-sized enterprises. The cheapest offers 30GB of disk space for 5 managed WordPress sites and 100,000 monthly visits at $100. The maximum you can pay in this category is $400 per month,
Whichever you choose, the fact is that all Kinsta hosting pricing plans come with a free SSL certificate, CDN option as well as access to the Google Cloud Platform.
A2 Hosting: (Ecommerce Hosting)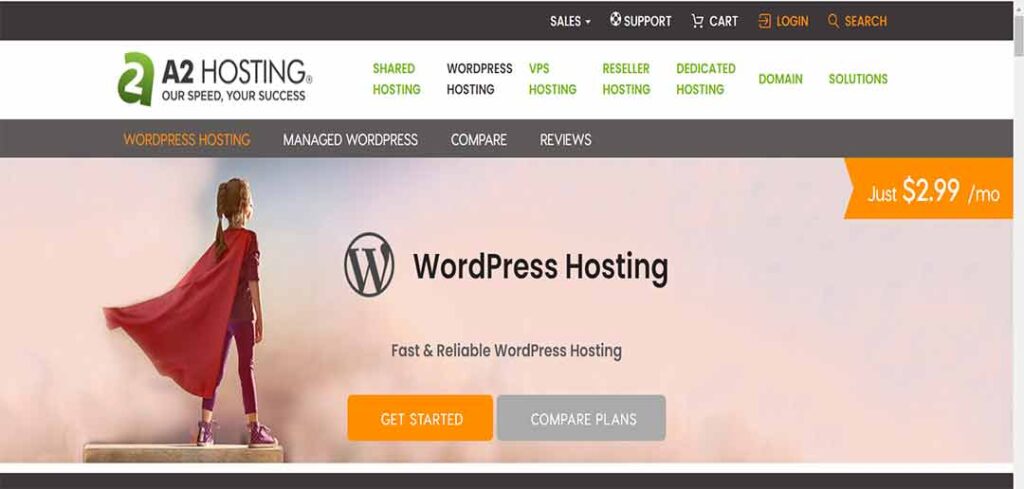 Key Features Of A2 Hosting:
Ecommerce features include one-click installation for major e-commerce platforms, turbo servers for faster page loads, and multiple SSL certificates to choose from, including free Let's Encrypt.
Turbo servers allow page load speeds up to 20x faster than regular servers, with other features such as SSD storage and unmetered disk space also contributing to an accelerated user experience.
A2 Hosting offers e-commerce-specific plans for all of its hosting types so you can choose a shared, VPS, or dedicated plan to suit the needs of your online store.
Uptime is the only place A2 Hosting doesn't rise above the competition. At 99.95%, its uptime is respectable.
Support And Security Of A2 Hosting:
A2 Hosting's customer support is one of its exceptional features. Guru Crew, as is A2's customer support team, is available 24/7 via phone and live chat. In addition to Guru Crew, there's also a searchable knowledge base full of useful articles that you can access at any time.
As far as security is concerned, the free SSL certificate included with every plan ensures that your site – and your buyers – will remain secure. It also includes free hack scan protection to prevent attacks, reinforced distributed denial-of-service (DDoS) protection, and a dual mode to block unauthorized users.
A2 Hosting Pricing:
With A2, you can choose from shared, VPS, and dedicated hosting for your online store, and get e-commerce hosting for $2.99 ​​per month on shared hosting plans. For the faster Turbo Server option, you need to be on the Turbo Boost shared hosting plan for at least $9.99 per month.
For very small or very new online stores, the Turbo Boost shared plan is a great option, and you can always upgrade to a VPS plan as your site grows. If you want the best all-around, then A2 Hosting is the best option.
HostGator: (Ecommerce Hosting)
Key Features Of HostGator Hosting:
Ecommerce Features – Shopping carts and payment gateways on all hosting plans, One-click installation for eCommerce stores
HostGator plans come with unlimited File Transfer Protocol (FTP) accounts, which allow you to transfer files from computers to networks. Plus you get a free domain for the first year
HostGator's 99.99% uptime guarantee exceeds the industry standard and comes with just one hour of downtime per year. Well 100% uptime guaranteed
HostGator has a wide range of services to benefit e-commerce businesses from their simple website builder to various powerful hosting plans.
Support And Security Of HostGator Hosting:
HostGator's support and support services offer 24/7 live chat and phone service, and also an extensive searchable knowledge base that provides in-depth support on everything hosting-related.
Enables standard free SSL certificates and flood protection to prevent DDoS attacks. The $5.95/month Business plan also includes private SSL to enhance the security of your site.
Pricing Of Hostgator Ecommerce Hosting:
Here you will find classic shared web hosting, WordPress hosting, VPS hosting, and dedicated servers depending on your needs. And it also has a website builder tool that integrates with its hosting platform. You can start an e-commerce store on any HostGator plan,
It also offers a 45-day money-back guarantee but does not apply to dedicated plans or plans paid by check, money order, or bank wire transfer, so it's worth keeping these conditions in mind before choosing a payment method!
Overall, whether you're a small business or a rapidly growing business, HostGator has the tools to support your store. check it out.
[Ecommerce Hosting Types]
1. SaaS (Software-as-a-Service) Hosting:
SaaS hosting is a type of cloud-based hosting that uses third-party, cloud-based software and is accessible via the Internet.
If you use a SaaS host then you are free to grow your business without worrying about IT issues,
On the SaaS platform, your subscription covers everything from maintenance to security. You don't need to download anything to your computer, just have an internet connection and pay a fixed monthly fee in exchange for software access.
After that, you can use the software, which typically includes a shopping cart, hosting infrastructure, software licenses, and apps that allow you to integrate the system with financial and reporting software. . . . .
2. Self-Hosted eCommerce Hosting Platform:
Businesses opting for a self-hosted eCommerce platform need to set up their own server, which is usually within the cloud. Setting up the server is the major cost involved in self-hosting.
However, if you don't have IT knowledge, you won't be able to take advantage of that flexibility well. Because people who choose to self-host are responsible for maintenance and uptime in addition to building their website or application.
Self-Hosted eCommerce Hosting Platform Pros-:
Self-hosted eCommerce platforms give you more control over businesses than a hosted platform.
On self-hosted you have the freedom to set up your own server and platform wherever you want.
There are no customization-wise restrictions and you can add anything to your e-commerce site.
Self-Hosted eCommerce Hosting Platform Cons-:
Self-hosted is difficult to set up as compared to a hosted platform. While hosted platforms are a quick and easy way to get started,
A self-hosted platform requires you to go through various processes. Whereas, with hosted sites, you can take advantage of the expert knowledge that aims to get you up and running as quickly as possible.
3. IaaS, (Infrastructure-as-a-Service,) Hosting:
IaaS is another cloud-based computing option. Which operates through a pay-as-usage structure. It is more reliable and secure than buying your own hardware.
However, with IaaS, a merchant typically pays a company to license the software. Another party may host the website.
As an IaaS client, you have complete control over the infrastructure. But to make the right choice, you have to understand what eCommerce features you need.
Ecommerce Hostings FAQ
Find below answers to common but important questions about eCommerce hosting or web hosting.
What Is Shared Ecommerce Hosting?
Shared hosting is the cheapest eCommerce hosting. It is only recommended for small shops. Although shared hosting is extremely secure through most reputable hosts, the performance is not great. you can share all the resources of that server with other companies that have websites.
But some other websites can potentially drive you away from your website which is heavy traffic sites in general. however, shared e-commerce hosting allows you to get set up with a website in minutes. And reputable hosts usually have secure servers.
Also, some shared e-commerce hosting companies don't care much about security. This can be a problem because you are sharing the server with other people you don't know.
Who should choose shared e-commerce hosting? – For businesses that are testing a new website or just have a few products to sell, it's best to choose shared e-commerce hosting, and when their business grows they need to manage a fast-growing store or VPS. Must upgrade to hosting.
What Is VPS Ecommerce Hosting?
VPS is a step above shared hosting. It provides a middle ground between shared and dedicated e-commerce hosting.
VPS or (Virtual Private Server), works by sharing resources from a single server. However, your website accesses this server virtually, and it gets its own disk space, operating system, and bandwidth.
And You have a more secure, private section of the server, separate from all the other apps and websites with e-commerce hosting. It gives you far more control and better performance.
Also, VPS eCommerce hosting offers more security, control, and customization options than shared hosting. Many VPS accounts have root access, which gives you far more control than with shared hosting.
But VPS eCommerce hosting is more expensive than shared hosting.
And some host VPS accounts often get the same customer service you would get with shared eCommerce hosting.
Who should choose VPS eCommerce hosting? – It will be best for those e-commerce sites which are planning to expand rapidly. If you are dreaming of growing on a high-traffic website, then a VPS may be suitable for you. Although not all e-commerce sites need to start with a dedicated server. but in some situations, it is a good idea to choose VPS eCommerce hosting over a shared host.
What Is Dedicated E-commerce Hosting?
In dedicated e-commerce hosting your website gets its own server, on which you get fast processors and powerful hardware flexibility, and customizable control options.
This means you can get the best performance out of dedicated e-commerce hosting with the right people and the right hardware.
But on dedicated e-commerce hosting, you are responsible for the security and maintenance of the servers. Meaning the reliability of your server depends on your hardware and the people working on it.
Who should choose dedicated eCommerce hosting? This hosting is mainly used for large companies. Because dedicated e-commerce hosting requires a lot of money and capable staff to maintain and function properly.
What Type Of Hosting Is Best For an eCommerce Business?
Choosing the best hosting for eCommerce depends on several factors. For example, First of all, prepare your budget and decide how much you can spend on a hosting plan. In general, you can get a web server for anything between $3 and $100 per month. And secondly, what is the scale of your business, (small e-commerce store or large company).
It is also good to think about the content or data of your website (the size of the product that will be placed on your site) and the security level of your site etc.
So you review what each of the eCommerce hosting plans comes with and find the one that best suits your needs.
Some More FAQs:
What is Ecommerce Hosting?

E-commerce hosting refers to a web hosting platform. This means that eCommerce hosting provides everything you need to run an eCommerce business effectively and efficiently.
It accommodates many functions required to operate a commercial website, including payment processing services, shopping cart software, security initiatives, SSL, etc.
Why do I need a cloud-hosted eCommerce site?

On a cloud-hosted e-commerce site, your site is hosted by someone else. So you don't need to worry about IT issues. Thereby you are free to focus on growing your business. Cloud-hosted e-commerce sites offer seamless upgrades, specialized data services, and automated backups, among other services.
How do I host an e-commerce website?

To host an e-commerce website, you need to set up your own server, which is usually within the cloud. Setting up a server is the major cost involved in hosting an e-commerce website or self-hosting.
However, if you don't have IT knowledge, you won't be able to take advantage of that flexibility well. Because people who choose to self-host are responsible for maintenance and uptime in addition to building their website or application.
Summary:
Choosing the right eCommerce hosting is more important as you need a fast, reliable provider with good support and features to help your store succeed.
Slow-loading pages or site crashes will lose your sales, but a solid hosting provider will have your customers coming back again and again.
This means that your hosting is an invisible force in your store that encourages you to buy from your site rather than from your competitors.
Best E-commerce Hosting Providers Brief Recap:
Choosing the best eCommerce hosting doesn't just mean choosing the top eCommerce business with the best load, speed, and lowest fees. There are several other important things you need to consider at this stage:
Integration with shopping cart software
MySQL support and HTML customization
Plugins and add-ons, such as those offered by Shopify and WordPress
SEO for your (Online Business and eCommerce Platform)
Page load times and free domain names
PCI-compatible display and Let's Encrypt security
Integration with shopping cart tools is a big consideration because if you can only use a certain part of the shopping cart software, your chances of higher transaction fees increase significantly.
Did this guide help you decide which eCommerce hosting is best for your online business?

If you have any questions about choosing an eCommerce hosting provider for your online shop, leave us a comment below.

And if you know anyone who might benefit from this article? Click the share button to send them this page.

Hope you are helping them, and helping us by promoting our website! 🙂🙂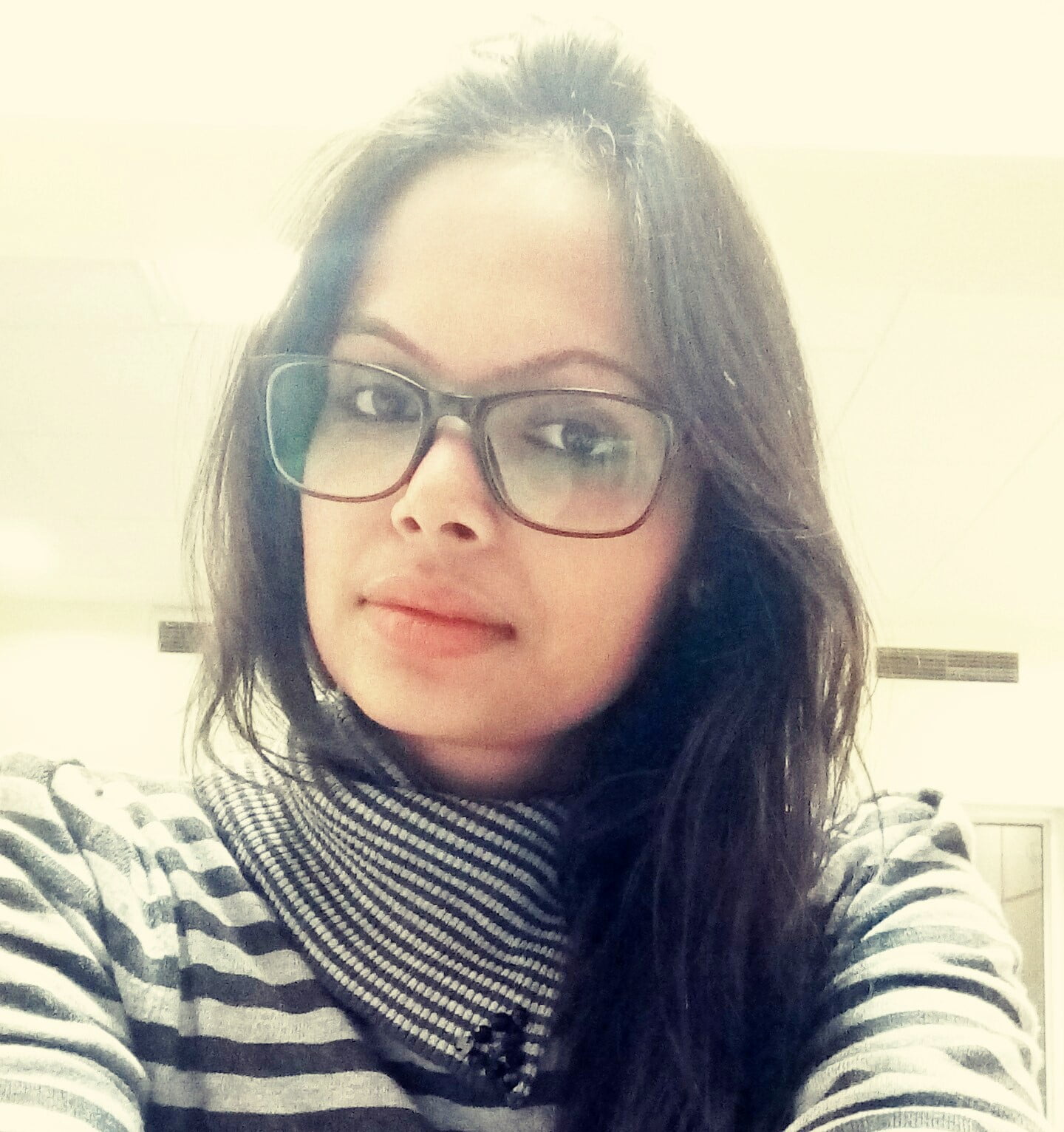 Hey, I am a fashion designer by profession and a blogger by passion, I regularly do extensive research on all things online and I am passionate about spreading my knowledge and supporting people in their online business journey. During my spare time, I like to travel to hilly places and further improve my skills by learning various things.