If you want to start your own e-commerce online business? So dropshipping is the best option for those people, In dropshipping, you can set the prices of your product, market your brand, and be able to sell the product to the customers.
In addition, you do not even need to pay for the inventory until it is sold to the actual customer. Dropshipping is one of the fastest ways to make an easy and risk-free income. If you are truly dedicated and implement it properly, it is a very profitable online e-commerce business. With this, you can also create a successful brand of your own.
In this article, you will learn how dropshipping business model works. How to start a dropshipping business? And will learn a 6-step guide to building a successful online drop shipping business.
But before we would dive into details. First, we get to know what is Dropshipping in brief.
What is Dropshipping?
Dropshipping is a business model in which an online sales store maintains no stock of products. Once you make the sale, your supplier will ship your products directly from your warehouse to your customer's doorstep. And you won't have to worry about the storage, packaging, or shipping of your products.
How Does The Dropshipping Business Model Work?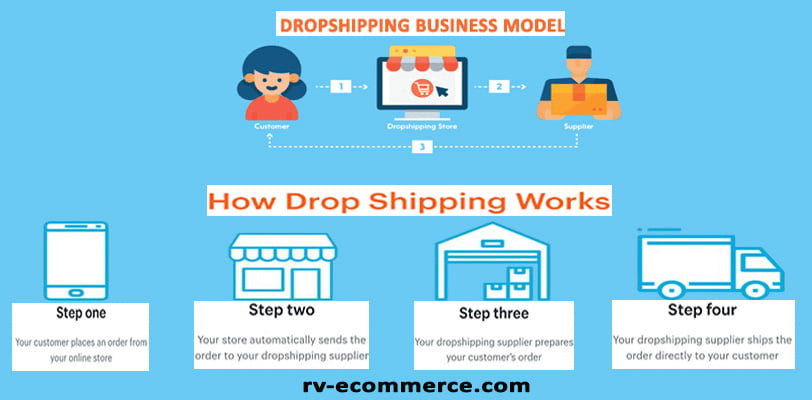 As you can see in the image there are three main players in the dropshipping business model
1st – The manufacturer.
2nd – The retailer (you).
3rd – The customer.
Role of manufacturer-: The dropshipping business model involves the manufacturer's role in creating products, moving inventory, sending products to customers on behalf of the retailer, and replacing and restoring faulty products. They sell the product at a wholesale price to the retailer, assuming the risk of unsold goods.
Role of retailer (means you) -: In the dropshipping business model, the retailer sells the manufacturer's products on its website (dropshipping store) under its own brand. You will be responsible for choosing and marketing those products.
Additionally, you will also be responsible for determining their shipping costs and the prices that benefit you.
The customer-: In the dropshipping business, the customer purchases the product directly from the retailer (you). If customers have any questions or problems, they contact the retailer from whom they purchased the product.
How To Start A Dropshipping Business: 6 Steps To Build A Successful Online Drop Shipping Business
Step-1) Choose A Niche: (Product)
Choosing the right niche is a difficult task so take some time to find the best dropshipping business ideas. And you can also choose something that you are really interested in. However the best dropshipping business ideas are usually profitable, so takes time.
Here Are Some Points To Consider When You Choose Your Niche:
• Browse popular websites within your niche. They often organize their stores into trend categories. This helps you understand what trends you should add to your store right now. Browse the store's bestselling products to help you find the best products to sell.
• Spend some time looking at various business ideas for dropshipping: To find out if a niche is up or down, check out Google Trends. Fitness, fashion, jewelry, beauty, technology, purses, and backpacks are some of the top evergreen products that we see entering top online stores and succeeding.
Also, if you want to know more about the best dropshipping countries in 2022, check out this article. It will help you to find out the trending and best dropshipping niche based on the requirement of your customers in the target country.
• Build your own brand: Your drop shipping business will have more value if you can rebrand whatever you are selling and pass it on as your own.
• Although your supplier or manufacturer will handle shipping, a low shipping cost is very important. So find something cheaper to ship, as it also gives you the option to offer free shipping to your customers and absorb that cost as a business expense to attract more sales.
• Try to sell something that is not readily available locally and that the customer cannot find on the street. In this way, you become more attractive to potential customers.
• Use Google's Keyword Planner or Ubersuggest's Keyword Tool. That tool will help you understand the potential of your dropshipping business ideas and will give you additional ideas for the future.
Step-2) Perform Competitor Analysis:
Once you decide your niche and what you want to sell, you need to know who your competitors are, such as how and what they sell their products.
At that stage, most potential drop shippers go wrong because they look for a product that has little or no competition. Whereas it is an indication that there is no demand for that particular product. So we should look for products that have competition because it is a sign that there is high demand and the business model is sustainable.
How To Analyze The Performance of Your Competitors?
Here Are Several Ways to Know it. So read this carefully which will help you in the growth of your dropshipping business.
•Enter the name of the product you want to sell into Google and search to see who appears on Google in the top ten results for a product that competes with you. Then Google will give you a good indication of your competition in a certain place.
•If you want to sell products in a location different from your location, you can use third-party tools such as SEM Rush to collect data. Which is used to get information on search results in different places around the world.
• With the help of the BuzzSumo tool you can also know the contents of your competitors like what is performing better for them. This tool will give you information about which content gets the most social share, which can give you inspiration for new blog ideas.
Step 3) Find Supplier:
Finding reliable and the best dropshipping suppliers is one of the cornerstones of running a successful dropshipping business. But if you partner with the wrong supplier then you can ruin your business. So you mustn't hurry on this step.
If you are not confident in the communication capabilities of a potential supplier, then go ahead and continue your search. Read positive and negative reviews of all popular suppliers along with your search for suppliers on Google. Which helps you reach and find many reliable suppliers.
The best way to decide is to first order a sample of the product with them and compare the results. When making a decision, also compare eCommerce shipping time, product quality, and packaging. And keep your customer in mind what they would expect from you when placing an order.
Also, check out this article if you want to know more about the best dropshipping suppliers in 2022 that will help you find products based on your dropshipping niche.
Also, try to learn from other drop shippers entrepreneurs who have already run their businesses on this path. Be sure to ask a lot of questions and know what their production capabilities are if your business grows rapidly. Which can help you avoid costly supplier mistakes.
Here is a quick list of the best dropshipping suppliers for 2022. Where you can easily find all the best dropshipping products based on your business niche. So without wasting time you should check now.
1. SaleHoo.
2. AliDropship.
4. Spocket.
5. Printful.
6. Inventory Source.
7. Worldwide Brands.
8. Dropified
9. Dropship. me
10. Wholesale2B
Step-4)Build Your Dropshipping Business Store:
See some components here to build a dropshipping eCommerce business properly.
Domain Name-: Your domain name matters, especially if you are building a long-term brand. and I also recommend everyone use the .com domain extension. If you want more detailed information on how to find a Domain Name, see this article.
Sign Up For Bigcommerce Or Shopify-: The most efficient way to launch a website that supports the dropshipping business model is to use a Bigcommerce Platform. It is the most comprehensive eCommerce platform on the market. And does not require a technical background to build and run a Bigcommerce Store Or Shopify store.
Read this article where the list of the top best dropshipping platforms is mentioned in detail. Where you can build your own dropshipping store without any technical skills. If you want a step-by-step guide? To learn how to create a Shopify store, see this article on how to launch an online store in just 15 minutes.
Also, Install Salehoo-: SaleHoo Dropship is a brand new dropship automation tool for dropshipping store owners Or Shopify store owners.
With Salehoo dropship, store owners can now:
Direct access to high-quality, low-cost dropship suppliers,
One-click imports high-profit dropshipping products into their stores,
Have complete control over pricing and shipping of all products
Select products with high-profit potential and your stores will populate automatically.
Step-5) Promote The Product And Increase Your Sales:
After completing all these steps, now is the time to market your dropshipping. It is great to have a good product and a website, but without buying customers, you have no business.
There are many ways to attract potential customers. Such as email marketing, advertising on social media, paying for advertising, etc.
Read this article which is detailed info about trending dropshipping Products Or the best Dropshipping selling products for 2023.
Best Marketing Ideas For Selling Products:
If your budget is tight. So here are some of the best marketing ideas that have come from those super frugal moments.
1. Facebook Advertising:
In the early stages, you do not even know what your best-selling product will be at the time. So create several advertisements to find out which product sells best. But to be able to experiment, you have to keep your budget low in the beginning.
When it comes to targeting, create a world advertisement but in Canada, Australia, the United States, and the U.K. Remove it, this will reduce your advertising costs.
If you are looking for Best Dropshipping Suppliers in the USA or Best Dropshipping Suppliers for the UK in 2023, check out this article. This will help you to locate the trending and best dropship products based on the requirement of your customers in the target country. If your budget is large, you can create separate advertisements for those four countries.
However, Facebook allows you to place your offers directly in front of a highly targeted audience. This gives you the ability to compete immediately with the biggest brands and retailers. You also have to think long-term, so the focus should be on search engine optimization and email marketing as well. Set up an automated email sequence to collect emails from the beginning. Those offering some discounts and special offers.
This is an easy way to leverage your existing customer base, do additional advertising, and generate revenue without marketing expenses.
2. Retargeting Ads:
Create retargeting ads as they keep costs down. If you have a store with a lot of traffic This ad will work great. Maybe you are marketing on Pinterest for free and getting a lot of traffic from there. You might have written a blog post on your website, especially influential, and now influential people are sharing your blog for free.
With a retargeting ad, you take that free traffic and it is very likely to turn into a paying customer. And it is even better than Facebook advertising.
3. Effective Marketing:
To start a dropshipping business you have to be a little timid in the beginning. If you can't afford to pay the affected rates, trust me it's a good thing, you can offer them an affiliate commission instead.
If you pay an affiliate fee for each sale, you reduce the risk of your dropshipping business and it depends on the influencer to convert the sale. Also, you will get some pictures that will help increase the social credibility of your brand. If the influencer has genuine followers, they could potentially earn a lot more money as an associate if they were paid a similar rate. Thus, allowing them to make even more money.
4. Get Free Media Coverage:
Using the free HARO tool, you can subscribe to an email list three times a day, where reporters reach out to you to get stories for their articles. Some may be looking for influential people in a specific niche, others may be looking for product recommendations.
Anyhow, if you have that retargeting ad running, the free traffic coming back to your website may be the result of some sales. You can also add your brand name as the name of the hyperlink.
Step-6) Analyze And Optimize:
Once you spend time building your website, brand, and marketing, you can start analyzing the results of your hard work. You can track all the data and metrics available to grow your business…
You can use tools like Google Search Console and Google Analytics to evaluate your online traffic to ensure that traffic is increasing, and decreasing. Like knowing where customers came from and what path they followed on your website that ultimately led to sales – it lets you measure who works and who gets it, not being able to complete it.
Some marketing activities are highly successful while others are not so much. You can look at your pricing against competitors and change things up a bit to make it more competitive.
If you are using third-party tools for email marketing or social media reporting, set up weekly or monthly automated reports to remind you to analyze this information regularly.
You need to constantly test new opportunities and improve on current campaigns. Overall the most important part of a successful online eCommerce store is to test and optimize to increase the revenue you generate online. This ensures that your website will not lag behind best practices and keep you ahead of your competitors.
What are The Pros and Cons of a Dropshipping?
Advantages of Dropshipping:
The reason why drop shipping is so successful is that it allows each party to focus on their particular area of ​​expertise.
Dropshipping benefits those suppliers who excel at manufacturing their products but are too busy or reluctant to develop an eCommerce platform to sell them.
The advantage of dropshipping is that it provides both sides (drop shipper and supplier) an opportunity to depend on their strengths and partner for prosperity.
No advance inventory cost for the seller-:
Securing inventory capital is not a problem when you are dropshipping. As a trader, you do not have to spend money to buy inventory, so the upfront cost is minimal.
When the customer places an order, your supplier or manufacturer will complete the order, and you will get paid. This makes dropshipping an attractive option for risk-averse traders.
If you are not ready or unable to purchase inventory in advance, you can work closely with the supplier or manufacturer to handle stocking and fulfillment.
2. Eliminates logical headaches for the seller-:
Another major headache for retailers is logistics. Printing, packing, and shipping take a lot of time and require a certain level of expertise, merchants who use the dropshipping business model are spared from order fulfillment issues.
Disadvantages of Dropshipping:
Just as there are big benefits, there can be some disadvantages as well.
Difficult supplier relationship-: In some cases, the supplier may prefer to sell wholesale and ship products to the retailer, rather than having them shipped separately to customers when orders arrive. They may also be annoyed that the drop shipper charges a commission for the sale, a commission that they could have made to the supplier if they were selling directly to the customer.
Wholesale sales and setting up your own eCommerce site can both be beneficial, so it is always up to the supplier to decide which avenues are viable for their business and capabilities. Some manufacturers and suppliers also have their own e-commerce site and also choose to participate in drop shipping arrangements as it helps to expand their reach and bring in additional business.
Little control over customer experience-: You cannot always guarantee that suppliers will deliver on time and meet product expectations.
Reputation is everything for an online business. Therefore, handing over your reputation to the supplier network is a big risk. When you are not a stockkeeper, it becomes very difficult to control the turnaround time and customer satisfaction.
Product quality may be inconsistent-: Product quality can be hit-or-miss, especially if you are working with drop shippers abroad. As a businessman, you have no role in your supplier's manufacturing processes; If you do not carefully examine your vendors, you can sell products that do not match the description and quality standards on your website.
FAQ About Dropshipping Business:
How Much Can I Earn as a Dropshipper?

Yes, you can make money through dropshipping, as many drop shippers earn up to $ 100,000 per year with a successful dropshipping store. Dropshipping allows you to find products with huge profit potential and set up a business that sells them.
How profitable is Dropshipping?

Dropshipping can be the most profitable business model of all because you are not responsible for shipping and manufacturing costs. once you find the right supplier profits can be obtained quickly. You can calculate your profit to ensure that you are on the right track.
How difficult is it to start a dropshipping business in 2023?

Starting a dropshipping business can be a little bit competitive but not highly. Since you can start a dropshipping business for free, you may face a lot of companies who are selling a specific product at similar prices.
How do I start a dropshipping business in 2023?
1. Choose a niche
2. Perform Competitive Product Research
3. Find a reputable drop shipping supplier
4. Build your online store
5. Market Your Dropshipping Business
6. Analyze and Improve Your Store
Is Dropshipping Really Profitable in 2023?
Yes, dropshipping is a profitable business model for merchants. Because in this business you are not responsible for shipping or manufacturing. It is a low-risk business model that does not usually incur large costs like a wholesaler and you can earn a good profit margin with the right suppliers.
The Conclusion:
In this article, we have told you all how to start a dropshipping business. By applying the advice of this article to your online store, you can work towards creating an online empire of your own. If you have any questions, feel free to leave a comment. I will definitely answer your question.
Are you starting a dropshipping store? Then check out the article on Best dropshipping supplier reviews that will help you choose a dropshipping supplier.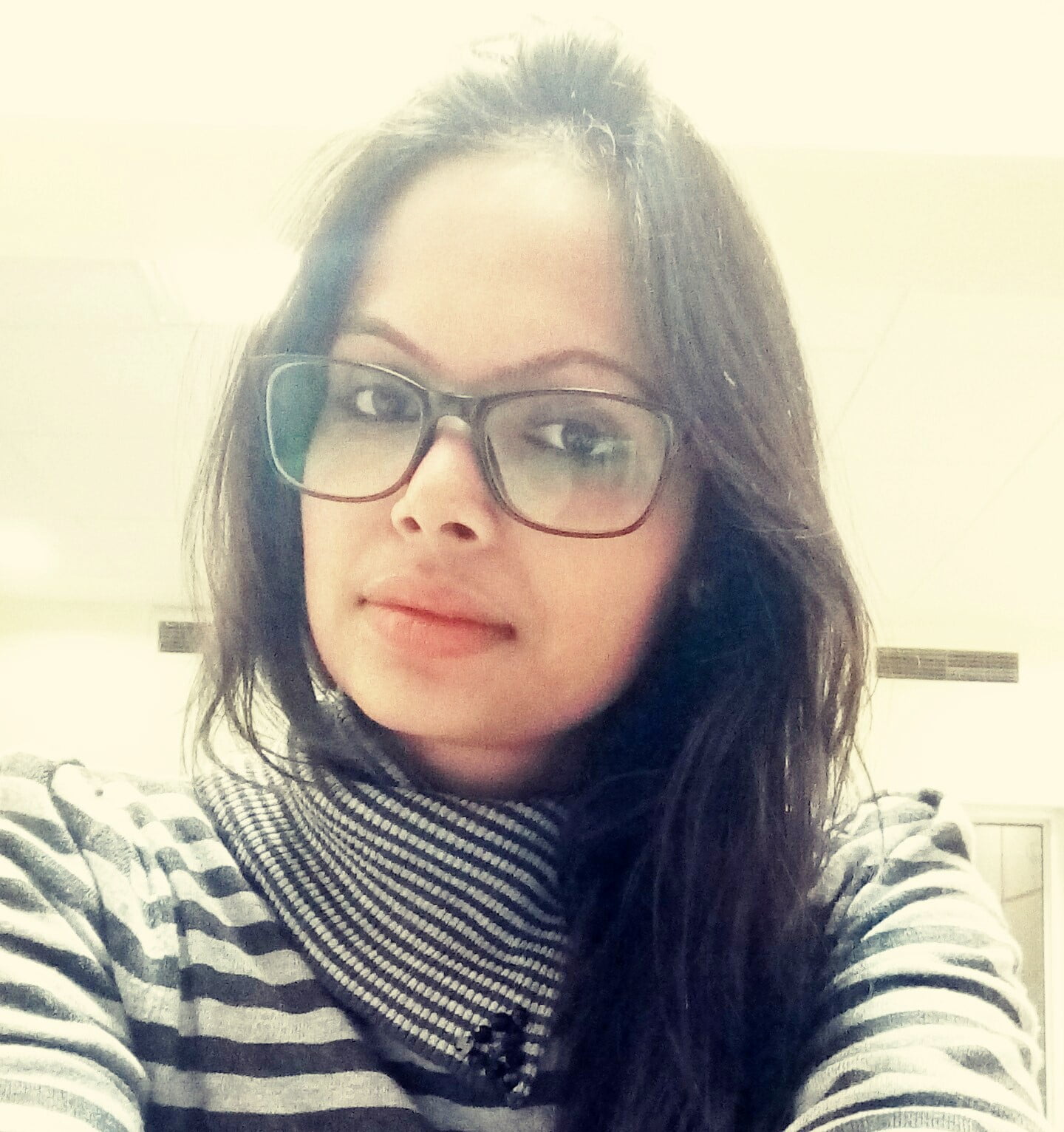 Hey, I am a fashion designer by profession and a blogger by passion, I regularly do extensive research on all things online and I am passionate about spreading my knowledge and supporting people in their online business journey. During my spare time, I like to travel to hilly places and further improve my skills by learning various things.