If you are looking for an easy way how to earn money online, Then Using the WooCommerce plugin and WordPress to build a WooCommerce dropshipping store is definitely one of the simplest and easiest ways to make money online. We'll walk you through the full process of setting up a dropshipping business with WordPress in this beginner's guide. We'll also cover how to locate the best dropshipping products and how to Grow your dropshipping business.
Dropshipping has become a popular online business concept since it is simple to set up, takes little capital, and has a large market.
Unlike traditional eCommerce businesses, which need you to manage product inventory and logistics, dropshipping allows you to open an online store without having to worry about inventory or shipping.
What is Dropshipping?
Dropshipping is an online business model in which an eCommerce retailer does not maintain products in stock, hence saving money on inventory. Instead, when a consumer buys something, the business owner sets an order with the original vendor, who then ships the item to the customer.
The main difference between a dropshipping business and a regular eCommerce business is that a dropshipping business does not require you to stock or own inventory. You also won't have to deal with any logistics related to the shipment.
When you sell the best product online from your store, you just forward the purchase order to a wholesaler or manufacturer, who will fulfill it.
How Does Dropshipping Work?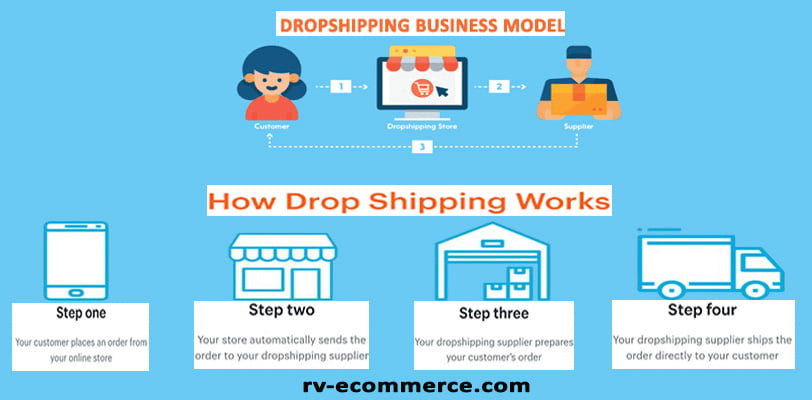 What is WooCommerce?
WooCommerce is one of the market-leading tools designed to build an efficient online store. It comes with a wide range of features aimed at making the lives of small business owners a lot easier. With the right WooCommerce tools, you can build a dropshipping business that is scalable, flexible, and versatile.
And WooCommerce is a WordPress plugin, so you'll also get all the benefits of a WordPress store, including access to Google search optimization features, other WordPress extensions, and more.
Although drop shipping may be one of the most popular and easiest ways to start selling today, that doesn't mean it isn't without its challenges. Learning to use Woocommerce dropshipping plugins properly, and exploring new ways to grow your dropshipping business can make it easier for you to earn the profit you deserve.
Why Should You Dropship With WooCommerce?
WooCommerce is a WordPress plugin that is open-source and configurable. It is one of the most widely used CMS in the eCommerce market, with more than 90% of WordPress eCommerce sites using it.
However, some other best eCommerce platforms are also out there where you can start your dropshipping business. Here are some reasons why you should use WooCommerce for Dropship.
It's free -: You can download WooCommerce from the WordPress plugin repository and install it right away.
It's easy to install and configure-: With just a few clicks, you can install and configure the plugin. As a result, anyone can use it.
Many Extensions-: You can improve the functionality of your store by installing a WooCommerce extension.
No Restrictions on What You Can Sell-: There are no Terms of Service restricting what you can sell.
No Transaction Fee-: This feature gives WooCommerce an edge over other platforms like Shopify. There is no transaction fee which means more profit.
How To Create WooCommerce Dropshipping Store With WordPress: (Step-By-Step Guides)
To get started with WordPress and WooCommerce, you need to know in detail how to set up WooCommerce dropshipping store through step-by-step guides. Are you excited? let's go into the details.
Get A Domain Name:
Your domain name is the address of your website, which visitors type into the URL bar of their browser to visit it. that means your domain name is your store's name – e.g. rv-ecommerce.com. So to get one, visit a domain name registrar like Domain. com, GoDaddy, Namecheap, etc.
Then, see if your selected name is available by conducting a search. A domain name costs between $10 and $15 per year on average. Remember that your domain name is your first impression and defines your brand, so:
Always try to select a well-known popular domain extension such as.com ,.org, or.net.
Avoid the use of hyphens.
Too-long domain names should be avoided.
Select a name that is simple to type and pronounce.
Try to use a Domain name that reflects what you do.
If you want to know everything about domain names like what is a domain? how does it work? And who is the best domain name provider in 2023, then you must read this article.
Purchase Web Hosting:
A hosting company provides you with all of the technology you'll need to make your dropshipping store visible online. They store your WordPress and WooCommerce files and items on their servers and make them accessible to internet consumers all over the world.
Important Point Before Selecting The Best Hosting Plan for your dropshipping store, look out for: A good hosting plan that gives you all of the below.
Security.
Backups.
Uptime guarantee.
Customer support.
Plugin Compatibility.
General Performance.
Upgrade options.
On average, a WordPress hosting account with a reputable web host costs as little as $2.95 per month (for a shared hosting account).
Bluehost is one of the world's largest hosting companies, and the best part is that they are an officially recommended hosting provider by both WordPress and WooCommerce.
Bluehost will send you your login information through email once you've signed up. It will also automatically install WordPress for you, allowing you to access your WordPress dashboard directly from your hosting control panel.
Fully managed web hosting, which ranges from $25 to $250 a month, can boost speed and performance. Nightly backups, a free SSL certificate, a CDN, premium chat support, a staging site, and a variety of additional features are included in the plans.
Also, check out this article to know everything in detail about the list of Best eCommerce Hosting Reviews (Web Hosting Comparison & Guide) in 2023. Plus, learn how you can find the best web hosting provider based on your business requirement.
Install The WordPress Application:
The next step is to install the core WordPress software after you've signed up for a hosting subscription.
Several WordPress hosting providers offer one-click installations. As a result, you won't have to go through the tedious process of manually installing WordPress. Install WordPress by logging into your site hosting account.
If your web hosting provider does not give this service, you can either install WordPress manually or contact to support team of WordPress specialists for assistance. One of the big benefits of WordPress and WooCommerce is the huge array of plugins that you can use.
For example, you can find plugins to:
Optimize your store's SEO
Help you grow your store's newsletter
Send abandoned cart emails with solutions like Jilt
Create all types of forms
The plugins that you choose will depend on your needs. But we definitely recommend that you round out your store with additional plugins for any other essential functions that you want.
Install WooCommerce Plugin:
The next thing to do is to install and activate the WooCommerce plugin. Dropshipping with WooCommerce is a win-win partnership that benefits both the site owner and the wholesaler. Dropshipping is becoming increasingly popular among entrepreneurs in a variety of industries because of its flexibility, affordability, and profit potential.
Also, WooCommerce is a WordPress plugin, and the benefit for an entrepreneur is that their products are not subject to the same limits, rules, or policies as those on other E-commerce platforms. They also discovered that WordPress' SEO features are simple to deploy on their WooCommerce store, helping them to rank higher in search results.
Choose A Theme For Your Dropshipping Store:
The first thing you should do is redesign your WooCommerce dropshipping store's appearance. Fortunately, one of the best features of WordPress is the ability to choose from thousands of WooCommerce themes.
Here are our best selections for a WooCommerce dropshipping theme.
Astra WooCommerce Theme -: A strong WooCommerce theme designed to maximize conversions and sales.
OceanWP-: OceanWP is a multi-purpose WooCommerce-ready theme with customizable settings.
Ultra-: A multi-purpose WordPress theme with a drag-and-drop page builder and various ready-made layouts.
Divi-: Another highly configurable WooCommerce theme with an integrated drag-and-drop page builder.
Finding Best Dropshipping Products to Sell on Your WooCommerce Website:
Looking for things to sell on your dropshipping site? You must first establish what type of things you want to offer before you begin selecting products. So first, we recommend selecting a niche for your store. This will make it simpler for you to locate both products and customers. Choosing a niche that you are familiar with and passionate about is generally a good option..
For example: If you want to offer clothing and accessories, you can limit it down by style, topic, or target audience.
if you looking for products with low competition and high demand. Then you can use Amazon to collect data and conduct your own study to determine which products are popular. For several categories, Amazon displays the best-selling, most-wanted, and best-rated products.
Which Product Should You Sell Online?
To run a successful dropshipping business, you need to sell the right products. Best to sell products that match the following characteristics:
1. Always try to select such products which are highly demanded in the market.
2. Competition is not so much
3. Make sure that your selected product offers adequate benefits.
Also, read this article for a detailed list of 101+ Best Dropshipping Products to Sell Online in 2023 and [Sales Guides].
Where to Find the Best Dropshipping Suppliers and Vendors?
After you've selected what products you'll sell in your shop, the following step is to look for dropshipping companies that sell those items. You may locate dropshipping suppliers and dealers from all around the world on a variety of internet marketplaces. Here's a quick rundown of the finest dropshipping marketplaces to find vendors.
AliExpress-: It is the largest online marketplace of suppliers offering millions of products. You can easily integrate it into your WordPress site to import products directly from the AliExpress website.
SaleHoo -: A powerful online marketplace for dropshipping, suppliers, and online retailers.
Alidropship -: Best Solution for Dropshipping With AliExpress.
Spocket-: Best For US / EU Dropshipping Suppliers.
Doba -: A large marketplace where you can find the multiple best dropshipping suppliers based on product niche.
Etsy-: Etsy is an online eCommerce marketplace for one-of-a-kind and handcrafted items.
Inventory Sources-: Best to Automatically Sync Inventory to Your eCommerce Website.
Worldwide Brands -: Best Budget-Friendly Database Drop Shipping Companies.
If you want to know a detailed review of Best Dropshipping Suppliers-2023-Review [15+ Supplier List & Free Dropshipping Companies]. Then you should also read this article.
How do I add dropshipping products to my WooCommerce store?
WooCommerce does not include smooth dropshipping functionality by default. But fortunately, there are several good WooCommerce dropshipping plugins that make this possible.
Where you can easily add dropshipping products, establish custom prices with appropriate profit margins, gather orders, send them to your supplier, and more with a drop shipping extension.
however, the supplier or marketplace you choose will determine the functionality of your dropshipping extensions. If you're selling products from multiple suppliers on separate marketplaces. then you may require multiple dropshipping extensions to automate the checkout process.
Here is our list of the best WordPress dropshipping extensions.
Best Quality WooCommerce Dropshipping Plugins list.
Let's go into a quick detail about some of the best quality WooCommerce Dropshipping Plugins.
AliDropship is a paid plugin that connects your store with AliExpress. Given that you get some fantastic features for a reduced price, this is one of the best buys on the market. The most intriguing aspect of AliDropship is that you can either create your own store and extend it with AliDropship or pay for the AliDropship firm to create your website. The plugin costs $89 to get started. The cost of a custom website starts at $299.
This is a great directory of suppliers and resources for finding high-profit items. but Unfortunately, there is currently no WooCommerce plugin, you will have to contact these vendors directly (but there have been rumors about something coming).
If you're looking for a faster way to get your products to your customers in the EU and USA, country. Then the Sprocket plugin is your best plugin for finding high-end products that ship from the EU and US. As your business grows, monthly pricing becomes a bit more expensive, although Spocket has been known to help you generate more money with the right resources and recommendations n your business.
The names and functions of these two programs are similar. Both companies offer drop shipping for custom-designed items. So, you can upload a design for a t-shirt or mug, then the plugin submits the orders for automatic printing and shipment when someone buys something from your store. Although the margins can be slim. Well, this type of dropshipping assures that your products are absolutely unique.
This plugin connects you to the AliExpress marketplace, allowing you to find suppliers and sync your preferred products to your store instantly. It integrates seamlessly with WooCommerce and Dropship. me plugin even provides you with pre-edited product names and descriptions (which is great because AliExpress text frequently appears to have been written by a child). Keep in mind that all AliExpress dropshipping comes from Chinese vendors, which means that much of the delivery takes time.
WooDropship:
This is Another premium plugin for creating your next dropshipping website on WooCommerce. A free plan is available, which is good for getting started. The next tier is $14.99 a month and gives you access to 3,000 product variants. AliExpress is the plugin's source, and it includes useful features like inventory synchronization and specific pricing rules.
This plugin works with a variety of tools, including WooCommerce and Shopify. The cost to support 15,000 goods starts at $47 per month. The items have been handpicked and presented so that you don't have to waste time looking for the correct vendors. It's also a fully automated system, which not all of the plugins can claim.
How do I Managing Dropshipping Orders in WooCommerce Store?
Customers will be able to purchase products from your website once you have added products to your store. Also, you may look over the customer orders by going to WooCommerce » Orders.
You may notice an option to fulfill orders from here depending on your dropshipping extension. This would essentially convey the customer's order information to the product's provider.
AliDropship and Many other WooCommerce plugins make it simple to send orders to suppliers with a single click.
If your extension doesn't have that capability, you'll have to manually place the order with your supplier by giving them the customer's order details and delivery information. Each order can be reviewed by clicking on it.
You may examine the products ordered, and client payment details, and update the order status on the order detail page. Once the order is shipped by the supplier, you can change its status to completed.
Hope by now you have understood the basic knowledge of WooCommerce dropshipping in the above information.
For more clarity and better understanding, we will discuss in detail WooCommerce dropshipping store scenarios with some concrete examples…Let us walk you through the process of setting up three different WooCommerce dropshipping stores in detail right from the start.
How to Create a Free AliExpress Dropshipping Store Using WooDropship Plugin? step By step guides
let's go into the details on How to set up your own cell phone accessories store on Woocommerce by connecting AliExpress and using WooDropship Plugin.
Step-1) Install WooCommerce on Your WordPress Website:
1. Hover over Plugins in the left-hand navigation column while signing in to your WordPress backend, then click Add New.
2. In the upper right corner of your screen, type "WooCommerce" and hit enter.
3. Click the Install Now option.
4. You'll see a message at the top of the screen that says "Plugin Activated," as well as two more menus, WooCommerce & Products, in the left-hand navigation column.
5. Go to WooDropship.com and click the "Get Started For Free" button in the red bar.
Step-2) Create Your WooDropship Account:
1. Decide on a username. I make my email address my username. So that I don't forget,
2. Select a password for your account.
3. Your email address.
4. then Press the orange Get Started button.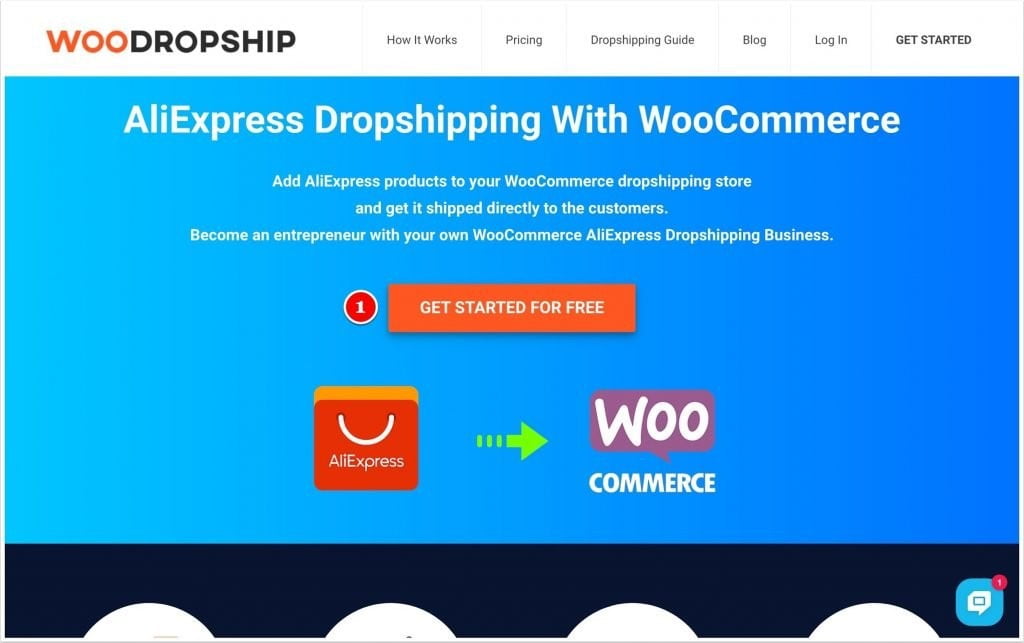 Step-3) Which Will Take You to Your Dashboard?
1. Select the Connect Store option from the drop-down menu.
2. This will take you to this tab, where you can connect your store.
3. Type in your WooCommerce store's URL.
4. Select the green Connect Shop button from the drop-down menu.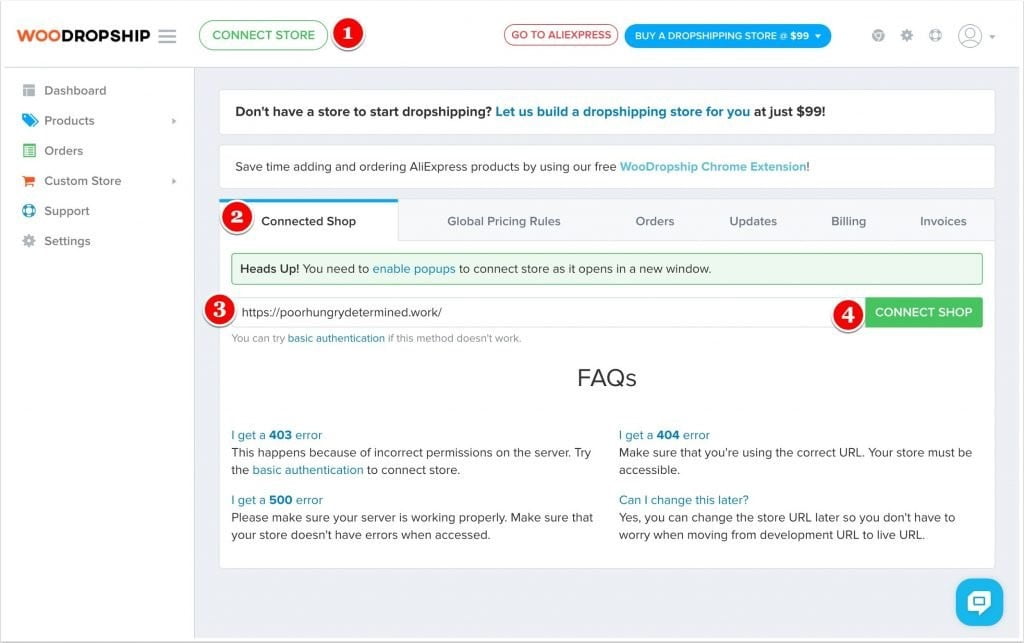 Step-4) Approve Application Authentication Request:
1. Double-check or Verify that you're connecting the correct account.
2. Select the purple Approve button from the drop-down menu.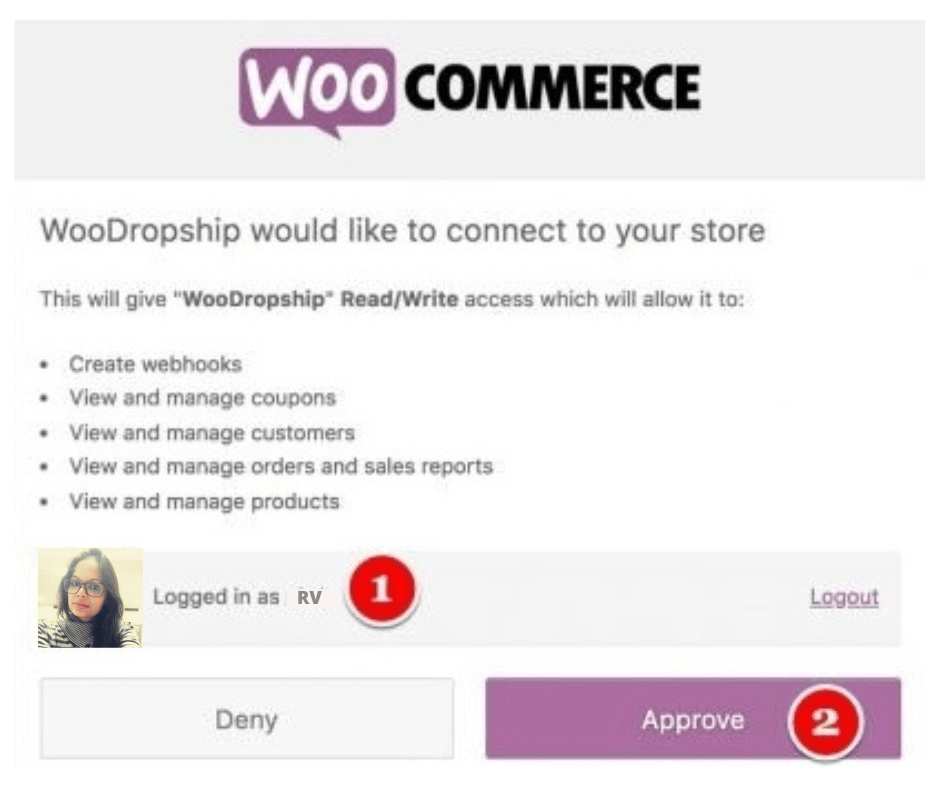 Step-5) Which will take you back to the dashboard:
1. Double-check or verify that your store was successfully linked.
2. Add the WooDropship Chrome Extension by clicking the link.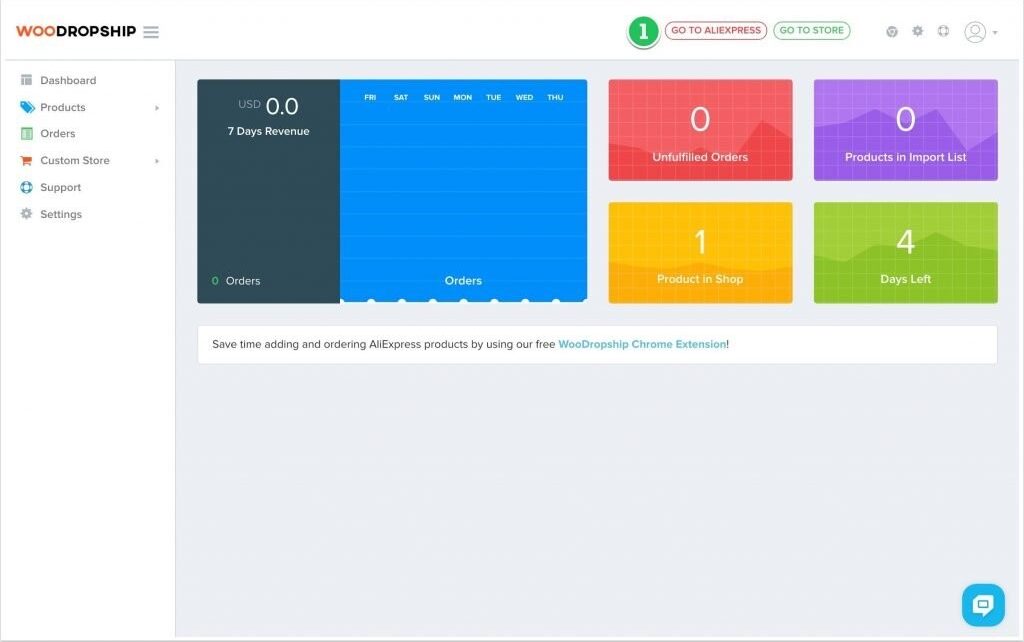 Step-6) In the Popup Window, Click the Add Extension Button: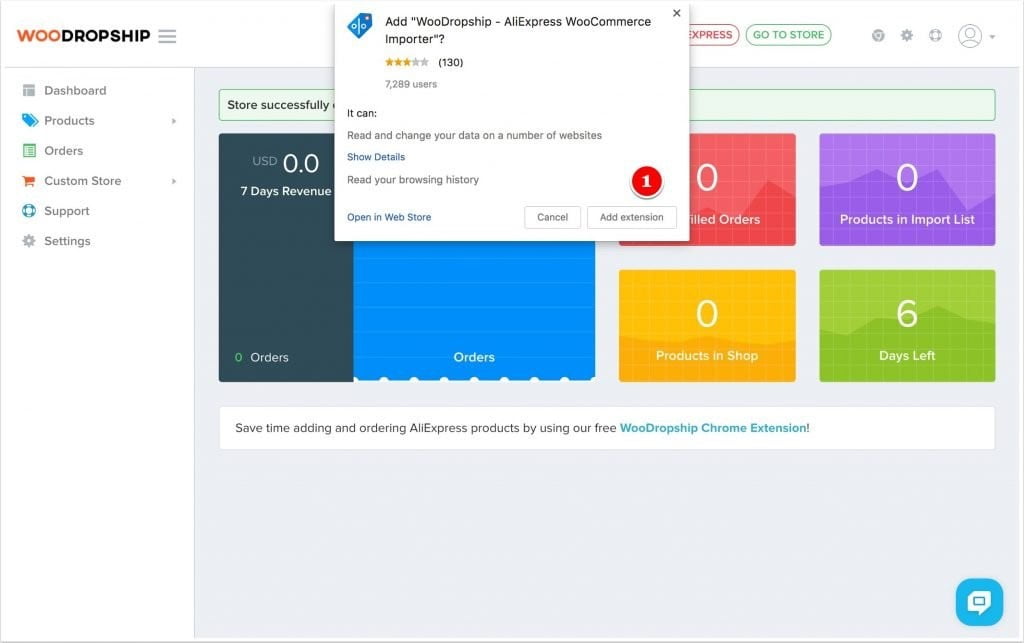 Step-7) Configure Your Updates Settings:
1. In the left-hand column, select the Settings menu.
2. Next, go to the Updates tab.
3. Unpublish a product when it is no longer available.
4. When a version is no longer available, remove it.
5. Update automatically when a cost changes.
6. Automatically update inventory when it changes.
7. Click the green Save Settings button to save your changes.
8. A green notice stating "Settings changed" will appear.
Step-8) Returning to Your Dashboard, Use The WooDropship Chrome Extension to Add Your First Aliexpress Product:
To get to Aliexpress, click the Go To Aliexpress button. Thanks to the Woodropship Google Chrome plugin, you won't require an Aliexpress account.
Step-9) Select your Product Category:
Start by selecting Your product category based on your niche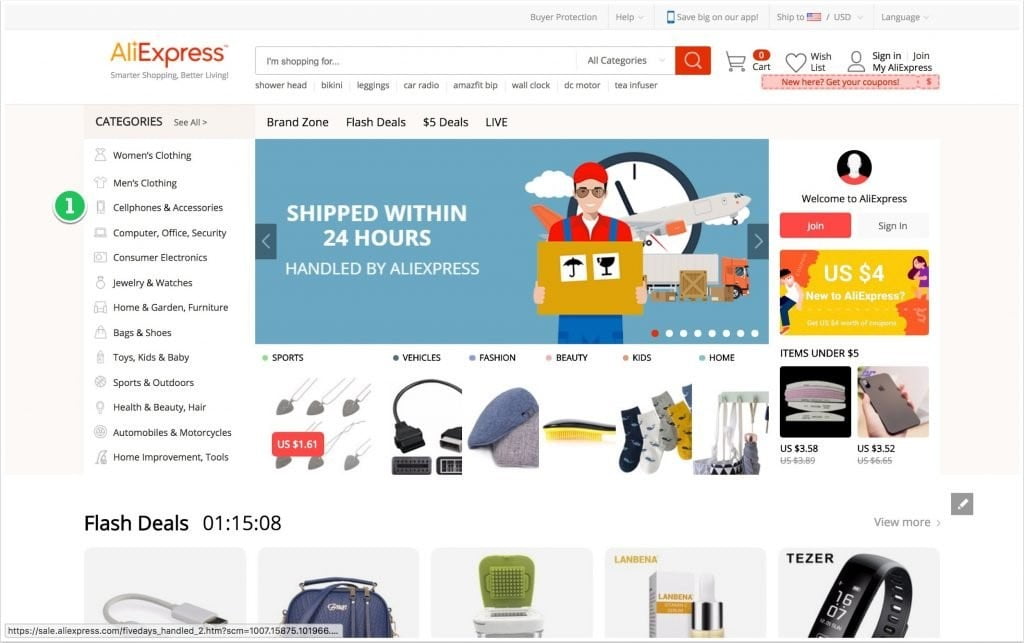 Step-10) Specific Your Products:
Then there's the specific product you should add to your store:
Step-11) You're Now Ready To Use The WooDropship Chrome Extension:
1. This product search was for Apple iPhone Screen Protectors.
2. Click the orange icon while lingering over the product you want to sell.
3. This will display the notice indicating the product is in the process of being imported.
4. Confirmation that the product was successfully added to the import list (If you don't see this message, it implies the product isn't on your import list; if you use Ghostery or other ad blockers, you need to disable them for aliexpress.com).
Step-12) Go to your WooDropship dashboard no:
1. In the left-hand navigation column, hover over Products and select Import List.
2. Before adding the product to your WooCommerce store, double-check or Verify and update the title.
3. Assign a Product Category to the item.
4. To update the product description, go to the Description tab.
5. Before submitting the product to Woo, go to the Versions page and double-check the variants and pricing.
6. Check out the product photographs by going to the Images tab.
7. To submit the product to your WooCommerce store, click the green Push Product button.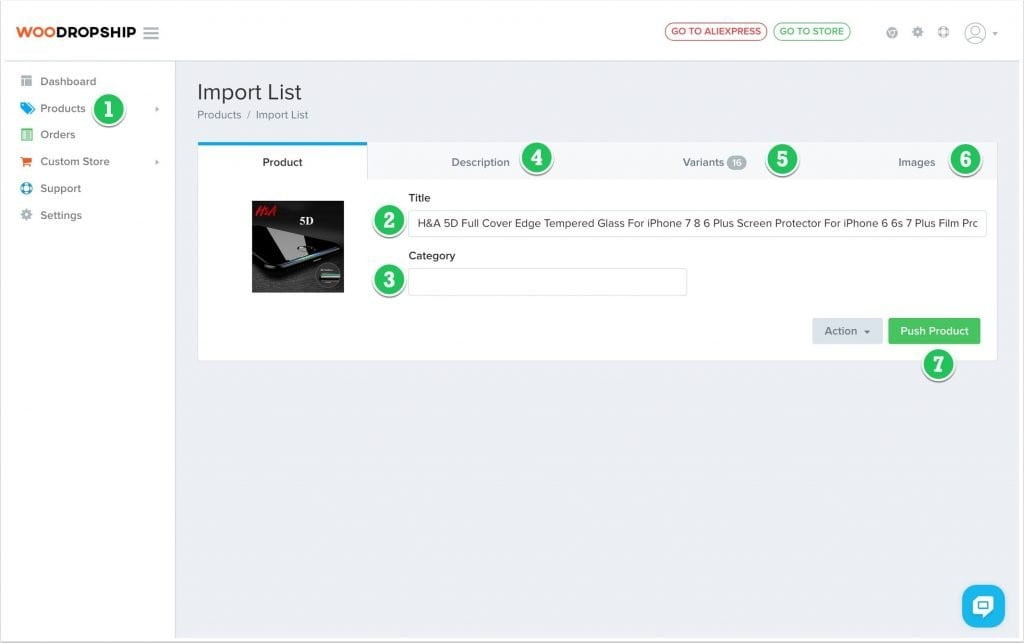 Step-13) Success! As a result, It's Now Listed Under My Products:
Step-14) You're Now Ready To Move On To The Final Three Steps:
1. Register your credit card with WooDropship.com so that as things sell, they may charge your card and begin shipping right away, rather than waiting for payment from Printful.
2. In your WooCommerce store, enter your Stripe keys to begin collecting payments via the customer's preferred credit card.
3. Add the remainder of your Aliexpress inventory and advertise your new Cell Phone Accessories store!
Congratulations your WooCommerce store is now fully set up to sell products with Aliexpress!
What Are The Benefits If You Start Dropshipping With Woocommerce?
WooCommerce is a WordPress plugin that is available for free. And it is one of the easiest ways to start an eCommerce business. To run your dropshipping store, you first need to choose the best eCommerce platform based on your budget and the needs of your business. well, many popular eCommerce platforms are available in the market like Bigcommerce, Shopify,
However here we will go into detail about why we think WordPress with WooCommerce is the best option for beginners or small business entrepreneurs.
Flexibility:
You want a platform that lets you create and develop everything you can think of. Some platforms limit what you can do, especially if you're not a developer. But WooCommerce allows endless flexibility, whether you're a beginner or a coding expert.
Scalability:
Will your WooCommerce plugin be able to keep up with the growth of your company? WooCommerce has all of the features you'll need to create a quick online store with an unlimited number of products, customers, and sales.
Ownership:
Marketplaces like Amazon technically "own" your store and have the final say on your content and layout. Proprietary eCommerce platforms like Shopify can also remove your site and products if they determine that you are violating their terms. But with WordPress and WooCommerce, you retain complete ownership of your store, products, and content and can grow on your own terms.
Price:
Many platforms will charge you a monthly fee or a part of your sales earnings. What can you afford, and what do you get for that price? Both WordPress and WooCommerce are entirely free to use and don't take any commission from your sales. You will, however, need to purchase the WooCommerce Dropshipping extension ($49.00 USD a year.)
Functionality:
Consider dropshipping functionality you'll need. Does the platform you're considering allow you to connect to your fulfillment center to manage inventory and shipping? Can it automatically notify dropshipping suppliers when an order is placed? Can you provide specific products to each supplier? Well, the good thing is that The WooCommerce Dropshipping extension makes it all easy.
Community and support:
Is there a support crew ready to assist you if you have any questions? How quickly do you receive a reply? For all purchased extensions, WooCommerce provides live chat help, as well as an active support forum for everything else. And nothing compares to the WordPress and WooCommerce communities! It's teeming with friendly developers and shop owners who are enthusiastic about the software and want to see you thrive. Use meetups, Facebook groups, Slack communities, and other resources.
How to Promote Your Dropshipping WooCommerce Store?
The next step is to promote your store now that it is completely functional. Here's how:
1. Search engine optimization for WooCommerce dropshipping stores is possible. This will bring them to the attention of potential customers. WooCommerce SEO will teach you how to do this.
2. Make use of social media's power. Social media is used by millions of individuals. Use this to your advantage by promoting your store across all social media platforms. In reality, if you want to run a successful dropshipping business, you'll need to advertise your products on social media sites like Facebook and Instagram. You should notice good results if you use the power of graphics and videos in these adverts.
3. Use email marketing to build relationships. Don't be satisfied with one-time sales. Each customer can become a return customer. Collect their email address and get their permission to send them marketing materials. Then keep your clients informed about your promotions and special deals. But Don't overdo this, however! A few emails now and then should do the trick.
How To Grow Your Dropshipping Business (Resources and Tools)
Setting up a dropshipping store with WooCommerce is quite easy. but the real job begins Once your store is up and running. You'll need to advertise your company, get traffic to your website, turn visitors into customers, and refine your marketing plan over time.
Fortunately, there are numerous excellent tools and extensions available to assist you in achieving these objectives. Let's begin with the fundamentals.
Search Engine Optimization for E-commerce:
SEO (Search Engine Optimization) is a technique for increasing the number of visitors to your website from search engines. We suggest using the All in One SEO plugin for WordPress, which includes all of the sophisticated WooCommerce SEO capabilities you'll need to boost your rankings.
Conversion Optimization:
You want them to make a purchase after you have a constant stream of visitors. This is referred regarded as a conversion in marketing parlance (converting a visitor into performing the desired action).
Conversion optimization helps you increase sales, making it critical to your online business. We propose OptinMonster, the web's most popular conversion optimization software.
Ecommerce Analytics:
Obviously, you'd like to see how your hard work is paying off. You'll need MonsterInsights for this, which aids in the installation of Google Analytics and includes an enhanced eCommerce tracking capability.
By using MonsterInsights you can track WooCommerce customers, see which products are popular, which product pages are performing poorly, and more.
Recover Abandoned Carts:
You might drive more people to your site and help them find more products by using conversion and SEO. However, many of those visitors are unlikely to make a purchase.
They may register, put items in their cart, and then depart without purchasing. You'll need to learn how to bring back those customers and recover your abandoned cart sales.
Other Plugins:
WooCommerce provides access to over 59,000 WordPress plugins, many of which are designed exclusively for eCommerce sites.
Contact forms, product comparisons, currency switchers, and other features are all possible with these plugins. To find additional plugins for your store, check out our list of the best WooCommerce plugins.
FAQs About WooCommerce Dropshipping with WordPress:
As you begin to work on your new dropshipping store, you may encounter new questions. The answers to some of the most frequently asked questions concerning dropshipping with WooCommerce are shown below.
Which Web Hosting Provider Should I Choose For WooCommerce?
For a new dropshipping business, we recommend Bluehost. Their shared hosting package is perfect for getting started, and they are a WooCommerce hosting provider that is officially recommended.
If you're seeking a different option, we recommend SiteGround. They're known for their valiant support and lightning-fast servers.
Also, check out our tutorial guide on the best e-commerce web hosting in 2022 based on your business needs.
Why Not Use Shopify To Start My Dropshipping Business?
Shopify is an excellent place to start your dropshipping business. But the downside is that Shopify charges you for each transaction, which has an impact on your dropshipping revenues.
Another disadvantage of Shopify is the small number of extensions and apps available. While WooCommerce allows you more options and the ability to sell whatever you want on your website as a dropshipping business.
Can I Use BigCommerce To Start My Dropshipping Business?
Yes, you definitely can. BigCommerce is a popular eCommerce platform with WordPress integration. And the good thing is that BigCommerce doesn't charge transaction fees. There are also a larger number of payment options.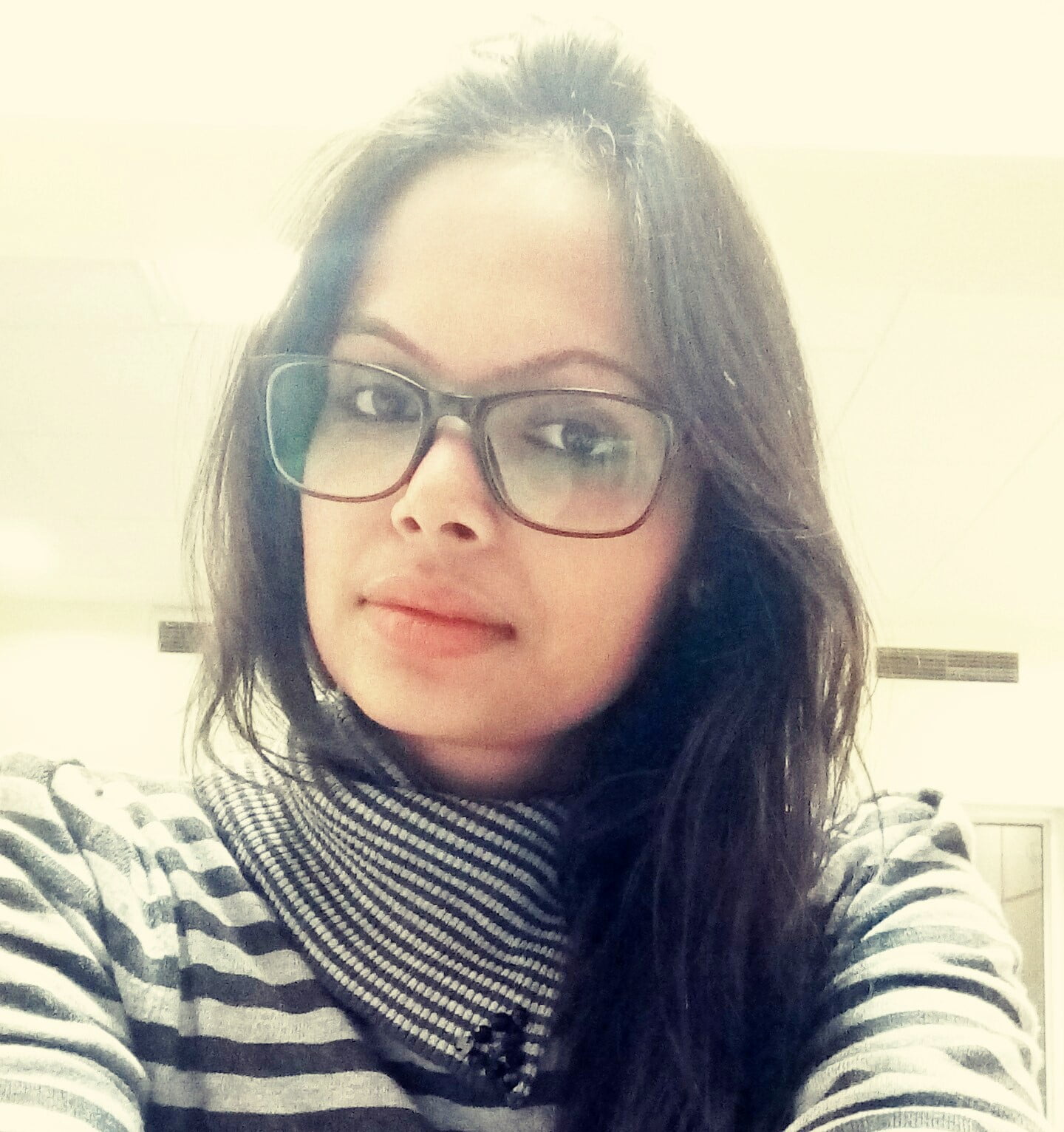 Hey, I am a fashion designer by profession and a blogger by passion, I regularly do extensive research on all things online and I am passionate about spreading my knowledge and supporting people in their online business journey. During my spare time, I like to travel to hilly places and further improve my skills by learning various things.