If you want to know everything about domains like what is a domain? how to choose the best and cheap domain name registrar in 2023? or how does exactly a domain work? Then you are at the right place. Here I will explain all these topics in detail. So that you can easily choose the right name for your website and understand the domain exactly.
List Of Best & Cheap Domain Name Registrar:
What Is A Domain Name?
In simple terms, the domain name is the address of your website, which people type in the domain name browser URL bar to visit your website, there are two main elements of the domain name.
For example, google.com, website name (Google), and domain name extension (.com). The Internet is a vast network of computers connected to each other globally through a network of cables. In this network, each computer can communicate with another computer.
Those computers are identified with the help of an IP address that is assigned to each computer. The IP address is a series of numbers that look like this: "74.125.127.147". Which is very difficult to remember.
Domain names resolve this problem. If people want to visit your site, they can enter your domain name instead of IP address numbers. Then people can visit your website.
How Do Domain Names Actually Work?
When people enter a domain name in the web browser, they first send a request to the global network of servers that make up the Domain Name System (DNS).
These servers then discover the servers associated with the domain name and forward the request to those name servers. Servers with this name are computers managed by a hosting company such as your website (Bluehost). This hosting company forwards your requests to the computer where your website is stored.
This type of computer is called a web server, in which special software is installed, such as these (Apache and Nginx) which are two popular web server software.
For more understanding see the below image.
Reviews Of The Best Domain Name Registrar For 2022
The right domain makes it easy to take your website to a new host or service provider. And helps you protect your brand name.
But the question is how to choose the best and cheap domain name registrars.
Because, at first glance, it may appear that all domain registrars provide the same thing, there are several important differences.
here I gave a list of the top best and cheap domain name registrars. Keep reading for an in-depth review of each small buyer guide to help you make sense of your choice. So that you can get a great deal on your domain as soon as possible.
Whether you are a first-time buyer of Domain.com or an experienced buyer, it is a simple and top contender for everyone.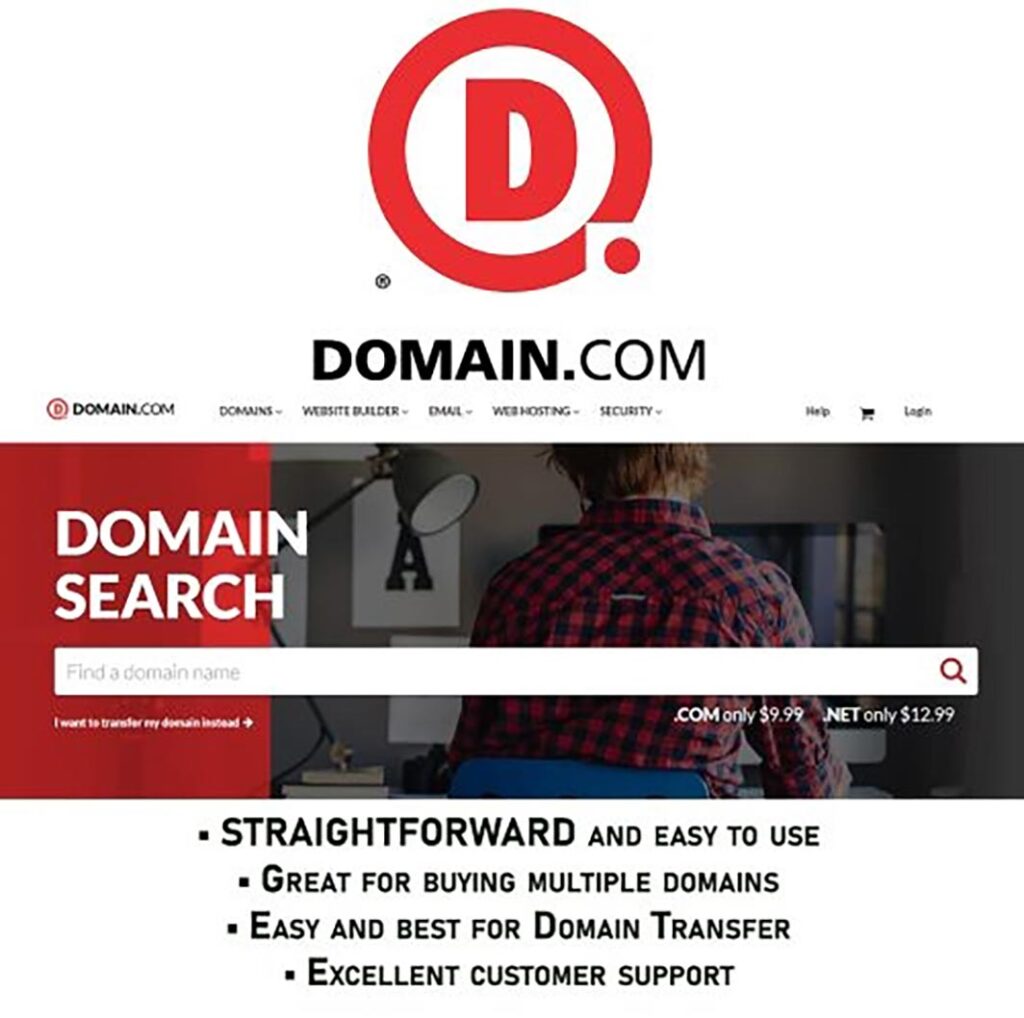 For those who need to transfer domains, Domain.com includes a lot of features. And it's best for those who want to buy multiple domains.
And the best part is that if you are more concerned about privacy, you get the free WHOIS Privacy + Security service, which is an add-on service with Domain.com.
Domain.com includes a lot of features that are great for those who need to transfer domains. And it is also ideal for those who want to buy multiple domains.
And, if you want a higher verification SSL certificate for your e-commerce website, Domain.com offers them as low as $ 22.50 for 2 years. This is very low because such SSL certificates can be $ 100 per year. Sometimes they spend more than this.
If you want to prevent your domain from being hijacked, you should transfer DNS management tools, email forwarding, URL forwarding, and locks.
As you may have to point your DNS to a new IP address, update the DNS records or make sure that all emails from your domain are being created in the inbox you expect.
In addition, you can get a large selection of TLDs. Introductory pricing is unprecedented, and therefore renewable pricing depends on the TLD you choose. This will protect your site (and visitors) and ensure that your web address is not marked as spam and is wound on a blacklist.
Overall domain.com is one of the best options, nothing bad can be said about Domain.com. You can get a .com domain for only $ 9.99 per year. On Domain.com you also get up to five years of purchase options which are good for everyone.
2) Bluehost: (Best For New WordPress Sites)
Bluehost is a popular hosting company, or you can say that Bluehost is a leading web hosting industry, more than 2 million websites worldwide are operated by Bluehost.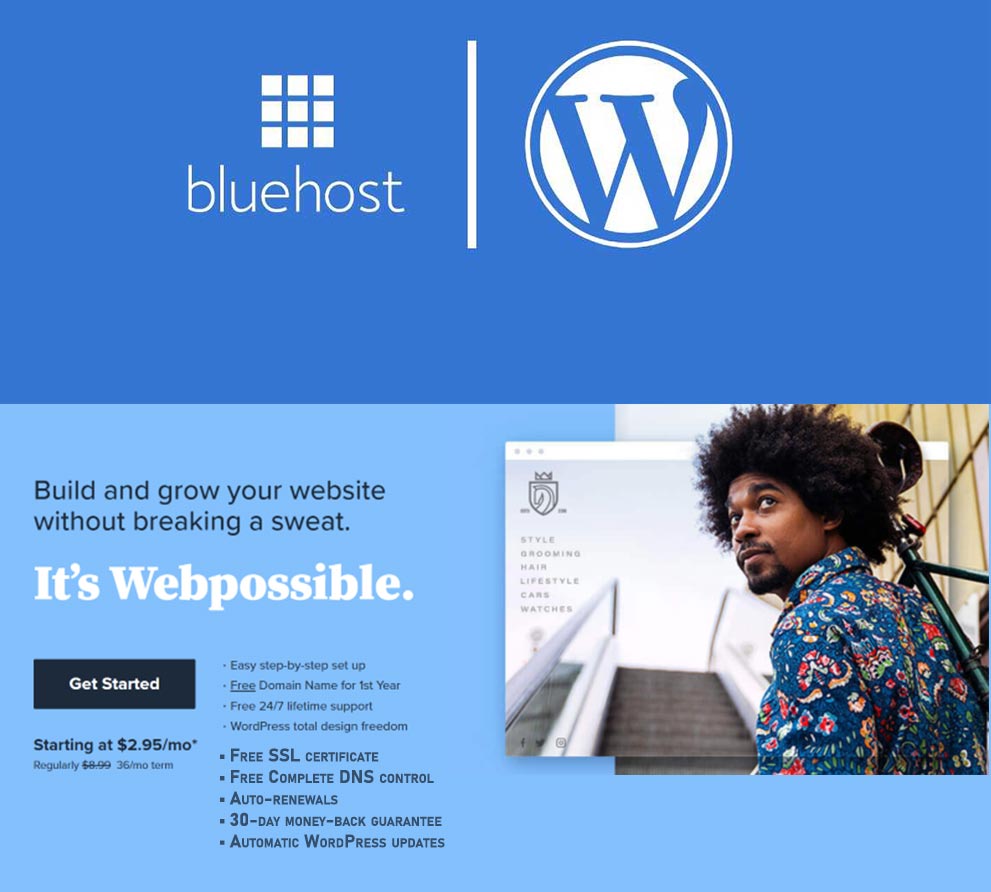 However, Bluehost is mainly a hosting company, not a domain registrar, but if you sign up for web hosting, the company will give you a free domain name for the first year.
This means you can get both with a single purchase in one place. and you can save $10-15 in the first year. In Bluehost, Free Domain comes with all hosting plans. I think you can't get a better deal than this anywhere else.
If you are planning on only one website then the Bluehost shared plan is good for you because Shared hosting plans offer a good quality of hosting and free domain, starting at a low price of $ 2.95 per month.
And the best thing is, The Bluehost Domain Manager makes it very easy, where anyone can easily buy, transfer, track and update domain names from a simple dashboard.
Bluehost offers you a free SSL certificate, which other domain registrars try to add as an up-sale. also offers auto-renewal. it means that you do not have to worry about manually renewing each year.
You can add domain privacy and security to your registration for only $ 0.99 per month. In addition, you can prevent any unauthorized domain transfers with Domain Lock, which is $ 1.99 per month.
So Why Is Bluehost A Good Idea For WordPress Sites?
Here you get access to free design templates and custom themes. Which help you get your site exactly the way you want it.
Take advantage of free WordPress plugins. And increase the security of your site. There are plugins for everything here. Which adds functionality to your site. I really like Bluehost for new sites because it takes care of them in every way. And it is great for WordPress.
You can go with the original plan. If you need more resources, you can do it on a larger scale, and Bluehost pricing is affordable.
Network Solutions is the largest domain registrar. It has over 7 million domains registered on its planet
Here you can register a variety of domain extensions, including all popular, .com, .net, .org, .biz, .info, and other niche TLDs.
Network Solutions provides the full range of services required by a company to establish and maintain an online professional presence.
And many of their service offerings include web hosting, website builder, website security tools, business email address, online marketing, SEO services, and even IT support.
This platform comes with all the necessary domain features you expect for DNS management, private registration, WHOIS privacy, and more.
For those looking for long-term domain registration, a network solution is a better option than others.
HostGator is a popular company, they are easy-to-use extensions, it provides website owners with a one-stop-shop for domain names and shared website hosting.
They have an easy domain search tool that helps you find a suitable domain name for your business.
However, he has also introduced a new drag-and-drop website builder called Gator. They are providing free domain names and hosting with all their website builder plans. There are domain privacy and DNS management tools.
Namecheap is another top domain registrar that provides free domain privacy with all its domain names. In addition, Domain Privacy offers domain add-on services such as Premium DNS.
If you are looking for the lowest cost to register your domain? Namecheap is a company that offers some of the best prices on popular domain extensions.
Their domain management area is clean, but not as user-friendly as GoDaddy's new interface.
Keep in mind that web hosting and domain registration are very different. It is difficult to find a company that offers both services. If you want to bundle domain registration with hosting, I suggest always going with Bluehost. Otherwise, you can get it from the domain.
If you plan to accept payments or collect other sensitive information on your website, you will need an SSL certificate.
Here the positive SSL namespace is up-selling, it is just a domain verification. Instead, I recommend getting your SSL from your web host.
There are many reasons to go with Namecheap as your domain registrar that will save you money in the long term.
WHOIS Privacy is forever free with your domain. He saves about $ 15 per year for those who register for it.
You also get email forwarding, which allows you to set professional email addresses with your domain name.
If you go for one of the $ 0.99 TLDs, the renewal price is still good for most of your options. While there are some price renewals for some domains, many of them are $ 9 or less for renewals.
If someone wants the best and cheap domain name registrar service. So GoDaddy is the best option for that.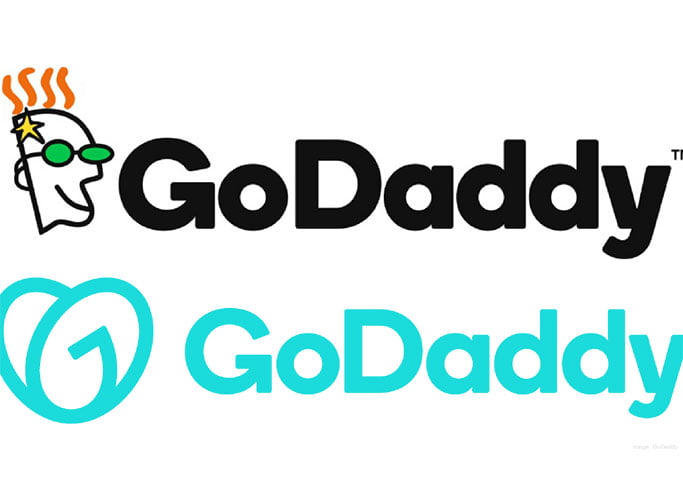 It is one of the oldest and most popular domain registration companies. It manages 77 million domain names for over 18 million customers.
Those of you who want to create an online eCommerce website. They also offer a great eCommerce plan for them. And they have a suite of web services including hosting, website builder, email marketing,
GoDaddy also provides its own bulk domain search tool. Here you can choose many popular domain name extensions. And their prices are highly competitive,
If anyone is interested in the domain investment game, GoDaddy allows you to easily access the list or use the domain
For example, if you like certain domains and want to buy them, you can contact GoDaddy's domain broker service and get benefits, they can hire a dedicated agent to help you get the best deal. Can keep Can help keep the work done.
NameSilo offers a full discount program for domain purchases in bulk. If you want to buy the best and cheap domain name in bulk. Like orders from more than 50 domains, NameSilo will cut the price. Even if you order more than 100, the price drops further. The price keeps decreasing at every level.
And WHOIS Privacy is forever free with every purchase, you're saving $ 10-15 per site compared to a domain registrar who charges for it.
One thing you don't get from NameSilo is the SSL certificate. Their price is extra, and the price is quite high. But don't worry, getting a free SSL certificate is quite easy.
This is another way that you save money. Choose NameSilo for a great selection of TLDs, great search tools, great prices, and discounts for bulk purchases.
The Google domain is powerful and easy to use as you would expect from one of the most recognizable companies in the world.
You also get a wider selection of tools for DNS management, and you can enable DNSSEC (Domain Name System Security Extension) with one click. DNSSEC protects your domain from spoofing, attacks, and other common threats.
Google Domains has a good selection of TLDs, which makes it really easy to find the domain you want. TLDs are popular for the keywords you want, as well as hosting for less common TLDs.
Prices for domains are very competitive, starting at $ 9 / year, plus you can register for 10 years through Google. There is no hidden charge.
It is a truly cost-effective solution for small business owners who want to keep their information private.
Connect your site with trust in Google and third-party services such as email, online stores, or your business database.
Improve security, take advantage of Google's best-in-class IT infrastructure, and save money by doing.
Types Of Domain Names Registrar
The domain name is available in many different extensions viz. .com .org, .net, .tv, .info, .io, and more. Although the most popular of these is .com, I also recommend everyone use the .com domain extension.
The Internet Corporation for Assigned Names and Numbers: (ICANN),
this organization is a non-profit, which manages the domain name system. and creates policies and implementations for domain names.
Let's take a more detailed look at the type of domain names.
Top Level Domains: (TLD)
The top-level domain, which is listed at the highest level of the Internet domain name system, however, has thousands of TLDs. But .com, .org, .net, and .edu are more popular.
Country Code Top Level Domain: (ccTLD)
The ccTLDs use just two characters which are based on international country codes. for example
.uk for the United Kingdom, .jp for Japan, and .in for India.
They are mostly used by companies that are building sites dedicated specifically to specific areas.
Generic Top-Level Domain: (gTLD)
A gTLD is a top-level domain representing a specific use case or community served by the domain extension.
For example
(.edu) which is related to educational institutions.
(.mil) is related to the military.for(United States military)
(.gov) is related to the government.for(United States government)
(.org) is related to non-profits and organizations.
(.net) was related originally designed for internet service providers (ISPs) but is now used more widely.
Tips Before Buying Domain Names Registrar
Before you register and purchase a domain name, check these tips to make sure things run smoothly. And in this way, you can get the best and most cheap domain name easily.
1. Check Pricing And Registration Period:
Check the price of the domain name because some registrars have lower first-year registration rates, but their renewal prices are different and higher. Therefore you should check for domain transfer, renewal, and any other additional charges before registration.
If you are buying a new web address, then it is fine to register your domain name for 1 year. You can turn on automatic renewal, this will not end your domain. But some companies may require registration for a maximum period of 2 years.
2. Check Domain Name Registrar Transfer Policies:
Some domain registrars provide the facility to transfer domain names at no additional charge. But some domains may charge an additional fee to remove the lock. Therefore you should review the domain transfer policy before purchasing the domain name from the registrar.
If some people are not happy with their domain registrar. Therefore this option should be readily available. So that you can take it to another registrar.
However, according to ICANN rules, you can transfer domains only after 60 days of registration.
3. Check Domain Name Registrar Expiration Policies:
You can renew your domain registration before the expiration date. If you forget to renew your domain name, it expires and then anyone can register your domain name.
To avoid this you can set auto-renewal for your domain name. Some domain registrars allow a few days off, even after expiration. In which you can renew your timed domain name.
There are a few things to keep in mind when choosing a domain name registrar.
4. Check To Add Services To Pricing:
Some domain name registrars may perform add-on services automatically when purchasing a domain. If you do not uncheck those options, it will increase your bill considerably. Usually, .com is a domain name.
So pay attention to the checkout page and uncheck any add-on services you don't need. It is good to double-check the total amount taken by you in the statement.
5. Review The Best & Cheap Domain Name Registrar- User Experience:
Most domain registrars try to make their websites easier to use, but some domain registrars do the opposite.
This can make it difficult to change your domain name settings as nameservers.
So to avoid this, the first search for the domain registrar's online reviews and read the reviews carefully. But very few happy customers leave online reviews.
Summary:
Hopefully, this article has helped you figure out how to choose the best and cheap domain name registrar for your business. Follow all the important tips to choose the best and safest domain name registrar without causing major paralysis.
In our opinion, Bluehost and Domain.com are the best domain registrars in the market for small businesses as well as large companies. They provide the most reasonable prices and have all the features. and Hostgator is also the best.
If you want to create a new website, Bluehost and HostGator are good registrars, then you can choose anyone to sign-up for. Because both of them provide a free domain name along with their hosting plan.
And if someone wants the best and cheap domain name registrar for bulk. So GoDaddy and Namesilo are the best options for that.
However, all domain registrars have their own distinct features, you can choose any of these top domain registrars based on your business and needs.
FAQ About Domain Names:
Can I Sell a Domain Name?
Yes, you can sell your domain name. There are many marketplace websites such as GoDaddy, Domain.com, and a few others where you can sell your domain.
Nowadays there is a huge demand for domain cell brandable custom domain names as some smart entrepreneurs are always looking for great domain name ideas.
How Can I cancel my registration domain name?

It depends on the domain company, some registrars offer this option to cancel their domain registration but In most cases, domain cancellation registration does not give you a refund, but some domain registrars may have a return policy, so you need to thoroughly check their rules before canceling your registration
What is a subdomain?

A subdomain is a smaller domain under the main domain
Sub-domains are used by websites to create child sites under the same domain name.
When you register a domain, you are allowed to create a subdomain for it.
For example, a business website may create a subdomain for its blog or its online stores such as store.example.com or blog.example.com.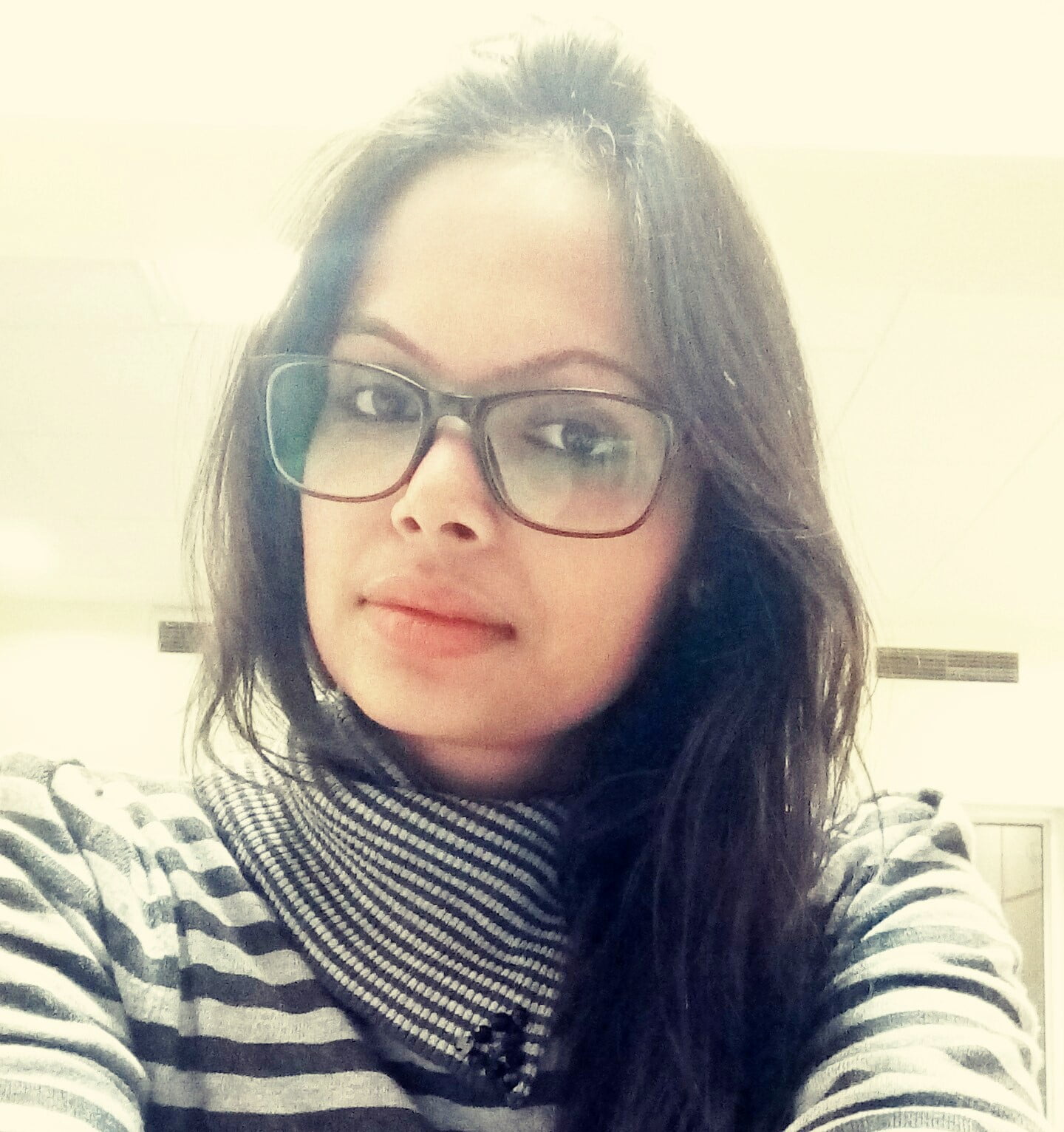 Hey, I am a fashion designer by profession and a blogger by passion, I regularly do extensive research on all things online and I am passionate about spreading my knowledge and supporting people in their online business journey. During my spare time, I like to travel to hilly places and further improve my skills by learning various things.