Are you planning to start a dropshipping business that will operate in the UK e-commerce market? So that you can benefit from the Best dropshipping suppliers in the UK based?
Then in this article, we have compiled a list of the best dropshipping suppliers in the UK. These suppliers operate and store their products in UK warehouses, which means you will be able to get much faster shipping times than your competitors. Are you excited to know the details? let's get started!
But before we discuss the services of the best UK dropshipping suppliers and companies for Amazon, eBay, Shopify store, or your e-commerce store.
Let us first understand what a dropshipping business actually is.
What is Dropshipping?
Dropshipping is an order fulfillment method that allows your business to partner with a supplier to display and sell your products in your online store. Meaning, that you can sell their goods yourself without having to keep the product in stock inventory? When you sell an item, the dropshipping business (supplier) will ship that purchased item directly to the customer.
In other words, dropshipping is a simple business model that can be much less expensive than selling through your own store. With drop shipping, you work with third parties such as manufacturers and wholesalers who produce goods for you to sell.
The process begins with you receiving an order, which you forward to your supplier, and your supplier handles the packaging and shipping.
So if you are looking to start an e-commerce business without stocking your own inventory? Or do you want to expand your existing eCommerce store by offering new products? Then finding a drop shipping service can be the best way to sell products online.
Here, we are going to cover some of the best dropshipping suppliers that UK companies can access. Let's start with our detailed review of the best UK dropshipping suppliers for 2023.
Best UK-Based Dropshipping Suppliers In 2023 Reviews.
We'll start by offering a list of the best UK dropshipping suppliers, offering products in many different niches. We have compiled this list by screening each supplier on the criteria of good dropshipping suppliers such as Reliability, Pricing, Product Catalog, Customer service, and Order Processing Time.
let's get started
1. Avasam Review:(Dropshipping Suppliers UK)

Avasam is a completely automated dropshipping platform that gives you everything you need to find and sell high-quality products. They are situated in London and specialize in dealing with British suppliers.
When new suppliers want to work with Avasam, they must first go through the company's supplier verification method, which ensures that all vendors on the platform are preapproved and thoroughly validated. Additionally, Avasam's EU vendors already provide approximately 120,000 goods!
Another fantastic feature of Avasam is that they enjoy establishing initiatives to assist you and your company! For example, they are now running a '£50 for 50 orders in 50 days' promotion, which you can find out more about here.
Avasam is unusual in that it integrates with over 60(!) various best e-commerce platforms and marketplaces, which is something I haven't encountered before in my investigation of dozens of dropshipping suppliers…
Pros of Avasam:👍
Outstanding client service. When looking at Avasam's Trustpilot evaluations, almost everyone praises their excellent customer service team.
Also, you may experience Avasam for free and take advantage of all of its features! Avasam's pricing is still quite inexpensive even after you've scaled your firm.
Integrations. The integration capabilities of Avasam are unrivaled. No other dropshipping provider has more than 60 integrations.
Suppliers from the United Kingdom have been verified. Each provider on the platform will most likely be trustworthy thanks to Avasam's supplier verification methodology.
Cons of Avasam:👎
Only shipping to the United Kingdom is available. Avasam currently exclusively ships to the United Kingdom. They do not ship to other countries, such as the United States.
PayPal is not an option for paying vendors on Avasam. You can, however, pay for your Avasam subscription with PayPal if you want.
What's The Best Way To Link Avasam To Your Store?
Simple! Because Avasam has over 60 integrations, it will almost certainly be a plug-and-play process when it comes to linking it to your store. Visit Avasam's integrations page to learn more about how to connect your store to Avasam.
Avasam Pricing:
Avasam and all of its capabilities are available to new dropshipping stores for free! You'll need to upgrade to their £9 per month Starter plan once you start collecting orders. This plan will cover you until you exceed 250 monthly orders.
2. Spocket Review:(UK Dropshipping Suppliers)
Sprocket is a versatile and convenient dropshipping marketplace that enables retailers to start and expand their online stores. Which also works with both WooCommerce and Shopify stores. Spocket allows you to construct your full dropshipping business with suppliers from the UK, EU, and the US with just a few clicks on a simple interface.
Unlike most solutions, Spocket does not get its products from AliExpress. Instead, it provides you with access to a large marketplace brimming with high-quality artists. There are tens of thousands of things to choose from, and you may also try out a variety of them.
Real-time order tracking
Automated order fulfillment
One-click product importing
Automatic inventory updates
Automated pricing
Customs duty and taxes are not included
Limited supplier locations
Some limitations to platforms
Paid plan starts at $ 24 per month
The Pro plan is $49 per month.
Empire Plan $ 99 per month
Free Starter Plan
One of the most appealing aspects of Spocket is that it is completely free to use. The free plan includes real-time inventory updates, email assistance, worldwide price rules, unlimited product orders, and tracking numbers for up to 25 products on your eCommerce store. You can upgrade to premium plans like "Pro" for $49 per month or "Empire" for $99 per month as your business grows.
3. Modalyst Review:(UK Dropshipping Suppliers)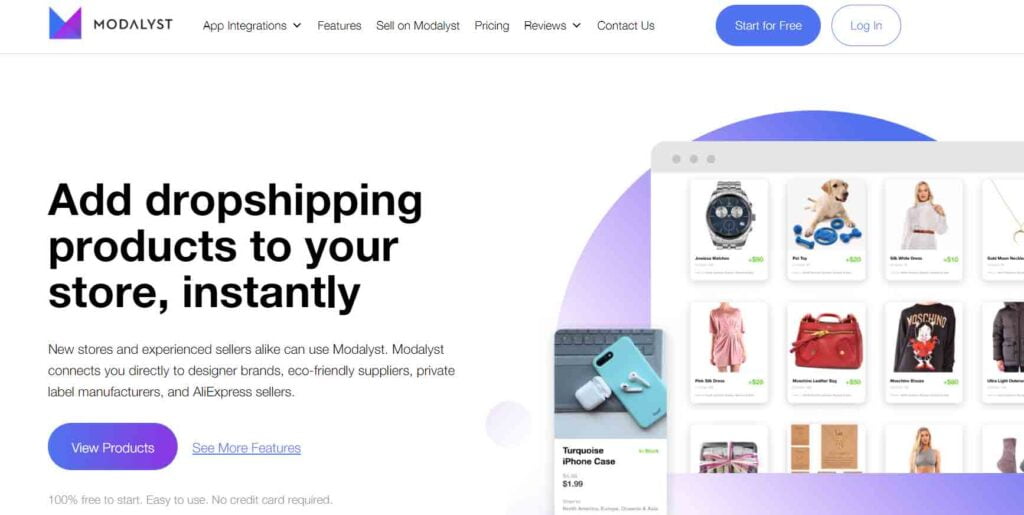 Modalyst is an automated drop shipping App with popular brands that is an official AliExpress Dropshipping partner.
When it comes to dropshipping tools that are meant to function with a specific store-building service, Modalyst is a Wix-specific plugin. This useful plugin automates your entire drop shipping operation by connecting you to suppliers who can assist you in getting your clients the products they want.
There are many product selections to choose from, including jewelry and accessories. Modalyst is a fantastically organized and user-friendly product. From your unified dashboard, you can interact with suppliers, and there's a mobile app if you need to check in on things while on the go.
Pros of Modalyst:👍
Lots of high-quality products
High-profit margins
Automatic tracking included in all places
Quicker shipping
White label program for dropshipping
Integrates with BigCommerce, Wix, and Shopify
Cons of Modalyst:👎
5% transaction fee on all tiers
Limited products on cheaper plans
Modalyst Pricing:
Modalyst also stands out for its ability to interface with Wix in a matter of seconds. There are very few easier options around. Modalyst offers a free introductory plan to help you get started exploring the services. However, keep in mind that all tiers are subject to a 5% transaction fee.
4. Salehoo Review:(UK Dropshipping Suppliers)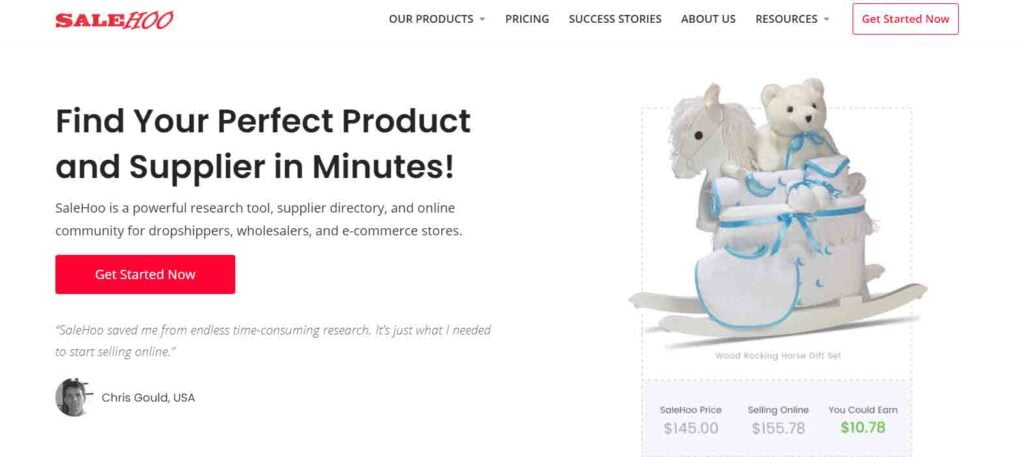 Salehoo is a wholesale supplier directory that connects drop shippers with suppliers, covering a wide variety of different types of suppliers. It is a well-known dropshipping marketplace along with others like Alibaba. In fact, you will be able to find many dropshipping suppliers on Salehoo just like Avasam!
While Salehoo is a New Zealand company, they still offer a number of suppliers from the UK in their supplier directory:
If you're interested in UK wholesale suppliers, they've got you covered too. Take a look at these product examples: In total, Salehoo has over 8,000 dropshipping suppliers around the world!
Salehoo Pros:👍
Verified supplier. You don't have to worry about fraud when partnering with a supplier from the Salehoo directory. Salehoo thoroughly checks each supplier before adding them to their supplier directory.
100% Satisfaction Guarantee. If you don't like Salehoo after trying it out, you can just send them an email to get your money back.
Great customer service. The people who review Salehoo on Trustpilot mostly talk about their great customer service team.
Salehoo Cons:👎
This is just a supplier directory. By doing an extensive (Google) search, you may be able to find a supplier for your product yourself.
Unlike Synky and Avasam, Salehoo does not offer any integration between its suppliers and your store. You have to ask this question to each supplier, as they all have different approaches. If you're using an e-commerce platform like Shopify, some will require you to send your orders in a .csv file, while others will offer integration into your store.
Salehoo offers one-year use at a flat price of $ 67.
Purchase lifetime access for just $ 127.
( Also, If you are not sure, then check out our article to know in detail about the Salehoo review in 2022. Hope it definitely helps you in your decision)
5. CJdropshipping Review:(UK Dropshipping Suppliers)
CJdropshipping is a one-stop shop for finding, sourcing, and shipping the best dropshipping products. It also has access to warehouses all over the world, including the United Kingdom. Their UK warehouse presently has nearly 2,000 unique products.
The good thing is that with CJdropshipping, allows you to browse their products in a simple user interface without having to make an account, which is very cool.
Additionally, CJdropshipping offers a sourcing service if you can't find what you're looking for in their catalog. You can use it to place a sourcing request for a certain product, and the CJdropshipping staff will do their best to locate it for you!
Note: You must first register an account on CJdropshipping in order to publish a sourcing request.
CJdropshipping Pros:👍
There are no membership fees to pay on a monthly basis. CJdropshipping is similar to AliExpress in terms of dropshipping. There are no startup fees, storage fees, or monthly fees to pay.
A sourcing service is available. Have you come upon a fantastic product on AliExpress that you can't find on CJdropshipping? Then you can always post a sourcing request, and the crew at CJdropshipping will do their best to find it for you!
Features that are more advanced. Advanced capabilities such as automatic order fulfillment are available with CJdropshipping's Shopify app.
CJdropshipping Cons:👎
Although CJdropshipping claims to have exceptional customer service, there have been reports of consumers who have not received a response to their support emails.
How Do You Link Your Store To CJdropshipping?
If your store is hosted on Shopify, all you have to do is link it to CJdropshipping's Shopify app. CJdropshipping's web app can be used to link your store to a number of Shopify alternatives.
CJdropshipping Pricing:
You won't have to pay any monthly subscription costs if you use CJdropshipping as your supplier, as we've already explained!
6. Printful Review:(UK Dropshipping Suppliers)
Printful is a well-known dropshipping company that specializes in "Print on Demand" sales, If you want to sell accessories, apparel, and creative things with your own ideas then Printful could be the best solution for you. There are tons of options to choose from and Printful is the market leader in print-on-demand solutions.
Store owners can make use of Printful's special services, such as designer help and white-label printing. The amount you spend on printing and production will be largely determined by the type of merchandise you wish to sell.
Branding services available
Guarantee policy for damaged/lost packages
No monthly fees or minimum order purchase
Easy setup and performance
High-quality products with white labeling
Integrations with popular platforms
Tons of personalization options
Some products have an expensive starting price
Intended mostly for designers and creatives
It is available for free.
Pay only after receiving an order covering fulfillment and shipping.
7. AliExpress Review:(UK Dropshipping Suppliers)
AliExpress is a dropshipping and wholesale marketplace that connects drop shippers with suppliers and products such as consumer electronics and clothing. Suppliers on AliExpress have begun offering delivery from warehouses outside of China, such as the United Kingdom!
AliExpress Pros: 👍
Low product costs. The majority of AliExpress products are fairly priced. You'll have a bigger profit margin as a result, making it easier to stay profitable. Check out this article for advice on how to increase your profit margin when dropshipping with AliExpress!
Products in a variety of niches. AliExpress, without a doubt, has the world's largest assortment of available products. Even when limited to things that can be sent from UK warehouses, the product selection is still quite extensive.
There is a chance to get my money back. If you didn't know, AliExpress offers 4.3 percent to 5.9 percent cash back on all orders, which is a terrific way to save money.
AliExpress Cons: 👎
Suppliers who are dishonest. Always verify that a provider is shipping their products from the United Kingdom, as I previously stated. If the delivery time is still more than two weeks after shipping from a UK warehouse, you know they're lying and shipping from China.
Your product can be found by everyone. When you use AliExpress product photographs in your online store, anyone can look up those images and locate the exact same product for a lower price on AliExpress. As a result, we urge that you take your own product photos.
What's the best way to link AliExpress to your store?
To link AliExpress to your store, you'll need a separate app. You may do this with Oberlo or one of these fantastic Oberlo alternatives!
AliExpress Pricing:
You can use AliExpress as your dropshipping supplier for free.
8. Inventory Source Review:(UK Dropshipping Suppliers)
Inventory Source is an automation tool that allows you to either sync supplier products with your page inventory automation or syncs the entire customer purchase flow so that your orders are automatically routed to your supplier with full automation.
You can sync inventory with all major eCommerce solutions including Amazon, eBay, Shopify, BigCommerce, 3dcart, Magento, WooCommerce, and even Walmart. Inventory Source also provides a connection with over 230 suppliers and the facility to add your own suppliers on the platform.
Pros of Inventory Source: 👍
Easily create and customize automation rules for filters, pricing, and categories.
All products are listed and distributed at the supplier's price. This allows you to automatically send orders to suppliers and sync shipment tracking.
Easy one-click integration with platforms such as Shopify and BigCommerce.
It provides a smart system for ordering multiple suppliers and warehouse management tools to help you reduce delivery times.
Cons Of Inventory Source: 👎
Separate Fee Per Supplier
No Market Research Tools
Inventory automation starts at $ 99 per month
Full Automation $199/ Per month
Get started with a free plan
9. Doba Review:(UK Dropshipping Suppliers)
Doba is a cutting-edge dropshipping platform that makes life easier for entrepreneurs. You'll have no trouble locating dropshipping products for your business because there are so many high-quality wholesale vendors to pick from. This vast product database provides you with more than simply a list of suppliers for your online store. You can also place orders for customers straight from Doba.
In a matter of minutes, Doba allows you to search, list, and sell things. You may sample it for thirty days for free, and you'll get amazing analytics to see which of your goods are delivering the best results for your company.
There are no long shipping times because your customer receives the product directly from the provider. While Doba offers a free trial, it's worth noting that memberships start at roughly $29 per month. As a result, you can continue to use the exclusive supplier network.
Doba Pros: 👍
Easy access to products around the world
Easy-to-use interface for listing new products
One of the largest networks of suppliers with over 2 million products
The quick and convenient shipping process
Email updates about trending products, discounts, and more
Doba Cons:👎
Quite expensive for the membership
Doba Pricing:
Start-up plan US$ 14.99 month & US$ 179.88 /yr
Business plan US$ 29.99 month & US$ 359.88 /yr
Enterprise plan US$ 249.99 month & US$ 2999.88 /yr
10. Worldwide Brands Review: (UK Dropshipping Suppliers)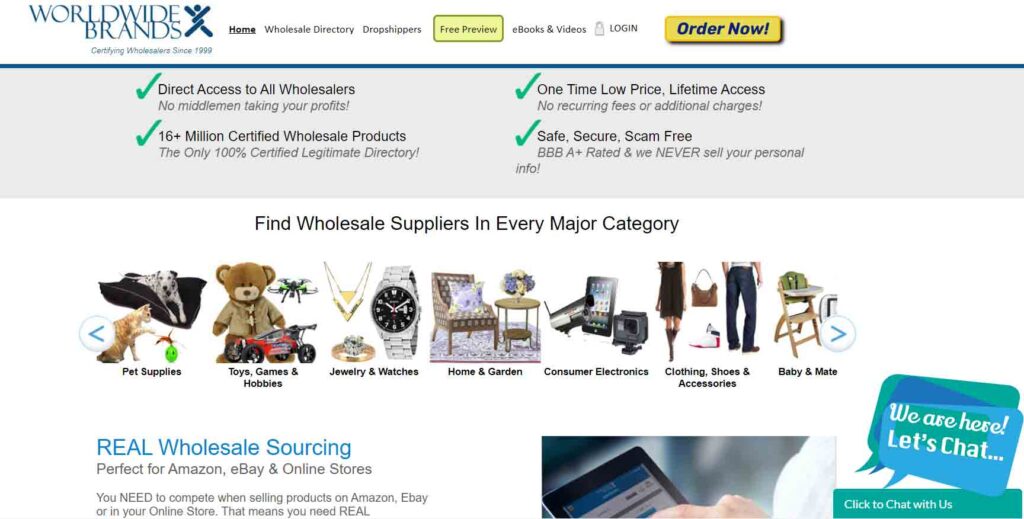 Worldwide Brands is a comprehensive directory of drop shippers and bulk distributors. They continually update their list with new suppliers and certify that each is reputable and reliable.
Worldwide Brands is a comprehensive directory of drop shippers and wholesale distributors. Every drop shipper in the directory is certified, here you can access over 16 million certified products through over 8,000 suppliers. So you can expect a response from everyone.
It is a great budget-friendly solution for those competing to sell products on Amazon, eBay, and Etsy. Because they are constantly updating their inventories with new suppliers in all regions. Also, it is best for online sellers who are looking for a one-time plan.
At Worldwide Brands you can access this directory for a lifetime fee of $249 database of wholesalers and drop shippers. With its one-time pricing plan, you can access its vast list of products and vendors.
Key Features of Worldwide Brands:
There is no fixed minimum order, this means that you can order as little as you want according to your convenience. Also, they offer basic iOS and Android mobile apps to help you find the best products on the go.
It is BBB A + rated and WBI certified to provide powerful security to its customers.
Worldwide brands provide quick response support teams via email and phone calls. Phone lines are open from 9 am to 5 pm (Monday to Friday).
The one-time fee is $ 299.
(You can also pay in three installments of $99, $100, and $110)
Moneyback within 60 days of purchase.
Visit Worldwide Brands Now!
Why Would You Ship To The UK As A Dropshipper?
Here are some qualities that come to mind while considering the ideal country to drop ship to:
Excellent logistics
High GDP per capita
Large population
High use of social media
Selling products online to such an "ideal dropshipping country" wouldn't be difficult, because you'll have easy access to your target audience, and they'll have enough money to spend on (impulse) purchases. In a nutshell, these factors help a country's e-commerce market thrive.
The United Kingdom is one of the closest countries to becoming an "ideal dropshipping country." It has a well-developed eCommerce business and a $40.28k GDP per capita.
The best part is that the UK has the largest E-commerce spending per capita in the world, at $4,201! All of this money is flowing to UK e-commerce business owners, which is fantastic.
So, What Else Is Fantastic About The UK E-commerce Market?
Well, it isn't quite saturated yet. The eCommerce market in the United Kingdom is predicted to expand by over 11% by 2020.
If you are not sure, If you want to learn more about the best dropshipping countries for the eCommerce market then I recommend reading this article in detail about the 18+ Best and Worst Dropshipping Countries Updates to Target in 2023. Hope it definitely helps you.
Best Niche Based UK Dropshipping Suppliers:
Are you looking for the best UK dropshipping supplier based on your dropshipping niches? Here's a quick rundown of the best UK niche dropshipping suppliers.
Go Dropship is a dropshipping company that sells items in a variety of categories, including home, personal care, toys, phone accessories, and outdoor gadgets.
However, Go Dropship is owned by a Chinese company that decided to relocate all of its inventory to a UK warehouse in order to improve customer service. Their delivery time in the UK has been cut in half, from 5 to 12 days to 2 to 5 days.
2. Clothes2order: (Print on Demand)
Clothes2order is a UK-based print-on-demand company. Normally, they offer their items directly to corporations and individuals, but they've also developed a dropship API for those who want to resell them.
3. Printify: (Print on Demand)
Take a look at Printify if you're seeking a print-on-demand provider with UK suppliers who specializes in eCommerce stores. Printify has over 90 print provider locations, including a number in the United Kingdom that produce items such as phone cases, mugs, and T-shirts.
4. Power Body: (Fitness nutrition)
Have you ever dreamed of starting your own nutrition company? Now's your opportunity to shine!
Power Body is a store as well as a wholesaler, and they also offer a dropshipping service! You'll be able to dropship over 7,000 nutrition products and acquire them at wholesale pricing with Power Body.
5. AW Dropship: (Giftware)
AW Dropship is a giftware company based in the United Kingdom. They've been in the company since 1995, therefore they'll be quite familiar with the things in their portfolio. To give you a sense of what things AW Dropship sells, here's an illustration of some of their categories:
6. Baumhaus: (Furniture)
Baumhaus is a furniture dropshipping and wholesaler based in the United Kingdom. Every item is made in the UK, and they provide fantastic services for online store owners, such as high-quality photos and numerous dropshipping options.
What Are The Most Popular Payment Gateways In The UK?
Here's a simple guide on picking the right payment gateway for your online store.
PayPal is the most common payment method in the United Kingdom. PayPal was used as a payment method by 49% of online customers in 2019.
Credit and debit cards are rigorously scrutinized, with 37% of buyers preferring this way of payment for online purchases in 2019.
Digital wallets like Google Pay, Amazon Pay, and Apple Pay were less widely used, accounting for only 8% of total online transactions.
Running a dropshipping company with wholesale distributors is a terrific way to get into business and make a lot of money without putting in a lot of money upfront. Although you'll still have to handle SEO and marketing on your own, there are many organizations that can handle the fulfillment for you. From Oberlo to Chinabrands, you'll be able to locate a reputable service.
Doing the proper research is crucial to dropshipping success. Because you won't be able to exert much control over the fulfillment process, you'll want to be sure you're dealing with a third party who can take care of everything. Someone has to be there.
It's also worthwhile to look for UK dropshipping providers who can provide a diverse choice of products for your online store. The more options you have, the easier it will be to adapt your store to changing trends and customer expectations. Ascertain that you can add products to your store quickly and easily using a single system.
Dropshipping can be a very profitable business model, but it requires the correct assistance. Which drop shipping company are you intending to use?
How Do Dropshippers Deal With Returns?
Returning an item usually necessitates obtaining a return merchandise authorization (RMA) from your supplier, which facilitates your consumer to return the item to their address.
To make the customer support procedure go as smoothly as possible, make sure you have all additional item information on hand. The supplier will refund you and you will refund the buyer once the item has been shipped and received.
Keep an eye out for hidden charges from your drop shipper, such as a restocking fee.
Is It Possible to Dropship on Amazon with A UK Dropshipping Supplier?
Yes, Dropshipping is possible on Amazon. However, your company must follow Amazon's drop shipping policy, which requires you to be the seller of record for your products and to identify yourself as the seller of your products on all packing slips, invoices, and external packing. You will also be in charge of accepting and processing product returns from customers. An alternative to using a dropshipping supplier is the Fulfillment by Amazon (FBA) program.
What Is The Supply Chain For Dropshipping?
The supply chain for dropshipping is frequently extensive and tiresome. First, the product is made at the production level, where it is the cheapest. The goods are then stocked by an original distributor, who usually marks them up before making them available for dropshipping.
The goods are frequently moved to another wholesaler at this stage, who may increase the price even more or behave as if they had acquired it straight from the manufacturer.
After that, you (the wholesaler) purchase and stock the product before it reaches its final destination: the end consumer.
FAQs About Dropshipping In The UK:
Is it possible to find free Drop shippers in the UK?
Yes. In both broad and specialty categories, there are a number of free drop shippers.
Although some larger drop shippers demand yearly or monthly fees, the majority merely require you to pay for the products you're sending to the buyer. Some companies may impose extra delivery expenses or taxes.
Is dropshipping a profitable business model In the UK?
Dropshipping can, in fact, be profitable for merchants. Dropshipping is a low-risk business concept that allows you to sell products to clients without paying the high operating costs associated with a wholesaler. Because of the cheap costs, drop shipping may be easier to profit from than other business strategies.
Is dropshipping legal in the UK?
Yes, it is legal. It is also important to familiarize yourself with counterfeit and trademark regulations in your region to ensure that you and your dropshipping supplier avoid crossing any lines, including with various branded products.
Hopefully, you have been able to find a good dropshipping supplier from the UK for your product(s) on this list.
Is it possible to dropship on eBay?
You can dropship on eBay as well. However, it is a highly competitive market, and making a significant profit is difficult.
Hopefully, you have been able to find a good dropshipping supplier from the UK for your product(s) on this list.
You May Also Be Interested In Reading:
Did this guide help you find the best USA dropshipping supplier for your dropshipping business? If so or not! Leave a comment below. And if you know anyone who might benefit from this article? Click the share button to send them this page.
Hope you are helping them, and helping us by promoting our website!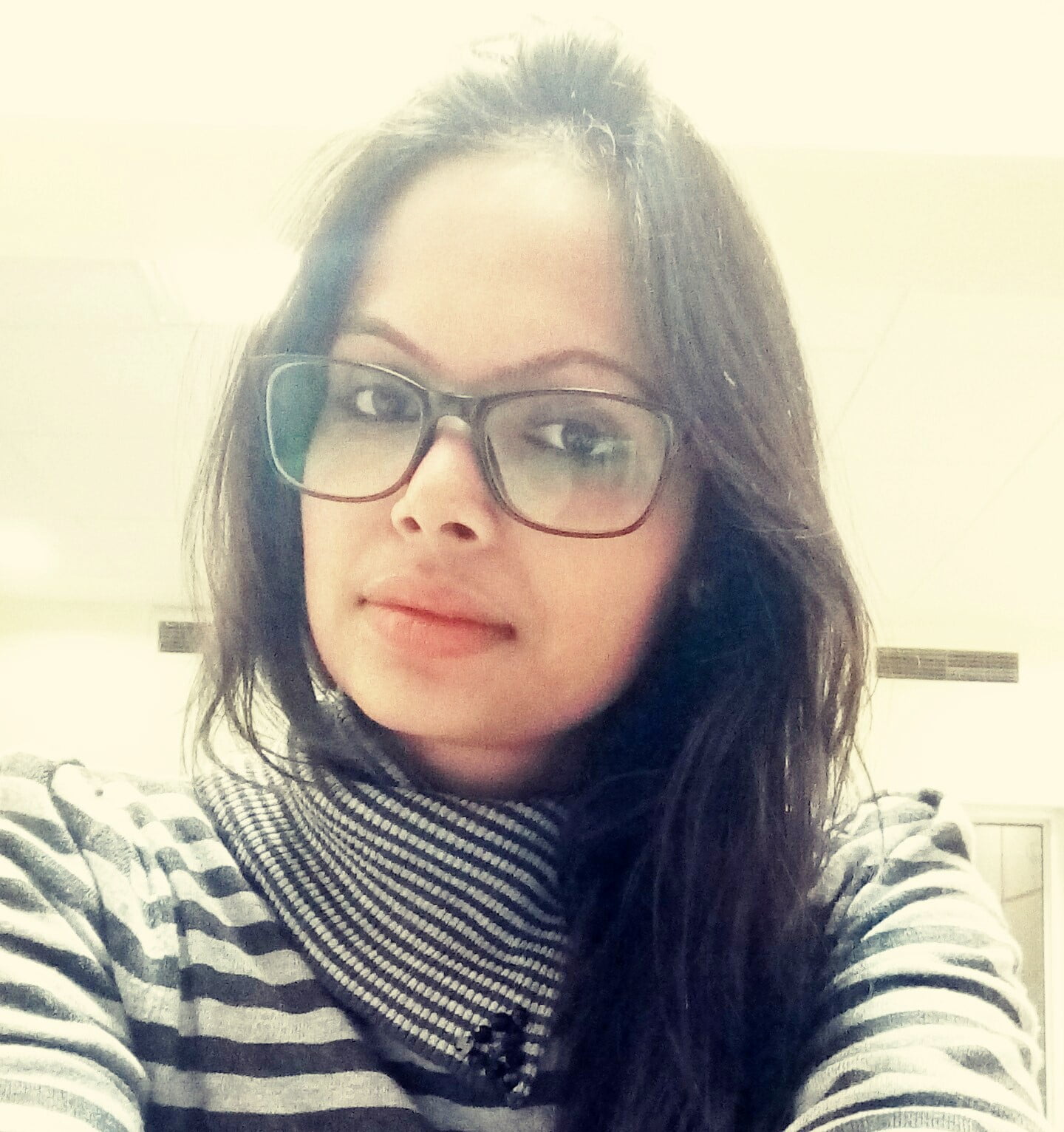 Hey, I am a fashion designer by profession and a blogger by passion, I regularly do extensive research on all things online and I am passionate about spreading my knowledge and supporting people in their online business journey. During my spare time, I like to travel to hilly places and further improve my skills by learning various things.