Do you are struggling to find the best and cheapest web hosting? Does that fit your starting budget for blogging or starting a small business? So in this Hostinger web hosting review, my quick answer is that Hostinger is one of the best and most affordable shared web hosting available in the market today.
Because Hostinger provides really well-balanced web hosting. They offer lightning-fast speeds, advanced features, and an excellent global support team and uptime. Yet their prices are somehow still some of the lowest in the market. This means that you can get true value for money with Hostinger's best web hosting plans.
This guide focuses not only on the bright site listed on their website but from what I experienced, it will cover both pros and cons. So let us discuss each of them one by one but before starting the Hostinger review first, let us have a little overview of the Hostinger Web hosting company.
Hostinger was started back in the year 2007 as a free web hosting provider company under the name (000webhost.com), later changed its name to (Hostinger in the year 2011). Currently, over 29 million active customers in over 178 countries are using the hosting, which means it has a huge community. And Not only did they drive the fastest growth in web traffic, according to Google Trends, but they were also the hosts that were most searched by people around the world in 2022-2023.
Hostinger Features Review:
| | |
| --- | --- |
| Our Rating: | Our Verdict: 5.0 |
| SUPPORT: | 24/7 Live Chat, Knowledge Base, Ticketing |
| APPS: | WordPress, Joomla, PrestaShop, OpenCart, and Drupal |
| FEATURES: | 100GB Bandwidth, 30GB Storage, Website Builder, 1 Email Account, Free SSL Security, 30-Day Money-Back Guarantee, Backup, 99.9% Uptime Guarantee, Cloudflare, and more. |
| HOSTING PLANS: | Shared, Cloud, and VPS |
| SITE TRANSFER: | Single Free Site Transfer |
| PRICING: | Stating at 1.39 /month |
Hostinger web hosting service provides everything you need to get started as a beginner, from ample resources to performance-enhancing tools. Also, they have three shared hosting options to choose from: (Single, Premium, and Business). All three use Hostinger's hPanel control panel, which makes it easy to install WordPress and other content management systems (CMS).
Hundreds of pages and thousands of HD images. Enough to show off your writing, creativity, products, services, or whatever else you plan to host. that means it a great that their basic hosting plan is also loaded with great features.
Hostinger also offers two more advanced plans, each of which includes unlimited bandwidth, email accounts, and websites. SSH access for you Linux-savvy engineers, limitless sub-domains, and unlimited databases are some of the extra features you won't get with the Single plan. They also have a drag-and-drop website builder called Zyro, but it is not included in the hosting rates.
However, automatic daily backups are an important feature that the Basic plan lacks, meaning you'll have to back up manually or purchase the service as a separate add-on.
                       Visit here to see the latest Hostinger plans  (GET An 85% Discount)
Hostinger Review – Features Of hPanel:
Hostinger's hPanel comes equipped with all the goodies you need. From easy auto-installation and DNS zone configuration to email accounts, a file manager, and MySQL database, it's all similar to what cPanel has to offer.
But… some things are different. For example, auto installation in cPanel is done with Softaculous, which lets you clone your site, set up a staging version, and even configure a backup schedule. Although the auto-installer in hPanel performs an excellent job of installing WordPress, it lacks these important supplementary capabilities.
Powerful Caching:
Thanks to LightSpeed ​​Web Server LiteSpeed ​​is not a physical metal server, but the web server technology that Hostinger uses. It consistently rates as one of the fastest and most stable web servers, beating older Apache technology, which is still used by hosts such as GoDaddy. To configure it, you don't need to do anything. Just sit back and enjoy the top-notch performance that WordPress exclusively offers.
Related Article: Hostinger vs GoDaddy Which one is best for your website in 2023?
LightSpeed ​​Caching:
Light Speed ​​Caching is the Best Thing You Can Do for Your Website What you can, and most certainly should, do is activate LiteSpeed's caching function, known as LSCH. Sounds too technical? Well, turning on the automatic cache option eliminates this to a great extent. Cached copies of your pages will be created, which will significantly reduce the delivery time of visitors. Static pages like business pages and portfolios will benefit even more from this.
SSL Certificate:
An SSL certificate is required. You require an SSL regardless of what you believe or what someone has told you. Why? Because many internet evils will fall for it if you don't have an SSL certificate to encrypt and protect your visitors' data. You will not only jeopardize the security of your project and its visitors, but you will also have an impact on Google's results.
                 Visit here to see the latest Hostinger plans. (GET An 85% Discount)
Hostinger Pricing Review:
This will be one of the most important factors to consider when considering a web host. Hostinger has surprisingly low pricing with a wide variety of plans for the services they provide. and that is suitable for all types of users, from bloggers, Dropshipping, and small businesses to enterprise users. For example, a website starts with a promotional price of only $1.39 per month.
If you pay a little more ($2.59 per month for premium plans), you'll get a free domain name to go along with your hosting. Furthermore, the higher-tier plans (Business plans) include free backups as well as the ability to construct an infinite number of websites on your account.
With affordable hosting plans for beginners, Hostinger offers advanced hosting including Cloud Hosting startup plans (from $9.99), VPS Hosting (from $3.95), and Email Hosting (from $0.99). There's also a 30-day money-back guarantee, so you'll have plenty of time to test the service yourself and see if it's a good fit.
Overall, Hostinger is a very affordable option. This is especially true when you consider its server speed. For novices, this is a great place to start, and as your site grows, you can always consider upgrading your plan.
   Visit here to see the latest Hostinger plans. (GET An 85% Discount)
Hostinger Performance Review:
The performance of a web host's servers is an indicator of its quality. Finally, having a speedy website is critical for giving your visitors a great user experience (UX) and lowering your bounce rate. Hostinger, Fortunately, Hostinger includes the following performance-enhancing features:
Solid State Drive (SSD) Hardware
99.9% uptime guarantee
Custom-built cache manager
Hostinger provides public information on the performance of its servers. This includes uptime data for the last 24 hours as well as the previous week and month:
Server uptime refers to the time when a server is fully functional and online. In general, you want to be as close to 100% as possible, as even.1% downtime means ~45 minutes of downtime per month.
Hostinger Page Speed ​​Test With Pingdom Review:
Perform some page speed tests first. Pingdom is a popular and handy tool for this, and it offers a free basic trial. We built up a small website on Hostinger's servers with default themes, a sprinkling of plugins covering various essential functionality, and WordPress theme unit testing data to finish our testing. We then entered our site's URL into Pingdom and conducted tests from a variety of locations.
The average of three trials from each site is displayed in the following table:
Washington DC – 0.81 seconds
San Francisco – 1.12 seconds
London – 0.54 seconds
Sydney – 2.49 seconds
Tokyo – 1.57 seconds
Overall, those are excellent results from Hostinger's review of the page speed test. It is considered a best practice to keep the loading time of your page under two seconds. Anything on that page can have a negative effect on your bounce rate, which is the percentage of visitors who leave after viewing just one page.
Based on these findings, we can see that Hostinger's servers perform admirably on both sides of the Atlantic, particularly well in London. Furthermore, two of the other places we checked are within permissible parameters. We can conclude from this that Hostinger can provide satisfactory speeds in the great majority of English-speaking countries.
Hostinger's shared servers are ideal for hosting several websites. However, if you want to maintain a high-traffic site—or if you observe sudden swings after your site is live—an upgraded plan may be the best option.
                Visit here to see the latest Hostinger plans. (GET An 85% Discount)
Hostinger Support Team Review:
If your site is down for some reason and you are unable to contact a customer support person ASAP, you could lose a ton of sales. This means that customer support can make or break a web host.
However, this is not the case with Hostinger Webhosting; its customer support does not let you down. Accessing live chat on Hostinger is super easy. Once you are logged in an icon immediately appears in the lower right corner of the page.
Furthermore, Hostinger provides a large knowledge library with brief and thorough articles where you may get guidance, information, and answers to your own questions. They also have tutorials with GIFs and graphics on how to do things (anything from website building to SEO). In the knowledge base, users can search for articles or choose from three categories (website, domain, and general).
Multilingual Customer Support:
Hostinger offers a multilingual customer support team and lives chat, and they have integrated Intercom as their main support system. Their support is that they are very localized! To make it easier for locals to communicate with the team, the support team serves 20 countries in their native language from their 4 support centers, and they plan to include more local languages!
We asked a few technical questions and the support team answered us, almost immediately receiving knowledgeable answers backed by a link to a customer support representative. (But it is very surprising that we had to wait for around 30 minutes with any other web hosting),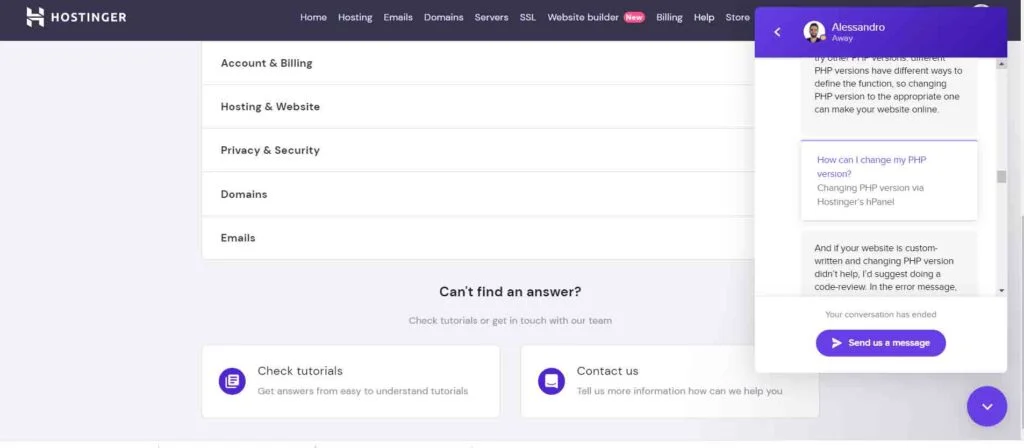 And the funny thing is, we get a chance to communicate with gifs and emojis, which some might call a gimmick, but we can see how it can reduce frustration when dealing with complex matters, and we Send attachments. This is great for those times when a picture is better than a thousand words.
Hostinger Review: Is the Hostinger Interface Ease of Use?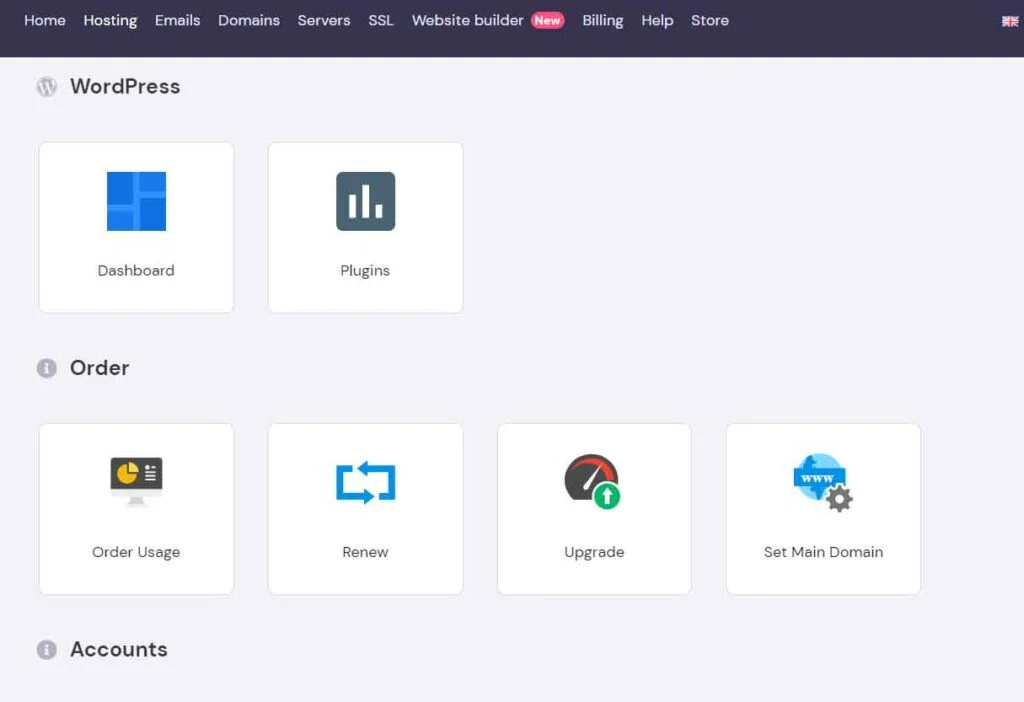 From signup through access and control of your hosting, Hostinger's user experience professionals have created a fantastic interface and user journey. means Hostinger's business strategy relies on constantly motivating you to upgrade and buy additional ones. The plans are well-defined, and (all Hostinger needs to signup for is your email address, name, and password). so that all the useless data that other hosts are eager to collect is removed.
how do I Install WordPress and Connect a Domain name on Hostinger? If you get your domain name from another provider, it's easy to connect. Nameserver information is readily available at the top of your hosting details page, and all you have to do is copy-paste them into your domain's panel. Very easy. Connected in no time.
What About WordPress Installation?
You can open the Auto Installer tool, select WordPress as your CMS of choice, and enter basic website details. It's even easier than how Softaculous does things, and your new website will be ready in a minute. You can use the auto-installer tool and install WordPress in seconds It's easy to manage your hosting with hPanel
We've gone through how to get your website live, but you'll still be using hPanel to edit and change your hosting from here on out. because hPanel allows you to create an email account, do manual backups, manage databases, and much more.
How does this all compare to working with cPanel? Well, in my opinion, it's absolutely simple. hPanel icons are bigger and better organized, the interface isn't cluttered with extra options and integration with Hostinger's other services (support, additional purchases, viewing billing) is seamless.
                  Visit here to see the latest Hostinger plans. (GET An 85% Discount)
Hostinger Resource Review Of Pros And Cons!
[Hostinger pros]
Why Hostinger Is The Right Host For You?
1. ( 99.9% Uptime) Guarantee:
Uptime is the most important thing to check out when considering web hosting. Extended downtime can cause our sites to lose rank on Google, which is bad news for businesses or any other website. Small business sites need to be up to date as much as possible, as any type of downtime means a loss of potential sales. While some web hosting businesses offer uptime guarantees, some are shadier, which means they may refuse to honor any assurances they make.
We looked through Hostinger's TOS and couldn't find anything like this. When we looked into it further, we discovered that the low uptime was caused by a 14-hour outage in September 2020. If we subtract this blip from the overall average, Hostinger's uptime and speed would be 99.99 percent and 361 milliseconds, respectively. and If Hostinger's errors cause your site's downtime to go below 99.9%, you can contact them to receive a refund of 5% of your monthly price.
Hostinger This Year Average Uptime | See stats
August 2021: 100%
July 2021: 100%
June 2021: 100%
May 2021: 100%
April 2021: 99.93%
March 2021: 100%
February 2021: 100%
January 2021: 99.99%
2. Fast Loading With [Cache Manager]:
Hostinger offers several ways to improve loading speed. One of them is their own cache manager. Enabling it gives faster load times and better speeds!
What Do You Need To Do To Enable Cache Manager?
Enter hPanel and select "Manage" for the site you'd like to activate. Scroll all the way down to "Advanced." "Cache Manager" will be offered as one of the alternatives. From the drop-down option, choose "Cache Manager.
Once you're in, simply click "Change," and the "Automatic Cache" button should become green, indicating that it's enabled. You're done! Click "Purge All" and you're done!
However, there isn't much Cache Manager can do. if the site has more content and images, the effect of the cache manager will increase.
3. Unlimited Features With Great Price:
The starting costs offered by Hostinger set them apart from the competitors. In terms of value, we can say Hostinger offers the finest prices in the business, particularly for those who are just getting started!
Hostinger offers all of the capabilities in their premium web host plan is only $2.59 per month, while their entry-level single plan is only $1.39 per month. Premium web hosting services, on the other hand, charge as much as $6.99 per month for equivalent features and performance.
Hostinger Best Unlimited Features Review:
Unlimited Websites-: Just 1 Account, Hostinger allows you to create as many websites as you want!
Unlimited Bandwidth-: With Hostinger Premium you don't have to worry about site downtime due to unusually high traffic. You are given unlimited bandwidth so you can cater to as many users as you want!
Unlimited Email-: Their premium package allows us to create as many email addresses as we need, all of which are hosted on our unlimited SSD storage!
CronJobs-: Hostinger's premium plan allows for unlimited Cronjobs so you can go to town with your script!
Bonus Perk (Free SSL)-: Hostinger offers (free SSL from Let's Encrypt) to all of their shared hosting plans! It provides you with an additional layer of security for free, allowing your users to connect securely! While it's not quite an endless benefit.
4. Hostinger Fast Load Time Review:
Fast page loading times are vital to any website user's experience with the site. Because most of the time if a website takes more than three seconds to load, 30%+ people abandon it. Hostinger features servers in three different locations: the United States, Asia, and Europe (UK). Each is said to be connected to a 1000 Mbps connection, ensuring consistent loading times.
We tested our Hostinger Singapore site through a speed stress test using our proprietary server speed checker to see how it reacts to pings from around the world, and here are the results. US(W)-179 ms.
US(W)-179 ms
US (E) – 250 ms
London – 216 ms
Singapore – 3 ms
Sao Paulo – 347 ms
Bangalore-58 MS
Sydney-93 MS
Japan – 78 ms
Canada- 248 ms
Germany- 217 ms
If you intend to cater to an audience in Asia (Australia/New Zealand), you'll be happy to know that Hostinger delivered a 3 ms faster response than Singapore, with a worldwide average speed of 168.9 ms. Hostinger Singapore has got an A+ ranking from us.
Check Out The Tested Details On Our Hostinger EU Site.
US (W) – 143 ms
US (E) – 83 ms
London – 9 ms
Singapore – 239 ms
Sao Paulo – 194 ms
Bangalore- 118 ms
Sydney- 267 ms
Japan-262 ms
Canada-848 ms
Germany-10 ms
9 ms from London are incredible speeds! Hence Hostinger will be one of the fastest web hosts for those of you who are following the European markets. and With a global average speed of 141.3 ms, Hostinger Europe is on par with its counterparts in Singapore and the United States, which means they are ranked a solid A+!
If you study our test results, you might be a little concerned that locations far away from their designated data centers aren't as good. This is actually quite common as the data has to travel further to reach its intended destination.
Hostinger, on the other hand, has a total of six data centers located throughout the world, including those in the United States, the European Union, Brazil, the Netherlands, Singapore, and Indonesia however, (1 more is being built in their home country Lithuania). Simply select the data center that is closest to your users, and they will be able to fully appreciate your site's incredible load speed!
                  Visit here to see the latest Hostinger plans. (GET An 85% Discount)
So The Question Is Why Speed Is Important To Our Websites?
We must give importance to web hosting speed because lack of speed is undoubtedly the cause of death for many small businesses. Unlike corporate giants, every single sale counts for small. entrepreneurs and we can't afford to lose customers due to avoidable problems like slow web hosting.
And these days, every visitor or customer expects your site to load in less than a second! Anything above that raises the bounce rate to 32%, then everything starts to collapse if there is a waiting time of more than 5 seconds. To make sure we've accumulated enough data to write this review, you can determine how they perform in the locations closest to your customers.
5. Amazing Speed-Increasing Benefits!
Our Hostinger premium shared account has a long variety of features, many of which help with performance in some way.
PHP7 Support:
If you're a programmer, you'll be happy to know that Hostinger supports PHP7 is one of the most significant PHP updates in the recent decade, and it is significantly quicker than PHP5. PHP7 is easily twice as fast as PHP5.6 in benchmark tests using Drupal and WordPress.
Git Support:
Git is an open-source version control system and a very powerful tool for developers to collaborate on projects quickly and efficiently, no matter how big or little they are. If you're going to engage developers to construct something for your small business, your web host's support for Git will make them extremely happy…
It simplifies the problem-solving process tremendously! Many huge organizations (including Google, Microsoft, Facebook, and even Netflix!) employ Git because it is so popular.
1-Click Installer:
This feature has made it so much easier to install our favorite programs. You only need one click to install your favorite apps with this functionality.
Optimized For WordPress:
Hostinger's shared hosting plans come with the most up-to-date WordPress versions and are custom-optimized for some of the fastest loading times in the industry. Just to let you know, there's a reason WordPress powers 30% of the internet (it's that fantastic!) As a result, we strongly suggest it for your small business!
LightSpeed ​​Cache:
LightSpeed ​​Cache is a WordPress plugin that greatly enhances website performance, with the latest updates showing huge improvements in TTFB results. WordPress will automatically install for you when you install it via Hostinger's Auto-Installer LiteSpeed ​​Cache, no mess, no fuss!
State-of-The-Art NGINX Caching:
You should use WordPress with Hostinger since NGINX caching is available. It improves WordPress performance by simplifying data and speeding up the loading of static content.
HTTP/2:
HTTP/2 stands for Hypertext Transfer Protocol Version 2.0. It's the spiritual successor to HTTP1, and it's lightning-fast, safe, and simple to use. HTTP/2 is a protocol that sends data in binary code. This minimizes data size and speed, and your users will notice a considerable boost in the speed with which your site loads!
                 Visit here to see the latest Hostinger plans. (GET An 85% Discount)
6. Hostinger User-Friendly Interface Review:
Hostinger's proprietary interface, known as hPanel, is modern, simple, and easy to navigate. All of the features are categorized, and the dashboard's well-designed simple icons give it a Muji feel. It's all in its proper position. hPanel is so simple to use that even someone with no prior knowledge can use it efficiently.
A user-friendly dashboard layout that allows you to find everything you need in one place from your dashboard, you can track logins, update billing information, adjust domains, and monitor email can.
Although the control panel isn't a standard cPanel, huge icons make it easy to find exactly what you're looking for and when you're looking for it.
7. Hostinger Free Domain Review:
Hostinger includes a free domain name in their services with any plan you choose. Getting a free domain name from your web hosting is really like helping new entrepreneurs, which In the long term, will save you money. however, If you need more than one domain, you will have to pay extra.
Some domain registrars such as Namecheap offer WHOIS protection for free, but this is not the case with all registrars. you have to pay for it, and unfortunately, the same is the case with Hostinger. But look on the bright side – you'll get a FREE domain! Paying $5 per year for WHOIS protection is really peanuts in comparison. It is a worthy investment!
8. Free Website Builder (Zyro):
Hostinger recently added a website builder to their inventory. which is known as Zyro aims to make a real start among users. They have further simplified the basic website builder and added external features that will help the users to build a complete website.
Also, there are a variety of templates to choose from as well. Using the Hostinger website builder, you may edit everything on your pages once you've chosen a template. These include auto-generating content, streamlined design, AI Writer, AI heatmap, logo and slogan maker, huge image library (free!), and more.
                   Visit here to see the latest Hostinger plans. (GET An 85% Discount)
Cons of Using: Hostinger Review
There's a lot to like about Hostinger's loading speed, support quality, and features. But like other hosts, Hostinger also has some flaws.
No Daily Backup:
All Hostinger plans do not offer daily backup. Daily backup is only available with Hostinger's business Shared Hosting plan, but it may be purchased for $0.95 per month. Hostinger offers free weekly backups for all of their accounts, even if you don't wish to pay extra for backup services. It isn't as good as a daily backup, but it is free.
No Traditional CPanel:
Traditional control panels, such as cPanel, are used by most hosting firms. Hostinger has created its own control panel, which may be easier to use for new users than the usual control panel. If you're used to cPanel, though, you might not like their dashboard.
Payment Terms That Are Not Specific:
A non-refundable transfer fee is charged by EURid on all hosting plans, except for the first payment after the free trial. and refunds are not available for redemption costs, domain name renewal, or privacy protections. Most new domain name registrations are only refundable if they are canceled and are processed within 4 days of purchase, not 30 days. So keep these exceptions in mind before proceeding.
[Conclusion] Do We Recommend Hostinger? Or Is Hostinger The Right Web Host For You?
Yes. Hostinger is actually a very solid host-building and growing website! which offers great speeds, with their best and cheapest price plans. Their user interface is easy to use, they have convenient 1-click setups for WordPress and other popular apps and their server response times can hold themselves against some of our top-tier A+ ranked web hosts.
We found Hostinger's service to be incredibly beginner-friendly along with their excellent support team! Trained with their "zero-level support" system, they'll guide you step-by-step in solving any problems you may encounter.
Our tests revealed that Hostinger's speed and performance reviews are comparable to premium web hosting providers at a fraction of the cost. Hostinger is our #1 choice for websites in various countries, including India, Singapore, and Australia, due to their global reach.
Based on the overall conclusion of my Hostinger review, my opinion is that if you are just getting started or considering getting your feet wet in the blogging or small eCommerce business, you will not have to worry about anything if you go with Hostinger. Their exceptionally low prices, along with great services, make them the finest value-for-money host.
Recommended Hostinger hosting for:
Beginners
Small-medium business
Joomla, Drupal, WordPress
Professional/Personal Blog
Affiliate Marketers
Quick Facts Hostinger Web hosting Review:
Single Shared Plan
Premium Shared Plan
Business Shared Plan
Pricing
$1.39/month
$2.59/ month
$3.99/ month
Websites
1
100
100
Bandwidth
100 GB
Unmetered
Unmetered
Storage
30 GB
100 GB
200 GB
Email Accounts
1
100
100
Other Features
• Free SSL
• WordPress Acceleration and Cloudflare
• GIT Access
• Free Domain
• SSH Access
• GIT Access
• Free Domain
• Free CDN
• Daily Backups
Ease of Signup: Easy.
SSD storage
Unlimited Bandwidth
Free SSL & Damian name
Great Customer support
Git, PHP7, 1-Click Installer
30-Day Money-Back Guarantee
They offer free domains in their Premium and Business plans
Account Activation: Activate your account quickly.
Custom Control Panel hPanel for the Control Panel and Dashboard.
All major credit and debit cards, PayPal, Google Pay, and CoinPayments are accepted as payment methods.
Apps and CMS (WordPress, Joomla, etc.) installation: The most popular apps may be installed with only one click.
                  Visit here to see the latest Hostinger plans. (GET An 85% Discount)
Important Questions About Hostinger
Is Hostinger Safe And Legit?
Yes, Powerful Caching Thanks to the LiteSpeed Web Server.
LiteSpeed isn't the physical metal server, but the web server technology that Hostinger uses. It consistently ranks as one of the fastest and most reliable web servers.
Is SiteGround Better Than Hostinger?
Hostinger is currently better than SiteGround. It offers better performance, much better prices, and comparative levels of security and support.
Is Hostinger Web Hosting Better For WordPress?
Hostinger is the best choice for WordPress It offers fast speeds and knowledgeable customer support. However, while its performance is solid overall, you may experience performance blips now and again on heavy-traffic sites.
Is Hostinger Good For Web Hosting?
Hostinger is a reliable web hosting service known for its low costs and speedy loading times. I highly recommend it for people that need to get their site online without a lot of hassle. In my best web hosting providers guide, you'll see Hostinger ranked first for the best cheap web hosting plans.
Why Is Hostinger Bad?
Hostinger's most basic plan is part of the shared web hosting offerings, which means that your website exists on a server with other websites……. However, the bad thing about this is site speed could be compromised because there are so many other people using the same server.
FAQ
Is Hostinger the Right Web Host for You in 2022?

Yes. Hostinger is actually a very solid host-building and growing website! which offers great speeds, with their best and cheapest price plans. Their user interface is easy to use, they have convenient 1-click setups for WordPress and other popular apps and their server response times can hold themselves against some of our top-tier A+ ranked web hosts.
Is Hostinger Hosting Best for Beginners?

Yes, Hostinger's plans include all of the essential features you'll need to get started as a newbie, and you can website starts with a shared web hosting single plan price of only $1.39 per month. You may make use of performance-boosting solutions thanks to its easy-to-use user interface, 1-click setup for WordPress and other popular apps and their servers, and ample resources.
How do I install WordPress and add a domain name on Hostinger?

1. Open the Auto Installer tool, select WordPress as your CMS of choice, and enter basic website details. You can install WordPress in seconds using the auto-installer tool that makes it easy to manage your hosting with hPanel.
2. If you get your domain name from another provider, it's easy to connect. All you have to do is copy-paste them into your domain's panel. It will connect in no time. Nameserver information is readily available at the top of your hosting details page,
Related Articles:
Have you used Hostinger before? Please consider leaving a review below – If you know someone who might benefit from this article? Click the share button to send them this page.

Hope you are helping them, and helping us by promoting our website!

Have a nice day! 🙂🙂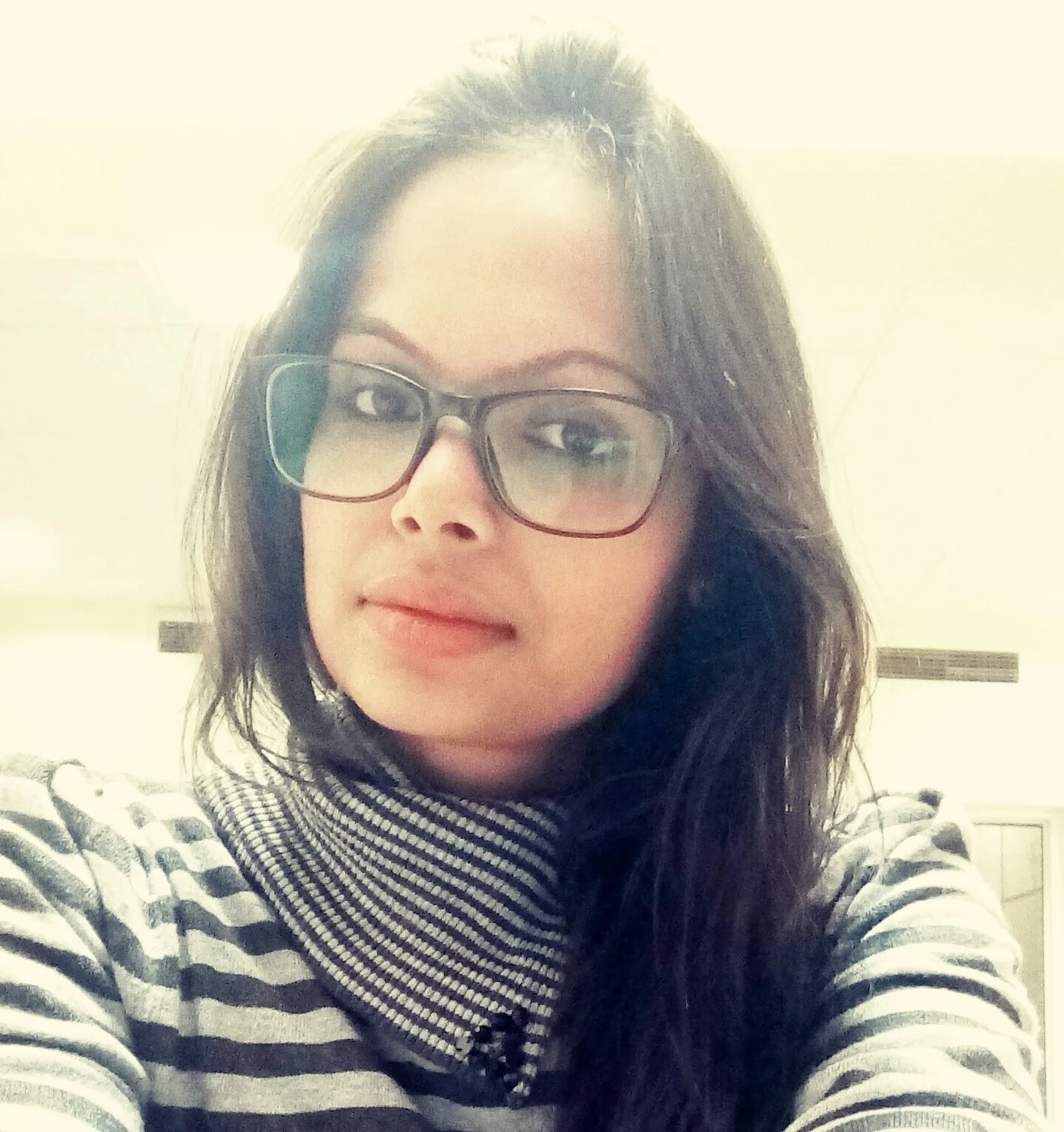 Hey, I am a fashion designer by profession and a blogger by passion, I regularly do extensive research on all things online and I am passionate about spreading my knowledge and supporting people in their online business journey. During my spare time, I like to travel to hilly places and further improve my skills by learning various things.